Summer Retreat: "Freed by Love, Acting for Justice"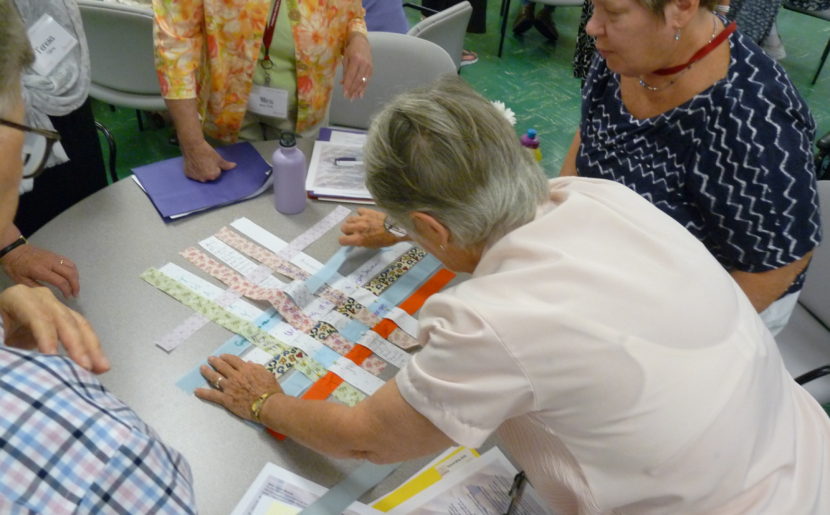 Each summer I look forward to the Associate Retreat at Mt. Carmel and this year was no exception. It is always good to reconnect with associates and sisters on the retreat as well as the residents at Mt. Carmel.  The title of this year's retreat "Freed by Love, Acting for Justice" really seemed very timely.
The weekend was filled with prayer, song, conversations and reflective time.  The closing ritual was weaving a tapestry with strips of cloth that we had written reflective words or phrases that had come to us over the weekend.  A couple of weeks before the retreat I saw a film of a Carole King concert in Hyde Park, London where she performed all the music from her "Tapestry" album.  That album has always been one of my favorites especially the title song, "Tapestry."  As we wove our strips of cloth I couldn't help but think of the lyrics of the opening stanza of that song:
My life has been a tapestry of rich and royal hue
An everlasting vision of the ever-changing view
A wondrous, woven magic in bits of blut and gold
A tapestry to feel and see, impossible to hold. (Carole King, Tapestry, 1971)
The tapestry we created last weekend symbolized for me my ever-changing view of love, compassion, justice, relationship and connectiveness.  I came away with a renewed spirit, ready to be open to a ever-changing view.