Located along the beautiful bluffs overlooking the Mississippi River in Dubuque, Iowa, Mount Carmel is the spiritual home of the Sisters of Charity of the Blessed Virgin Mary — the "heart" where most BVM Sisters first entered the community.
Presently, it is home to our retired sisters who are in need of different levels of care ranging from 24-hour specialized care and skilled nursing to assisted and independent living.  Beginning in April 2020, the care of our retired sisters will transition to our new senior living community Mount Carmel Bluffs, a shared ministry of the Sisters of Charity, BVM and Presbyterian Homes & Services. If you are looking for employment at Mount Carmel Bluffs, please visit https://careers-preshomes.icims.com/ for a current list of available positions.
Mount Carmel is also the administrative headquarters of the Sisters of Charity, BVM.
EOE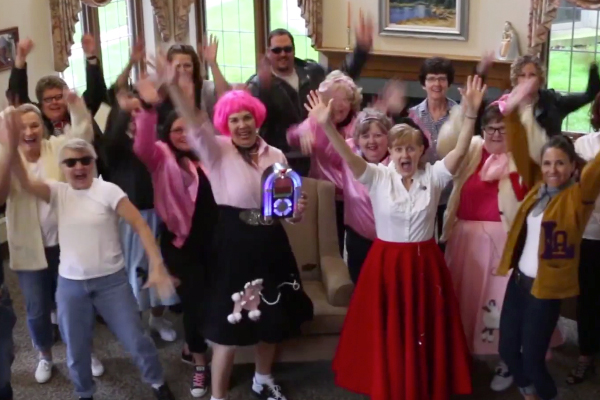 Hey Cool Cats! Bringing it back to the '50s at Mount Carmel as we celebrate Staff Appreciation Week. So, get with it and bring out your saddle shoes, poodle skirts and leather jackets and join us as we "Go Ape" over our hip, dedicated employees!
Contact Us
For more information about employment opportunities with the Sisters of Charity, BVM, contact:
Human Resources
Sisters of Charity, BVM
1100 Carmel Drive
Dubuque, Iowa 52003-7991
563-588-2351
humanresources@bvmsisters.org