Feast Day: St. Joseph: Shared Thoughts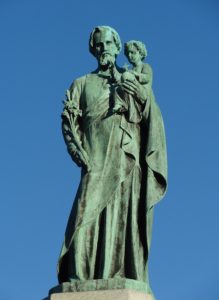 "All for Jesus, all for Mary, all to imitate thee, O Patriarch St. Joseph.  This shall be my motto for life and eternity.  Amen."
—Pope St. Pius X
God indeed added much to Saint Joseph in life and death. Throughout his life with Mary and Jesus, St. Joseph simply did whatever God asked.
Please grow in your own devotion to St. Joseph.  His statue is always present for you on his altar in any Catholic Church.
Nails
by Leonard Feeney, M.I.C.M.
Whenever the bright blue nails would drop
Down on the floor of his carpenter shop,
Saint Joseph, prince of carpenter men,
Would stoop to gather them up again;
For he feared for two little sandals sweet,
And very easy to pierce they were
As they pattered over the lumber there
And rode on two little sacred feet.
But alas, on a hill between Earth and Heaven
One day — two nails in a cross were driven,
And fastened it firm to the sacred feet
Where once rode two little sandals sweet;
And Christ and His mother looked off in death
Afar — to the valley of Nazareth,
Where the carpenter's shop was spread with dust
And the little blue nails, all packed in rust,
Slept in a box on the window-sill;
And Joseph lay sleeping under the hill.