Feast Day: St. Joseph: A Man of Action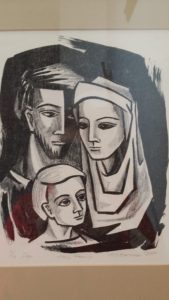 St Francis of Assisi once said, "Preach the Gospel at all times. When necessary use words."  There are no recorded words of Joseph mentioned in the Gospels. We know only his actions, which frequently followed having had a dream where Joseph is told what he must do.
After struggling with the unplanned pregnancy of the woman to whom he was engaged, but not wanting to put her to shame, the message comes to Joseph, "Do not be afraid to take Mary into your home. The one conceived in her is of the Holy Spirit."  When troubled by the political climate in Bethlehem that put his young family in danger, Joseph is told, "Get up. Take the child and his mother and flee."
Although we can only imagine what Joseph might have said, we know that his actions revealed a righteous, upright, tender and devoted man. On hearing God's messages spoken through an angel, Joseph becomes a man of action: He woke up. He got up. He obeyed.
These actions remind me of a former co-worker who used a daily mantra for living. She said, "I wake up. I get up. I show up."   Isn't that what Pope Francis is asking us all to do? He urges us to wake up to the needs of the world, to be part of the field hospital for the poor and needy and to go where the needs of God's people are the greatest.  
Needs are all around us these days. Let Joseph guide you into action!