St. Patrick,       
the top of the mornin' to ye!
You're a celebrity
among our lot today,
a whole lot of fussin'
and wearin' of the green
in honor of the Emerald Isle!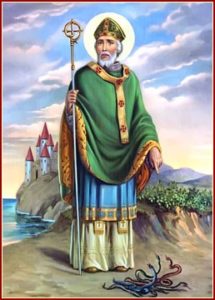 Tis true, we're pondering our Celtic
 fusion of the daily and the divine
and we're regaling steadfast Irish immigrant ancestors,
including bonny Mary Frances Clarke and friends–
their comradery, confidence,
and straight, sincere talk–
with just maybe, a little boast there and here!
Whether we're being heady or humble, we hope,
as you encouraged,
"Not to hide the gift of God" [ Confessio]
but to reach out,
with others, to others,
intent that the "green", we're awearin',
woven with strong threads of compassion,
embraces all.