Summer Reflection: Choosing Joy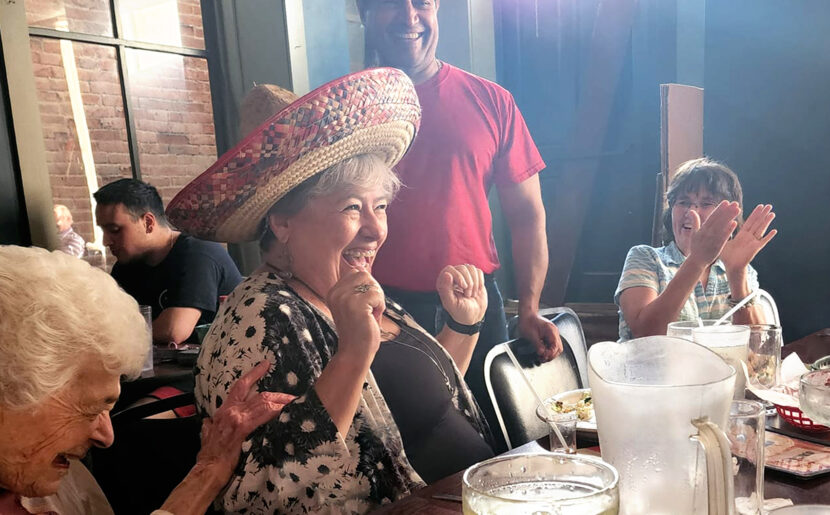 Associate Grace Mendez celebrates her birthday with great company and good food. 
Don't you just love summer? Barbeques, baseball, vacations! Now that I am mostly retired, other seasons feel like summer! But nothing beats the long sunny days of June and July! I am grateful for the means and opportunities to travel and see friends and family.
Where was I going with this? Oh, no, distracted again! Does that happen to you? Starting a project, then some other thing sends you down a different path? That is a metaphor for my life: starting one way and ending up having something send me down another. And it all has to do with choices.
How do I choose to treat the distractions that come my way? It has taken me a while, but I choose to treat them with gratitude and joy. (See, I found where I was going with this!)
I believe joy and gratitude are choices I make every day. I can let the lady in the 10 items or less line with 30 things as an annoyance or as a chuckle. I can choose to rejoice in the new life when the baby cries in church or I can choose to criticize the parents. I can choose to smile at the man with the sign or choose to ignore him. I can complain about the humidity, or I can thank God for the gorgeous sunrise.
Am I always sunny and cheerful? Of course not! But I can send good vibes into the cosmos with my choices or I can make my day (and the day for others) a misery by constantly complaining. Choose.
Choose joy; choose gratitude. Enjoy the summer!