St. Mary's in Ecuador: Sunday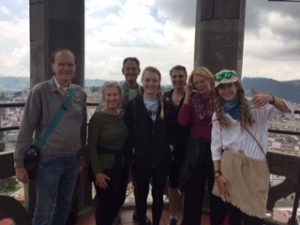 Sunday, February 19, 2017, started with the sun shining and Mass with all of the "family" who live at the Center. Padre Juan (a Jesuit priest who has been serving the Center full time for over 50 years) celebrated mass in the circular library with the aid of Madre Miguel (a BVM sister who also has clocked decades at the Center).
After mass we feasted on a delicious brunch prepared by Sister Cindi (another BVM who basically runs the Center with energy and compassion).  Ordinarily, Sunday is the day when the Center volunteers help families build their homes. Most of Ecuador's working poor are employed 6 days a week leaving only Sunday to fulfill their dreams of constructing a family home. However, presidential elections were scheduled for Sunday. All Ecuadorians are required to vote or face adverse financial consequences.  Therefore, the families could not participate in the house construction project.  We were bused to  a local park which sponsored "Art in the Park" and we handpicked the best in the market to sell to St. Mary's parishioners after mass and at the annual soup supper.