Sister Genevieve Kordick, BVM (Basilian)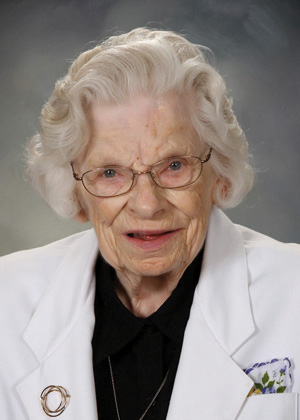 Sister Genevieve Kordick, BVM (Basilian), died Sept. 9, 2014, at Marian Hall in Dubuque, Iowa. Visitation will be from 9–11 a.m. on Monday, Sept. 15, 2014, in the Marian Hall Chapel followed by a prayer service at 11 a.m. Funeral liturgy will be at 1:30 p.m. Burial is in the Mount Carmel cemetery.
She was born in Greenfield, Iowa, on Jan. 29, 1921, to Joseph and Kathleen (Anstey) Kordick. She entered the BVM congregation Sept. 8, 1938, from Visitation Parish in Des Moines Iowa. She professed first vows on March 19, 1941, and final vows on Aug. 15, 1946.
Sister Genevieve was a preschool and elementary school teacher in Chicago and Rock Island, Ill.; Clinton, Cedar Rapids, Cedar Falls and Des Moines, Iowa.  She was a director for the Highland Park Senior Center and activities director for elderly, Willis Adult Care, Des Moines.
She was preceded in death by her parents; brothers Paul, Aloysius, George and Lloyd; and sisters Monica Lisck and Kathleen Harms. She is survived by nieces, nephews and the Sisters of Charity, BVM, with whom she shared life for 76 years.
Sister Genevieve Kordick, BVM (Basilian)
Funeral Welcome
Marian Hall, Sept. 15, 2014
Good afternoon and welcome to the celebration of life of our Sister Genevieve Kordick.
Genevieve Kordick was born on Jan. 29, 1921, in Greenfield, Iowa, the youngest of seven children born to Joseph Kordick and Kathleen Anstey. She joined siblings Monica, Paul, Aloysius, George, Lloyd and Kathleen. Her father emigrated from Austria with his family when he was three years old. Her parents met and fell in love one day when her mother walked into her father's music store. One interesting note: her mother's Uncle Frank helped Gen's father start his music business and unknowingly played the role of Cupid.
After attending a Sisters of Mercy grade school, Gen entered St. Joseph Academy in Des Moines, Iowa, where she met the BVMs. She commented, "My mother went to school at Immaculate Conception Academy in Davenport . . . She prayed me into the BVMs, her favorite sisters. Blandina Spaulding, BVM, taught her music and Blanche Fosselman, BVM, art." Gen entered the congregation on Sept. 8, 1938, and received the name Basilian upon her reception on March 19, 1939. She professed first vows on March 19, 1941, and lived 76 years as a BVM.
Gen spent 34 years teaching kindergarten through fourth grade, with her first mission teaching second grade at St. Tarcissus in Chicago. She recalled, "I was totally unprepared . . . I must have been pitiful. One of the little boys told the music teacher 'that new Sister doesn't know anything.'" But Gen persevered to teach in Illinois at St. Thomas of Canterbury, Holy Cross and Blessed Sacrament in Chicago, and Sacred Heart and St. Joseph in Rock Island. In Iowa, she taught at Our Lady of the Angels in Clinton, St. Patrick in Cedar Rapids and Cedar Falls, and Visitation and St. Joseph Academy in Des Moines. Her favorite mission was Our Lady of Angels. "I loved the little three- and four-year-olds, the 'minims.'  On Saturday night I would curl their hair and pick out a special dress for Sunday. Once in a while I would 'borrow' one of the better-off girl's dresses for a poorer child." One sister recalled that Gen would spend the evening recreation time inspecting the daily milk money in search of valuable coins and made money selling them to a coin dealer.
One of Gen's former students, Peter Teahen, became a licensed funeral director and mental health professional before founding the International Mass Fatalities Center. He dedicated his book Mass Fatalities: Managing the Community Response in part to "My first grade teacher, Sister Mary Basilian, a spunky woman committed to a lifetime of teaching, who introduced me to the power of the spoken word. I am often reminded of the tongue twisters she used to help me overcome my severe speech impediment in first grade. I thank her . . . as I stand in front of a television camera or a filled auditorium, lecturing about disasters and the care of victims and their families, and workers and their families."
For Gen, years in elementary classrooms evolved into work with the elderly in Des Moines. She provided home care before serving as the director of Highland Park Senior Center and the activities director at the Willis Adult Care Center. She brought advocacy, companionship, laughter and Jesus, releasing her senior friends from bonds of loneliness, poverty and sadness. She greatly enjoyed her 21 years ministering to the elderly because, in her words, "They have so much to share from their experiences." After retiring in 1997, she volunteered at Mercy Medical Center until she moved to Mount Carmel in 2003.
Along the way, Gen found time to express her own creativity, winning blue ribbons for her pottery and offering pottery classes at the senior centers. Her creativity here at Mount Carmel manifested itself in flourishing flowers and plants outside in "Nan's Garden" and on her window sills. Her other favorite past times were fishing and making rosaries, including one rosary made from heart-shaped seeds called Job's Tears, that she grew and dried herself; this rosary was one of Gen's most cherished possessions. She also treasured a crucifix given to her by her eighth grade teacher and a Sacred Heart medal that she bought with 65 cents given to her by her mother. She never took the medal off, not even when it got caught in a paper shredder!
St. Paul wrote, "May your love increase ever more and more in knowledge and every kind of perception, to discern what is of value . . ." Gen was steadfast and loyal in her relationships because she valued people. She loved her family and was grateful to her community for all their care. She was a dedicated, selfless person with an enormous concern for those who struggled, and she responded with a generous spirit and a great love. Gen, may you rest peacefully in the loving arms of Jesus.