Sister Mary Lou Larkin, BVM (Mark)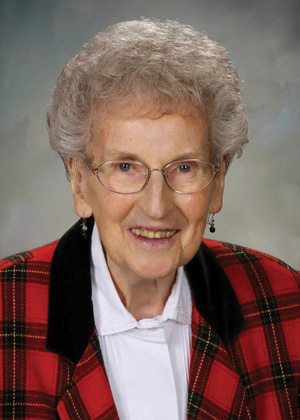 Sister Mary Lou Larkin, BVM (Mark), died Aug. 29, 2014, at Marian Hall in Dubuque, Iowa. Visitation will be from 10–11 a.m. on Thursday, Sept. 4, 2014, in the Marian Hall Chapel followed by a prayer service at 11 a.m. Funeral liturgy will be at 1:30 p.m. Burial is in the Mount Carmel cemetery.
She was born Sept. 18, 1929, to Mark Aloysius and Henrietta Ketchmark Larkin. She entered the BVM congregation from St. Agnes Parish, Phoenix, on Sept. 8, 1947. She professed first vows on March 19, 1950, and final vows on Aug. 15, 1955.
Sister Mary Lou was an elementary school teacher and superior/principal in Oak Park and Chicago, Ill.; and Montrose, Santa Ana and Los Angeles, Calif. She served in parish ministry and as director of religious education in Shiller Park, Mt. Prospect and Chicago, Ill.
She was preceded in death by her parents; brother James Larkin and sister Colleen Ford. She is survived by a brother, Mark (Shirley) Larkin, Scottsdale, Ariz.; nieces and nephews; and the Sisters of Charity, BVM, with whom she shared life for 67 years.
Sister Mary Lou Larkin, BVM (Mark)
Funeral Welcome
Marian Hall, Sept. 4, 2014
Good afternoon and welcome to the celebration of life of our Sister Mary Lou Larkin.
Mary Louise Larkin entered this world on Sept. 18, 1929, in Omaha, Neb., the third of four children born to Mark Aloysius Larkin and Henrietta Ketchmark. She joined siblings James and Colleen and was followed by her brother Mark. Mary Lou's father was a mortician who worked for the Larkin Funeral Home owned by her uncle. Her father felt it was important to really know people and call them by name. He greatly influenced her to do likewise. Mary Lou attended St. Cecilia Cathedral High School in Omaha until her father's health prompted the family move to Phoenix. She graduated from St. Mary HS in Phoenix and worked for two months as a stenographer for the state auditor.
Mary Lou entered the congregation on Sept. 8, 1947, and received the name Mark upon her reception on March 19, 1948. She wrote, "I believe I came to understand my religious vocation through the deep faith modeled by my parents . . . The church was the first priority in the lives of my parents." She professed her first vows on March 19, 1950, and lived almost 67 years as a BVM.
Mary Lou taught in elementary schools for 28 years and was missioned in Chicago and Oak Park, Ill.; and Montrose and Santa Ana, Calif. She served as principal at St. Bernard School in Los Angeles, Calif. from 1962 to 1968 just as the Second Vatican Council and the forthcoming changes were taking place. She recalled, "We had a very conservative pastor not looking forward to the changes that were inevitably going to take place . . . At this time I was studying scripture during the summer months at the University of San Francisco with 'top-notch' scholars from all over the world. I also learned to play the guitar . . . and led the children in 'spirited' Christian songs. The pastor didn't like the idea that I was taking Scripture courses and, worse yet, playing the guitar. Fortunately I was too young and ignorant to let it bother me."
Mary Lou's mission to St. Dorothy School in a black neighborhood of Chicago was an exciting time in her life. She recalled, "It was a very complex situation after the riots of 1968 . . . I was told there was a need for me . . . to teach at St. Dorothy . . . Black leaders met at St. Dorothy which seemed to be the center of the action . . . We listened to Jesse Jackson speak about the injustices that the black community was experiencing. During some of the meetings I would almost have to pinch myself and realize what a marvelous experience I had been given. I had a hunger to understand as much as I could . . . I treasured the time I was there." In 2009, Mary Lou received an invitation to St. Dorothy's all-class reunion with the message: "Your presence at St. Dorothy School has had a special meaning to each child. Your strong faith and firm guidance helped mold the St. Dorothy students into the professionals, parents and leaders they are today."
In 1985, Mary Lou began a 14-year mission in parish ministry, serving St. Constance Parish in Chicago; St. Beatrice Parish in Shiller Park, Ill.; and St. Thomas Beckett Parish in Mt. Prospect, Ill. The pastor of St. Thomas Beckett wrote, "Through the years she has manifested a rich diversity of gifts that has made her a pillar of faith among us and a clear example of the joy of living the 'religious' life. She has been so very visible here, and has invested herself not only in the children placed in her care but also in ourselves, our needs, our hopes, dreams and our vision. She brought with her a special gift for organizing . . . I have it on good authority that when the lord God created the universe, Sister Mary Lou was right there to make sure that there was a place for everything and that everything was in its place. And that it was labeled!"
Mary Lou retired in 1999, living in a flat in Chicago with two other BVMs, but she did not stop ministering. It was during this time she re-entered the life of a former student from Holy Redeemer School in Montrose who was incarcerated for murder. She wrote letters, sent spiritual materials, and even visited him. Appalled by the lack of consideration for human rights and the unavailability of a prison chaplain, Mary Lou contacted a newly installed bishop, also a former student, to request his help. Although the bishop was from a neighboring diocese, he used his influence to initiate the process of obtaining a part-time chaplain for the prison.
In 2000, Mary Lou moved to a senior high-rise in Oak Park, Ill., where she presided at communion services and took communion to those who could not attend. In addition, she organized ecumenical prayer services, including one on the first anniversary of 9/11 which enabled the residents to share their grief. She lovingly viewed her fellow residents as her "flock." Mary Lou also actively spoke out about issues of the day that greatly concerned her. She wrote letters to publications questioning the morality of the Iraq war and stating her concerns regarding the apostolic visitation of communities of women religious.
Even though she kept very busy during her "retirement" years, Mary Lou was able to enjoy some down time. In 1980 she went on a nine-country tour of Europe. She was an avid downhill skier until a skiing accident brought her to Mount Carmel. She also enjoyed reading and discussing books, especially spiritual writings. Mary Lou was an extremely outgoing and friendly person who loved life. She treasured her time with family, friends, former students and her BVM sisters and was an excellent letter writer. Her last day was a joyful one filled with friends and great laughter. As one friend simply stated, "She was a good lady."
The prophet Isaiah wrote, "On that day it will be said: 'Behold our God . . . for whom we looked; let us rejoice and be glad that he has saved us!'" The joy of Mary Lou's last day pales in comparison to the great joy she now knows as she "beholds our God."