Catherine (Katie) McHugh, BVM (St. Thoma)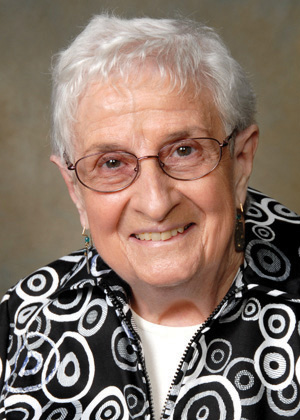 Catherine (Katie) McHugh, BVM (St. Thoma), died Sept. 25, 2014, at Caritas Center in Dubuque, Iowa. Visitation will be from 9–11 a.m. on Thursday, Oct. 2, 2014, in the Marian Hall Chapel followed by a prayer service at 11 a.m. Funeral liturgy will be at 1:30 p.m. Burial is in the Mount Carmel cemetery.
She was born in Chicago on Sept. 12, 1925, to Thomas and Anne (O'Dolan) McHugh. She entered the BVM congregation Sept. 8, 1943, from St. Vincent de Paul Parish, Chicago. She professed first vows on March 19, 1946, and final vows on Aug. 15, 1951.
Catherine taught elementary school and was principal in Chicago and Maywood, Ill.; and Davenport, Dubuque and Iowa City, Iowa. In Chicago, she was director for Catholic Charities, Howard Area Community Center; staff member at 8th Day Center for Justice; regional representative for the BVM congregation; director of the Illinois Citizens for Better Care; director of the Intercommunity Retirement Network; and president of and volunteer for the Intercommunity Housing Corp., which built a senior housing complex on Roosevelt Road, now named the Catherine E. McHugh Senior Apartments. She was also co-director of the BVM Personnel Office.
She was preceded in death by her parents; sister Margaret Schneider and brother Msgr. Thomas McHugh (diocese of Winona, Minn.). She is survived by nieces and nephews, and the Sisters of Charity, BVM, with whom she shared life for 71 years.
Catherine McHugh, BVM (St. Thoma)
Funeral Welcome
Marian Hall, Oct. 2, 2014
Good afternoon and welcome to the celebration of life of our Sister Catherine McHugh. A special welcome to those viewing electronically, and to Katie's friends and family who are here today. That so many of you have come is testimony to Katie's uncommon ability to make and keep friends for life. As I look at your faces, I can almost outline Katie's ministerial and social life. However, I and you will be better off if I stick to my script:
Catherine (Katie) Elizabeth McHugh entered this world on Sept. 12, 1925, in Chicago, as the youngest of three children born to Thomas McHugh and Anne O'Dolan, both of whom emigrated from Ireland. Her father worked as a street car conductor while her mother was a live-in domestic until they married. Katie's father died of heart failure on Christmas day in 1957. In 1951, her mother suffered a severe stroke that altered her personality. Katie's sister Margaret (Marge) and her husband Matt cared for Anne McHugh until her death from leukemia in 1968. When Marge's health steadily declined after the death of her husband, the BVMs who lived with Katie on Sherwin (Rita Benz and Mary DeCock) graciously opened their home to Marge until retirement housing became available. She died in 1996. Katie's brother Thomas (Mac) was a priest in the Diocese of Winona, Minn., and had served as an Air Force chaplain. He died in 1993.
Katie attended St. Vincent ES and St. Mary HS. In an interview, she said, "When I was a child, my friends and I liked the sisters who taught us so much that we would stay after school and sit around and goof off in the classrooms . . . That's how much we loved these sisters. There was something about them that immediately pulled me towards them. I just knew instinctively that that's exactly what I wanted to do and who I wanted to be." Katie entered the congregation on Sept. 8, 1943, and received the name St. Thoma at her reception on March 19, 1944. She professed her first vows on March 19, 1946, and lived 71 years as a BVM.
Katie taught kindergarten, first, second and eighth grades as well as music for 23 years, with missions in Chicago and Maywood, Ill.; and Davenport, Iowa City, and Dubuque in Iowa. She also served as principal at St. Patrick in Dubuque and Iowa City. In addition, she worked as the Co-commissioner of BVM Personnel, overseeing the process of sisters applying to the schools of their choice.
Katie spent 37 years in the Chicago area ministering in the field of social justice. She worked for Catholic Charities as the director of the Howard Street Area Community Center, and in community relations for the Misericordia Home. She was a staff member at the 8th Day Center for Peace and Justice, and was a founding member of Illinois Citizens for Better Care, which pushed to pass the 1979 Illinois Nursing Home Reform Act. As a BVM regional representative, Katie was a member of the Leadership Conference of Women Religious and participated in LCWR Region 8, which organized the Intercommunity Retirement Network to address health care issues of elderly religious. She served as the executive director for that Network and as president of the Intercommunity Housing Corporation it formed. Through her work as project coordinator, Roosevelt Place in Chicago was established as affordable housing for seniors, including married and single, women and men, religious and laity, as well as various races and ethnic groups. On Nov. 13, 2008, Roosevelt Place was renamed the McHugh Senior Center.
Katie was optimistic, exuberant, buoyant and tenacious. She was a person with an innate sense of justice who championed many an underdog. For Katie, advocacy was a way of life and even passion is too mild a word for her commitment to housing for senior religious in Chicago. It surely was a crusade. But Katie wasn't always serious. Her sense of humor was never far away thanks to her twinkling eyes, big smile and, oh my, her Irish roots.
Upon hearing of Katie's death, an image of a giant redwood falling filled my head. Often a large redwood is ringed by a circle of younger, "daughter" redwoods. Recent research has shown that there exists an elaborate relationship between the root systems of the mother tree and her "offspring" wherein nutrients from the "parent" tree pass to the younger trees, enhancing their growth and well-being. These processes are thought to accelerate when the mother redwood begins to die.
Katie didn't wait that long to nurture others. As convent superior, school principal, social worker, justice seeker, senior citizen advocate, BVM regional representative, beloved aunt and friend, she invited others into her circle of relationships without thinking twice. She mentored the young, schooled the idealistic, comforted those who were sad, encouraged those on an uphill climb. How many of us, after spending time with Katie, left with lighter hearts and renewed energy?
A mighty redwood has fallen but we, her family and friends, know that this is only the beginning for Katie. It's highly likely that she's already started organizing the communion of saints—we imagine God must be pleased with God's work!
I want to end with an 80th birthday tribute to Katie written by a friend, "This is a marvelous breadth of ministry into which you creatively put yourself. But it is not just this list of work you have done, it is the SOUL, truly a 'sanctified' soul, you bring to whatever you do that we honor . . . We don't just think it is God's will that you became a BVM. We KNOW it is God's will and feel so blessed to call you 'Our Sister.'"