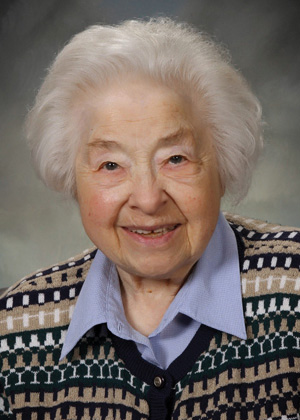 Mary Faith Lautz, BVM died Oct. 1, 2014, at Marian Hall in Dubuque, Iowa. Visitation will be from 10–11 a.m. on Thursday, Oct. 9, 2014, in the Marian Hall Chapel followed by a prayer service at 11 a.m. Funeral liturgy will be at 1:30 p.m. Burial is in the Mount Carmel cemetery.
She was born in Dickinson, N.D. on Dec. 12, 1917, to Frank and Ann (Wenner) Lautz. She entered the BVM congregation Sept. 8, 1935, from St. Thomas Aquinas Parish, Milwaukee. She professed first vows on March 19, 1938, and final vows on Aug. 15, 1943.
Mary Faith was an elementary and secondary school teacher and administrator in Wichita, Kan.; Chicago; Milwaukee; Phoenix; Fairbanks, Alaska; Kansas City, Mo.; and San Jose, Calif. She was administrator of the Roberta Kuhn Center at Mount Carmel, Dubuque, and served in pastoral ministry in Anchorage and Holy Cross, Alaska.
She was preceded in death by her parents and sisters Dorothy Hamilton and Jane Singer. She is survived by nieces and nephews, and the Sisters of Charity, BVM, with whom she shared life for 79 years.
Sister Mary Faith Lautz, BVM
Funeral Welcome
Marian Hall, Oct. 9, 2014
Good afternoon and welcome to the celebration of life of our Sister Mary Faith Lautz.
Mary Helen Lautz was born on Dec. 12, 1917, in Dickinson, N.D., joining her sisters Dorothy and Jane as the three children of Frank Lautz and Ann Wenner. Their father operated a grain elevator in North Dakota until his business declined. He traveled to Michigan to look for work while the girls and their mother moved to Dodgeville, Wis., to be near their mother's family. Mary Helen's father died in Detroit during the 1918 flu epidemic. Both her mother and Mary Helen also contracted the flu but fortunately recovered. The Lautz girls lived with their maternal grandparents in Dodgeville, while their mother trained in Milwaukee, Wis., to become a nurse. Eventually, the girls rejoined their mother.
Mary Helen attended Holy Angels High School in Milwaukee where she was introduced to the BVMs. She commented, "I loved them! They were funny; they played jokes on each other." She was led to a religious vocation by school retreats and the chiding thought, "What does it profit to gain the world and lose one's soul?" Sister Fleurette Blameuser, Mary Helen's art teacher, guided her into the BVMs. "That this was the very best way to live my life sent me to the convent without looking back," she wrote in her autobiography. Mary Helen entered the congregation on Sept. 8, 1935, and received the name Faith upon her reception on March 19, 1936. She professed first vows on March 19, 1938, and lived 79 years as a BVM.
Faith taught elementary grades in Wichita, Kans., and Chicago for 14 years. Later she taught art and government at Holy Angels Academy in Milwaukee for 12 years. Often teachers never know the extent of their influence in the lives of their students. However, in 2011 Faith received a letter from a former student who wrote, "I was in your sixth grade class at St. Joseph School in Wichita, Kan., . . . I was a member of the Baptist Church. You were the very reason that I became a Catholic . . . I wish to thank you for all you taught me about the Church. My parents . . . at their deaths both had returned to the church."
Faith served eight years as principal at St. Francis Xavier HS (now Xavier College Preparatory) in Phoenix. She wrote, "It was a time in our community of turmoil, of questioning, of change, of loss. Living there was for me worldly, sophisticated, free and unsettling. I wanted to be away to a simpler world, a place where I could once again possess my soul in peace." She found that peace teaching at Monroe HS in Fairbanks, Alaska, until she was asked to accept the position of assistant principal at Regis O'Hara High School in Kansas City, Mo.
Two year later, Faith returned to Alaska to spend the next nine years working as the administrator of a retreat house, an assistant in the Religious Education Office of the Archdiocese of Anchorage, and a pastoral associate of two parishes. About her time with the Athabascan Indians and Eskimos she wrote, "The image I had of happy, colorfully-dressed, native children with loving parents in snug little homes was modified when I saw the poor condition of many homes and the litter and dirt on the streets . . . One needs great faith, hope, love to keep up one's courage when working with good but very poor people who seem to have no roots in faith . . . How much good I did by being there, being a friend, being the presence of 'church,' I do not know. I did love my time there and, had not my years warned me to move on, I would have remained . . . I left with a heavy heart."
Faith returned to the Lower Forty-eight in 1986 to teach in San Jose, Calif. The following year, she moved to Dubuque to become the administrator of the Roberta Kuhn Center where she also taught art classes. "It was a wonderfully joyous place and I loved it," remarked Faith. In 2003, after breaking her ankle in a car accident, she moved to Mount Carmel.
Faith was a gifted artist whose work Women in Scripture was included in the Women and Spirit: Catholic Sisters in America Exhibit at the Carnegie-Stout Public Library here in Dubuque. Her Master's thesis "The Sacred Heart" graces the wall just outside this chapel. When Faith was at Help of Christians School in Chicago, she was constantly asked to paint spiritual bouquets and altar linens. "The Superior, Sister Alethea Garrity, had me painting through the night to catch up. Sister Ann Regina Dobel used to read to me while I continued painting. One time we were still painting and reading when the rising bell rang for the day." When asked if she feels like an artist, she replied, "No, I feel like an art teacher . . . I loved to teach and loved the contact with students." She was frequently asked to critique the works of beginning artists. She always gave her honest opinion and, true to her teaching charism, offered suggestions for improvement, if necessary.
Faith was an independent thinker and a doer who made lasting impressions with her warm, welcoming and gracious smile. She was genuinely happy to see people and formed many lifelong friends. She dearly loved her family and eagerly awaited their visits, calls and letters and plastered her bulletin board with their photos. Besides her passion for art, Faith loved music, dance and cats and, according to a friend, she could "cook an Alaskan salmon like no one else."
Faith certainly heeded St. Paul's urging to the Ephesians "to live in a manner worthy of the call you have received with all humility and gentleness, with patience, bearing with one another through love . . ." Reflecting upon her life, Faith commented, "I look back at the joys and sorrows, successes and failures, and waste no time wondering whether I made the right choice . . . I thank God for my life as a BVM." And we thank God for the blessing Faith has been in our lives as we celebrate her entrance into eternal life.