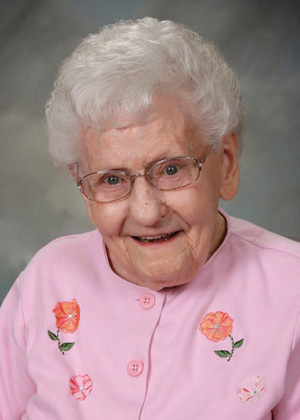 Maura Purcell, BVM died Oct. 1, 2014, at Caritas Center in Dubuque, Iowa. The Natural Burial Rite of Committal will be held at 1:30 p.m. Friday, Oct. 3, 2014, in the Marian Hall Chapel. A Memorial Mass will be held at 1:30 p.m. on Friday, Oct. 24, 2014. Burial is in the Mount Carmel cemetery.
She was born in Omaha, Neb., on March 25, 1926, to Thomas and Cecelia (Ryan) Purcell. She entered the BVM congregation Sept. 8, 1944, from St. Bridget Parish, Omaha. She professed first vows on March 19, 1947, and final vows on Aug. 15, 1952.
Maura was an educator and music teacher in Chicago; Butte and Missoula, Mont.; San Francisco; Des Moines, Iowa; and Boulder, Colo. She served in pastoral ministry in Boulder, Denver and Arvada, Colo., and Kalamazoo, Mich.
She was preceded in death by her parents, brother Thomas, and sisters Patricia P. Devine and Peggy Purcell, BVM (Moira). She is survived by nieces and nephews, and the Sisters of Charity, BVM, with whom she shared life for 70 years.
Sister Maura Purcell, BVM
Memorial Mass Welcome
Marian Hall, Oct. 24, 2014
Good afternoon and welcome to the celebration of life of our Sister Maura Purcell.
Maureen Frances Purcell was born on March 24, 1926, in Omaha, Neb., as the third of four children born to Thomas Purcell and Cecilia Ryan. Her parents were Irish immigrants who met in the United States and instilled in their daughter a great love of their Irish heritage. Maureen's mother was extremely charitable. She had a deep concern for the priests and sisters and often provided sausage for them to enjoy with their breakfast. Maureen received her love of learning from her father who had a limited education, but would read his children's history books to learn more. Maureen's older sister Patricia and brother Thomas both died in 2003. Her younger sister, Sister Peggy Purcell, BVM (Moira), entered the congregation in 1947 and died in 2002.
Maureen attended St. Bridget ES and St. Mary HS. She worked as a clerk at the Union Pacific Railroad headquarters prior to entering the community. On her application for admission, Maureen wrote, "By helping to save souls through prayer and good works I want to honor and glorify God and try to show my appreciations to Him for His gifts to me." Maureen entered the congregation on Sept. 8, 1944, and received the name Maura upon her reception on March 19, 1945. She professed her first vows on March 19, 1947, and lived 70 years as a BVM.
Maura taught music for 26 years with missions in Chicago; Butte and Missoula, Mont.; San Francisco; Des Moines, Iowa; and Boulder, Colo. During an interview she said, "My memories are about the music . . . In the BVM community years ago the funds from music lessons sent the sisters to summer school to finish their degrees. I taught keyboarding and singing as well as classroom music." Music truly was Maura's passion as was made evident by her large collection of CDs.
In 1973, Maura carried her musical gifts into parish ministry at Sacred Heart of Mary and St. Thomas Aquinas Parishes in Boulder. She later served as liturgist and pastoral musician at St. Joseph Parish in Kalamazoo, Mich., and as pastoral assistant at Christ the King Parish in Denver. In 1986, Maura entered the clinical pastoral education program at Boulder Community Hospital. She later served 10 years as the music director at Shrine of St. Anne in Arvada, Colo. As a liturgical musician, she became known for her ability to inspire the entire congregation to sing. Maura moved to Mount Carmel in 2000 to be closer to her sister Peggy, whose health was declining.
Maura was an energetic and feisty woman who once commented, "My salvation is a my sense of humor . . . I can be mad but I will not be depressed!" She loved the outdoors, especially beautiful summer days. "When I was in Colorado" she recalled, "I would drive up to a mountain trail and just hike all alone . . . my solitary confinement." Yet Maura cherished the people in her life. A sign posted on her door read "Wake me if I'm sleeping. I love company." And when she celebrated her 70th jubilee a few weeks ago she made a point to individually thank the staff for the compassionate care.
Maura was also an intelligent woman with strong beliefs and an inquisitive mind who greatly enjoyed a lively conversation no matter the topic. She was an avid reader devoted to exploring new and challenging ideas and staying current on events in the community, the church and the world. Using the words of St. Paul, Maura was on a quest "to comprehend with all the holy ones what is the breadth and length and height and depth" of God. Over the past few years, the new cosmology became her central focus. Her choice of natural burial beautifully expresses her belief in the sacredness and interconnectedness of all living beings.
We celebrate Maura's earthly life and her entrance into eternal life. Her questions are answered; her journey complete. May she rest in peace.