Stella Marie Swakoski, BVM (Lidwina)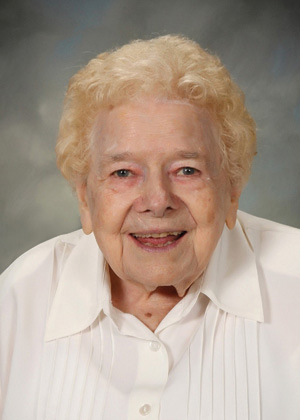 Stella Marie Swakoski, BVM (Lidwina) died Oct. 4, 2014, at Marian Hall in Dubuque, Iowa. Visitation will be from 9–11 a.m. on Friday, Oct. 10, 2014, in the Marian Hall Chapel followed by a prayer service at 11 a.m. Funeral liturgy will be at 1:30 p.m. Burial is in the Mount Carmel cemetery.
She was born in Butte, Mont., on Oct. 10, 1919, to John T. and Anna Marie (Heaney) Swakoski. She entered the BVM congregation Sept. 8, 1938, from St. Joseph Parish, Butte. She professed first vows on March 19, 1941, and final vows on Aug. 15, 1946.
Stella Marie was an elementary school educator and administrator in Dubuque; Des Moines and Council Bluffs, Iowa; San Jose, Calif.; and Butte and Missoula, Mont. She was on the faculty of Clarke University, Dubuque. She ministered as secondary school counselor in Anaheim, Calif.
She was preceded in death by her parents; sisters: Mary Gonzales, Bernice Pappas, Ann Marie Caddell, Caroline Schere and Dorothy Harmon; and brothers Ted and Frank. She is survived by nieces and nephews, and the Sisters of Charity, BVM, with whom she shared life for 76 years.
Sister Stella Marie Swakoski, BVM (Lidwina)
Funeral Welcome
Marian Hall, Oct. 10, 2014
Good afternoon and welcome to the celebration of life of our Sister Stella Marie Swakoski.
St. Paul wrote, "Put on then, as God's chosen ones, holy and beloved, heartfelt compassion, kindness, humility, gentleness, and patience, bearing with one another and forgiving one another . . . And over all these put on love." This passage, which Stella chose for her wake service, beautifully reflects the manner in which she lived her life as a teacher, a principal, a counselor, an aunt and a BVM sister.
Stella Marie Swakoski was born on Oct. 10, 1919, the sixth of eight children born to Anna Marie Heaney and John T. Swakoski in Butte, Mont. She was baptized at St. Joseph Church and attended St. Joseph ES where she was taught by the BVMs. Stella loved and cherished her ethnic heritage. From her Irish mother she inherited a love of learning, an appreciation of music, and a sense of humor and wit; from her Polish father, a great sense of responsibility, a strong work ethic, and an appreciation for the wonderful gift of her Catholic faith.
Stella entered Mount Carmel on Sept. 8, 1938, received the name Lidwina upon her reception on March 19, 1939, and professed first vows on March 19, 1941. She lived 76 years as a BVM. Her first missions were St. John ES in Des Moines, Iowa, and St. Leo ES in San José, Calif. In 1943, she was sent to her home parish, St. Joseph in Butte, where she says she was admonished by Sister Mary Adorinus, her provincial, to set an example so more girls from Butte would enter the BVMs. Five girls from St. Joseph did enter during the three years she was there. Following her years in Butte, Stella first returned to Des Moines and then served as principal at St. Francis Xavier ES in Council Bluffs, Iowa. In 1952, she returned to Montana to serve at St. Ann ES in Butte and as superior at St. Anthony ES in Missoula. Following this she was assigned to her favorite mission as principal at St. Anthony ES in Dubuque. While at St. Anthony, she convinced the pastor to build a convent for the sisters who previously resided at Clarke University. Stella also taught in the Education Department at Clarke.
In 1968, Stella received a fellowship in guidance and counseling at Indiana University in Terre Haute and was subsequently recruited as a guidance counselor by the Anaheim Union High School District in southern California, where she served for over 30 years. During that time, she was named "Counselor of the Year for Orange County." In her position on the Governor's Board in Sacramento, she was one of three who designed a "Guidance Handbook for High School Counselors for the State of California." Stella served on many committees, especially on student drug abuse, victims of child abuse, and the social injustices of our time. In 1994, she transitioned to part-time counseling during the day and teaching English as a Second Language (ESL) three nights a week.
During her years of working in the public school, Stella maintained close contact with her many BVM friends. She was always proud of belonging to her cluster and was actively involved in congregational issues. Stella moved to Mount Carmel in 2005 and participated in many activities and classes. Her diminished eyesight caused her to resign from being a Mode 3 Senator in 2010.
When her five sisters and two brothers died, Stella became the matriarch of a large and supportive family of nieces and nephews, grandnieces and grandnephews. She visited them until her health would no longer permit her to travel. However, they kept in close contact with her by visiting, phoning and writing.
Today would have been Stella's 95th birthday. A few years ago, when asked the secret to living a long life, Stella replied, "Be grateful for each day God gives. It is a gift to have lived . . . and to be able to say, 'I've done my best with God's help.'" Stella wanted to be remembered for her energy, her enthusiasm, her love of life, and especially her love for the BVM community. She formed wonderful relationships with her BVM sisters and was a confidant to many as they sought her advice and assistance. Because of this, Stella had beautiful stories to share at the wakes of her beloved sisters who have gone home to God. For these stories, she will always be remembered. It is only fitting to conclude this welcome with the same words Stella used to conclude her stories: "God bless her beautiful soul!"