Sister Florence Davy, BVM (Florencita)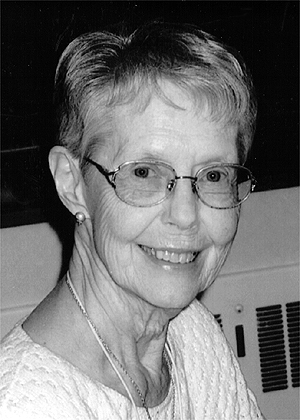 Sister Florence Davy, BVM (Florencita), 89, died Feb. 5, 2014, at Caritas Center in Dubuque, Iowa. Visitation will be from 9–11 a.m. on Tuesday, Feb. 11, 2014, in the Marian Hall Chapel followed by a prayer service at 11 a.m. Funeral liturgy will be at 1:30 p.m. Burial is in the Mount Carmel cemetery.
She was born Sept. 9, 1924, to Edward and Florence McDonough Davy. She entered the BVM congregation from Help of Christians Parish, Chicago, on Sept. 8, 1943. She professed first vows on March 19, 1946, and final vows on Aug. 15, 1951.
Sister Florence was an elementary and secondary school teacher in Glendale and Los Angeles, Calif.; Kansas City, Mo.; Wichita, Kan.; Mason City and Burlington, Iowa; Pontiac, Chicago and Mundelein, Ill.; and St. Paul, Minn. She also served as librarian in Chicago.
She was preceded in death by her parents; a sister Helen Mahoney and brothers Edward and Robert. She is survived by sister Adelaide O'Keefe (Joseph), North Fr. Myers, Fla.; brother James Davy (Diane), Glen Ellyn, Ill.; sisters-in-law Mercedes Davy, South Bend, Ind.; and Phyllis Davy, Rockford, Ill.; nieces and nephews, and the Sisters of Charity, BVM, with whom she shared life for 70 years.
Sister Florence Davy, BVM (Florencita)
Funeral Welcome
Marian Hall Chapel, Feb. 11, 2014
Good afternoon and welcome to the celebration of the life of our Sister Florence Davy.
Mary Florence Davy was born on Sept. 9, 1924, in Chicago, Ill., the second of six children born to Edward Davy and Florence McDonough. She weighed only three pounds at birth and was baptized in the hospital. She and older brother Edward, called Bud, were later joined by siblings Helen, Robert, Adelaide and James.
Florence attended Help of Christians and the Immaculata. In an interview with Sister Joan Newhart, BVM in 2008, Florence commented, "Sister Mary Alethea Garrity was the principal at Help of Christians and so good to our family . . . Sister Mary St. Ida Forsyth (Katharine) was a good friend . . . She helped the whole family in many ways . . . She also encouraged me to major in home economics."
Florence graduated from the Immaculata in 1942, but abided by her mother's wishes to delay entering the novitiate because her brother Bud was in the army fighting in World War II. She waited one year and entered the congregation on Sept. 8, 1943. She received the name Florencita upon her reception on March 19, 1944, and professed first vows on March 19, 1946.
Florence's first mission was to Holy Family in Glendale, Calif. She commented, "I had 65 students in fourth and fifth grades. I must have used common sense because I had no discipline problems." Another explanation may be, to quote a member of her set, that "her students loved her because she was a loving teacher and had good composure in her classroom."
Florence taught grade school for 20 years with additional missions in Kansas City, Mo.; Wichita, Kan.; Mason City and Burlington, Iowa; and Pontiac and Chicago, Ill. Florence also taught home economics courses for 14 years during missions in Los Angeles; Saint Paul, Minn.; and Mundelein and Chicago, Ill. Finally, she served 12 years as a librarian at the Immaculata, Mundelein College and Notre Dame High School in Chicago. She retired in 1992, living in Chicago until moving to Mount Carmel in 2005.
Florence was a beautiful woman and very much a lady. She was quiet, cordial and gentle, but could enjoy a good laugh. And she was always impeccably dressed. Her talent for designing and sewing clothes was an outlet for her creativity and a great asset when the community returned to contemporary dress. Although physically challenged in her later years, she gracefully accepted her limitations and appeared to be at peace.
On her application for admission, Florence wrote, "God wants followers more than anything . . . I believe it is the way God has chosen for me to save my soul." At her wake service, we heard from Proverbs that "Charm is deceptive and beauty fleeting; the woman who fears the Lord is to be praised." We celebrate the 70 years Florence has "feared" and followed the Lord as a Sister of Charity of the Blessed Virgin Mary and rejoice with her as she enters into eternal life.