Sister Margaret Marso, BVM (Ann Elise)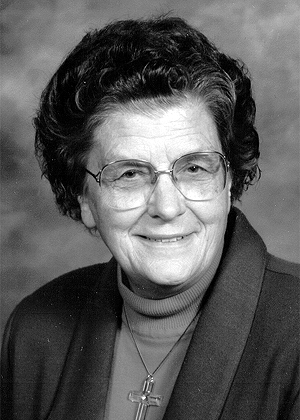 Sister Margaret Marso, BVM (Ann Elise), 88, died Dec. 7, 2013, at Caritas Center in Dubuque, Iowa. Visitation will be from 9–11 a.m. on Thursday, Dec. 12, 2013, in the Marian Hall Chapel followed by a prayer service at 11 a.m. Funeral liturgy will be at 1:30 p.m. Burial is in the Mount Carmel cemetery.
She was born June 10, 1925, to Adolph and Catherine Gleis Marso. She entered the BVM congregation from St. Philip Parish, Pasadena, Calif., on Sept. 8, 1947. She professed first vows on March 19, 1950, and final vows on Aug. 15, 1955.
Sister Margaret was an elementary school teacher in Phoenix and Tempe, Ariz.; and Burbank, Santa Ana, Los Angeles and Montrose, Calif. She was coordinator of religious education in Montrose and LaCanada, Calif.
She was preceded in death by her parents and sister Bernice Marso, BVM (Ann Catherine). She is survived by cousins and the Sisters of Charity, BVM, with whom she shared life for 66 years.
Sister Margaret Marso, BVM (Ann Elise)
Funeral Welcome
Marian Hall Chapel, Dec. 12, 2013
Good afternoon and welcome to the celebration of life of our Sister Margaret Marso.
Margaret Elise Marso was born on June 10, 1925, in Los Angeles, Calif., the eldest of two girls born to Adolph Marso and Catherine Gleis. Margaret and her sister, Bernice, were first generation Americans whose parents were born in the Grand Duchy of Luxembourg. Their parents met at a Luxembourg celebration picnic in Hollywood when their father was 45 years old and their mother was 30. According to a humorous account of the meeting written by Bernice, their mother asked their father to marry her because it was a leap year! Margaret was proud of her heritage and she became very animated when talking about Luxembourg. She and Bernice were thrilled to have the opportunity to visit Luxembourg. She also visited the Kennedy Center in Washington, D.C. to see a sculpture from Luxembourg created by one of her cousins. One of Margaret's favorite possessions was a snow globe of the Luxembourg Cathedral.
In an interview, Margaret describes how her family first met the BVMs. "My father . . . was fired from his job . . . Dad and Mother applied for jobs with the Hunter family . . . The children's governess had urged us to enroll in St. Philip Catholic school staffed by BVM sisters. The chauffer took us to register at the convent. Sister Mary Franciscus Fran Dolan welcomed us. Sister Alissio Dempsey was Superior and Principal . . . We've looked back to see the hand of God at this meeting . . . Later, we learned that the Dubuque home of these sisters . . . had clusters of Luxembourgers, who settled there because it reminded them of their home country." Margaret's eighth grade class at St. Philip formed close friendships that endured for decades. They regularly celebrated life events together and were lauded in the Pasadena Star News as they planned to celebrate their 60th graduation anniversary.
After completing high school and three years of college, Margaret entered the BVM congregation on Sept. 8, 1947, joining her sister, Sister Bernice (Ann Catherine) who had entered two years earlier. Bernice wrote, "This was a big shock to my dad—two nuns, no grandchildren! Later, he was completely won over to the idea." Margaret received the name Ann Elise upon her reception on March 19, 1948, professed first vows on March 19, 1950, and lived 66 years as a BVM.
Margaret was an elementary teacher for 28 years and was missioned in Burbank, Santa Ana, Los Angeles, and Montrose, Calif.; and Phoenix and Tempe, Ariz., where she taught at Our Lady of Mount Carmel for 14 years. After earning a master's degree, she applied for grants in Earth Science that enabled her to study at sites throughout the country. These experiences greatly enriched her students' education. In a newspaper interview, Lucie Hagens, former principal of Holy Redeemer in Montrose, commented, "Sister Margaret was totally dedicated and generous to a fault . . . We won't see her like soon again."
In 1978, Margaret transitioned into parish ministry as the director of religious education at Holy Redeemer in Montrose, Calif., serving for eight years before moving on to St. Bede in La Cañada, Calif. Margaret remained at St. Bede for 14 years and it became her favorite mission. She wrote, "My memories of St. Bede's will always be cherished . . . All my teachers were volunteers, who had a special love for the students AND the teachers. The Religious Education Department . . . sponsored a special Sunday Mass and reception for my retirement. It was an expression of love and appreciation."
Margaret was kind, thoughtful and generous. She loved interacting with people, easily remembered names and faces, and always stayed in touch because of her genuine interest and concern. One friend commented, "She knew everybody! If you walked down the street with Margaret, you would always meet someone she knew."
After retiring, Margaret lived in Pasadena and Glendale, Calif., before moving to Mount Carmel in 2007. Not too long ago, she was seen walking about with a big book. It was the Old Testament and she wanted to read it straight through. In the words of St. Paul, ". . . although our outer self is wasting away, our inner self is being renewed day by day. For this momentary light affliction is producing for us an eternal weight of glory beyond all comparison."
Margaret wrote that her reason for becoming a sister was "in gratitude for the many blessings God has bestowed on me, particularly for giving me such exemplary parents and placing me in a rich and wholesome environment." We, her sisters and friends, are grateful for the blessing Margaret has been in our lives and rejoice with her as she enters into eternal life.