Sister Mary Leana Kohnen, BVM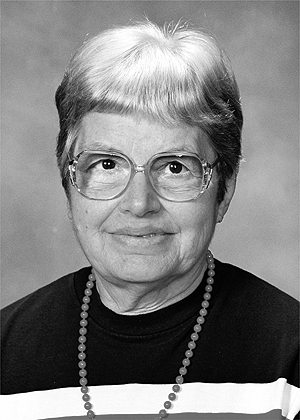 Sister Mary Leana Kohnen, BVM, 85, died April 1, 2014, at Caritas Center in Dubuque, Iowa. Visitation will be from 9–11 a.m. on Tuesday, April 8, 2014, in the Marian Hall Chapel followed by a prayer service at 11 a.m. Funeral liturgy will be at 1:30 p.m. Burial is in the Mount Carmel cemetery.
She was born July 31, 1928, to Joseph and Leona Haase Kohnen. She entered the BVM congregation from St. Timothy Parish, Chicago, on Sept. 8, 1947. She professed first vows on March 19, 1948, and final vows on Aug. 15, 1955.
Sister Mary Leana was an elementary school teacher in Dubuque, Iowa City, Davenport, Cedar Falls, Clinton and Muscatine, Iowa; Chicago, Berwyn and East Moline, Ill.; and Tigard, Ore. She was computer coordinator in Muscatine and East Moline.
She was preceded in death by her parents. She is survived by a sister, Catherine Halpin, Park Ridge, Ill.; a niece; two nephews; and the Sisters of Charity, BVM, with whom she shared life for 66 years.
Sister Mary Leana Kohnen,
Funeral Welcome
Marian Hall Chapel, April 18, 2014
Good afternoon and welcome to the celebration of life of our Sister Mary Leana Kohnen.
Dorothy Kohnen was born on July 31, 1928, in Chicago. She and her younger sister Catherine were the daughters of Joseph Kohnen and Leona Haase. Dorothy recalled her childhood in an interview. "My Father . . . died when I was seven. My Mother had to find work in an office. Money was always a problem . . . My sister, Kitty, and I were very close. We had each other with Father gone and Mother working . . . We lived on the North Side of Chicago, so I went to the Immaculata High School. I liked Immaculata. My favorite teacher was Sister Mary Corinne McGucken, the physics teacher."
Dorothy entered the congregation on Sept. 8, 1947. On her application for admission, she wrote that she wanted to become a sister because "it seems the most direct way of attaining the one worthwhile goal in the world." She received the name Leana upon her reception on March 19, 1948, professed first vows on March 19, 1950, and lived 66 years as a BVM.
Leana spent 33 years in elementary education. In Illinois, she was missioned at Holy Cross in Chicago, St. Odilo in Berwyn, and St. Anne in East Moline. In Iowa, she taught at St. Mary in Iowa City, St. Paul the Apostle in Davenport, St. Patrick in Cedar Falls, St. Mary in Clinton, St. Mathias in Muscatine and St. Anthony in Dubuque. However, Leana's favorite mission was St. Anthony in Tigard, Ore. where she "loved the state and the beauty."
Leana was a very intelligent, gifted woman with an analytical mind, a diligent work ethic, and a keen interest in computers. After studying computer education at Clarke University, she served as a computer coordinator in Muscatine and East Moline and taught computer education to students in first through eighth grades. People who knew her have commented that Leana had "exceptional organizational skills, experience in assessing new curriculum materials, and concern about working with the strengths and weaknesses of each individual."
A 1992 Salt article stated that Leana "felt strongly that children should sample as many different activities connected with computers as possible . . . She designed a curriculum that attempts to do this."
"There has been such an improvement in the software available for children since I began this work," Leana stated, "and recent advances in technology . . . are breathtaking."
St. Paul wrote, "Put on then, as God's chosen ones, holy and beloved, heartfelt compassion, kindness, humility, gentleness and patience . . ." How well these words describe Leana. She was a quiet, gentle and sincere woman, always sensitive to people and their needs, and always grateful.
After retiring, she lived briefly in East Moline before moving to Wright Hall. "I was happy at Wright Hall," she remarked. "You could hop on a bus and go anywhere in the city." While "in the city" she loved to visit the arboretum and museums and attend plays with her sister Kitty. "However it was providential that I came to Mount Carmel," she noted. "I had a stroke after I came, so I had the chance to know my way around before the stroke occurred . . . I like to read, especially mystery stories . . . and the aides have found large print books for me. They are dear, dear ladies."
Leana, too, was a dear lady, a faithful servant and a beloved child of God. We fondly recall our memories of Leana and rejoice with her as she now enters into eternal life.