Reflections on Volunteer Service Trip to Ecuador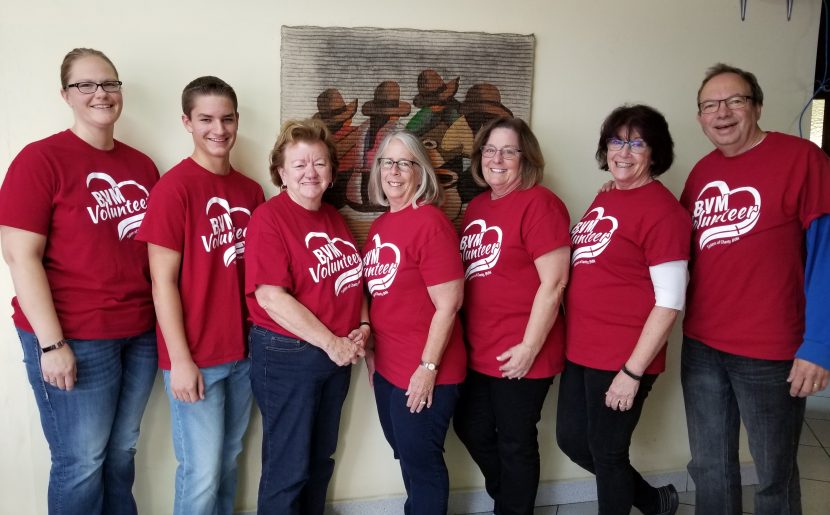 Danita Grant (l.), Liam Grant, Mary Ann Conzett, Carol DeCarvalho, Lori Ritz, and Mary and Tim Moothart helped build a house, experienced the hospitality of another culture, and learned about themselves and each other during a volunteer service trip to Ecuador.
A shared volunteer service trip to Ecuador brought individual reflections of what the seven travelers saw, learned, and experienced. Read their observations here.
Day 1 – Oct. 25, 2019
Readings
Each one should use whatever gift they have received to serve others, faithfully administering God's grace in its various forms. 1 Peter 4:10
"Teacher, what shall I do to inherit eternal life?" Jesus said, "What is written in the Law? How do you read it?" The lawyer answered, "You shall love the Lord your God with all your heart and with all your soul and with all your strength and with all your mind, and your neighbor as yourself." Jesus said, "You have answered correctly; do this, and you will live." Luke 10:25-28
Tim Moothart
We all arrived in Quito in good health and eager to start whatever adventure the Holy Spirit has in store for us. In our first full day at the center in Cotocollao, we toured the preschool, elementary school, and common areas, then discussed current and future plans for WBC (Working Boys' Center) Family of Families with the Executive Team. We learned how the Jesuit approach of empowering people and serving them where they are is in full force here. It was reassuring to see how neat, cordial, and happy the students seemed to be when we met them. After lunch we visited Museo Inti-Nan at Mitad del Mundo (Middle of the Earth) where we experienced the forces caused by gravity and the earth's rotation plus learned how indigenous people from Ecuador lived in the past. We capped off the day with a presentation about the history of the WBC and more about the services provided for its families.
Salud!    
---
Day 2 – Oct. 26, 2019
Reading
Your word is a lamp to my feet and a light to my path. Ps 119:105
Mary Moothart
This was a day of diverse experiences for our group. Four members gamely jumped into a pickup truck for a ride to the market at Otavalo, view Cotopaxi from a gorgeous overlook, and ride a boat across Lake Cuicocha (Crater Lake). They had a few adventures along the way trying to arrive at their destinations but experienced the hospitality and warmth of the Ecuadorians who assisted with directions and explanations. Their escort and driver, Rudolfo, was awarded the prize for patience, calm, and humor!
The remaining three members took a walk down to the Ofelia open-air market and were truly amazed by the size of this market providing fresh fruits, vegetables, fish, and meat, including live rambunctious roosters.
We then witnessed a unique Ecuadorian graduation and award ceremony for adult students who returned to school. We painted a few columns in the courtyard as gestures of service, but are humbled by the magnitude of the genuine nature of the people that we have had the privilege to know here.  From the moment we walked out of customs and were warmly greeted by Olivia with the familiar, "Welcome Home!" it has felt like Old Home Week. The familiar faces that warmly welcome us with hugs, kisses, and a feeling of authentic caring reassures us this is "our home" in the sense of having relationships with caring people with great spirits.
---
Day 3 – Oct. 27, 2019
Reading
"Be who God meant you to be and you will set the world on fire."—Catherine of Siena
Liam Grant, 14 years old
"The minga (voluntary collaborative work, in this case helping this family to build a house) was a lot of fun in that it was really great seeing everyone working together unitedly. Everyone pitched in and did their part to help out. At one point we even had an assembly line going where everyone would hand off the buckets filled with cement to the next person and then the last person would dump it in a huge pile where the base of the house was to be made. Although it may not have seemed like we accomplished very much, I still feel like we were able to give the family a big helping hand considering how much longer it would have taken them to do it all by themselves. I only wish I could have done more, which is a pretty good problem to have!"
---
Day 4 – Oct. 28, 2019
Reading
"You have the most laborious duty, but the most profitable for time and eternity; you teach the poor of our Lord. Do thank Him for that glorious privilege, and when you see a very poor and neglected little one look on her with love, and be kind to her."—BVM Foundress Mary Frances Clarke, Letter 8, June 7, 1861
Danita Grant
We experienced a rather wide variety of living conditions between the three families we visited today who belong to the center. All were very welcoming to us and very grateful for what the center provides to their families. It was a very emotional experience for some of the families to explain their situations to us and for me, hearing about the struggles the families have. Seeing their living conditions firsthand really helped my understanding of what their daily lives are like.
---
Day 5 – Oct. 29, 2019
Reading
"Leave the future to God; I have no fears so long as you are working unitedly but that He will aid as in the past."—Mary Frances Clarke, Letter 212, September 17, 1885
Mary Ann Conzett
Earlier in the week, during our nightly reflection, we discussed how taking small steps can make such a difference, not just for ourselves, but for those in need around us. Today we walked in the area where Padre took small steps in making a difference in the lives of many young boys. Padre gave the opportunity of security, safety, education, nourishment, and friendship to young shoeshine boys.
These small steps have moved into giant steps for the Quito community. Providing now for girls, boys, and families—they now have security, safety, education, nourishment, friendship, and family stability. What a gift, all from small steps.
WBC makes a difference.
---
Day 6 – Oct. 30, 2019
Reading
"Do not annoy yourself about anything. You can do much for the glory of God by instructing so many dear children."—Mary Frances Clarke, Letter 33, January 25, 1876
Carol DeCarvalho
Our hearts were opened as we visited Working Families Happy for Change in the south of Quito, Ecuador. This center is run by Ecuadorian staff with spiritual guidance by Madre Miguel and Padre Juan. They serve about 60 to 70 percent Venezuelan refugees and the rest the working poor in Quito. The members receive nutritious meals, health care services, and after or before school programs for children.
---
Day 7 – Oct. 31, 2019
Reading
"Go on steady and quiet . . . "—Mary Frances Clarke, Letter 11, June 21, 1867
Lori Ritz
Our journey, which began on Thursday, Oct. 24, is coming to a close. Our lives have been touched and changed by so many, including one another, here in Quito, Ecuador. The faces of the children of all ages are etched in our minds: the smiles, the brown eyes, the curious looks. The genuine hospitality of all who shared who they are with us: the workers in the house at CMT who provided meals and services of all sorts, the families who opened their homes to us and shared their hopes and vulnerability; the program volunteers who were not shy to let us shadow them for a day; those center employees who accompanied us on day trips and served as translators; Madre Miguel and Padre Juan who had the vision 54 years ago for empowering families in poverty with roots and spirituality.
Today, as we prayed, we were reminded of the words of Mary Frances Clarke: "Go on steady and quiet."