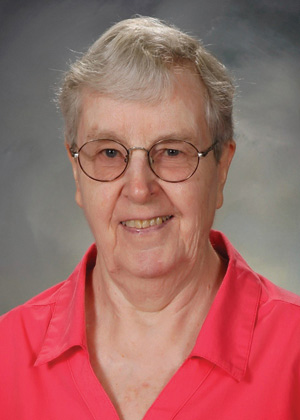 Sister Patricia O'Rourke, BVM died Monday, Feb. 11, 2019, at Caritas Center, Dubuque, Iowa.
Visitation, Sharing of Memories, and Mass of Christian Burial were Thursday, Feb. 14, 2019, in the Marian Hall Chapel. Burial is in the Mount Carmel cemetery.
She was born on Dec. 25, 1928, in Chicago to William James and Agnes Bradley O'Rourke. She entered the BVM congregation Feb. 2, 1950, from St. Eulalia Parish, Maywood, Ill.
Sister Patricia was an elementary principal and teacher in Iowa at St. Patrick in Cedar Rapids and St. Irenaeus in Clinton.  She ministered in Chicago as an elementary teacher at St. Tarcissus, St. Eugene and Holy Name and as an adult learning skills teacher for the City Colleges of Chicago.
"Patricia was always very businesslike – prompt and meticulous; it was her approach to life . . . [She] was a person of simplicity – quiet, conscientious, pleasant, kind – a lovely, gracious presence." (Eulogy)
She was preceded in death by her parents; brothers William, James, and Charles; and sisters Agnes Atherton and Margaret Rose O'Rourke. She is survived by nieces and nephews; and the Sisters of Charity, BVM, with whom she shared life for 69 years.
Memorials may be given to Sisters of Charity, BVM Support Fund, 1100 Carmel Drive, Dubuque, IA 52003 or make an online gift.
Download Eulogy
Download Sharing of Memories
   Watch Memorial Mass and Sharing of Memories