Marguerite (Valerian) Yezek, BVM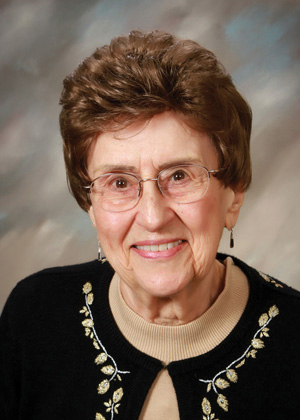 Sister Marguerite (Valerian) Yezek, BVM died Monday, Feb. 18, 2019, at Marian Hall, Dubuque, Iowa.
Visitation, the Sharing of Memories, and Mass of Christian Burial were on Friday, Feb. 22, 2019.  Burial was in the Mount Carmel cemetery.
Sister Marguerite was born on March 15, 1921, in Manly, Iowa, to Albie and Elsie Chalupnik Yezek. She entered the BVM congregation Sept. 8, 1938, from Holy Family Parish, Mason City, Iowa.
Sister Marguerite was an elementary teacher at St. Anthony in Davenport and St. Mary in Iowa City, Iowa, and Sacred Heart in Rock Island, Ill.  She ministered as a secondary teacher at St. Augustine in Memphis, Tenn.; Our Lady of Peace in Saint Paul, Minn.; Assumption in Davenport, Iowa; and Carmel HS in Mundelein, Ill.  She volunteered in an elderly program at St. Peter Parish in Skokie, Ill.
"'To be happy, I have always known that I must serve and I still want to serve as long as I am able." . . . Eventually, she found happiness in the quieter state of religious life and purpose in prayer ministry. 'I have grown in deeper appreciation of my loving God and my BVMs . . . Our explicit trust in Him lightens our own limitations.'" (Eulogy)
She was preceded in death by her parents, and sisters Florence (Neil) Brown and Sharon (Darrold) Haag. She is survived by a brother Ronald (Charlotte) Yezek, Manly, Iowa; nieces; nephews; and the Sisters of Charity, BVM, with whom she shared life for 80 years.
Memorials may be given to Sisters of Charity, BVM Support Fund, 1100 Carmel Drive, Dubuque, IA 52003 or make an online gift.
Download Eulogy
Download Sharing of Memories