Deanna (Mariel) Randall, BVM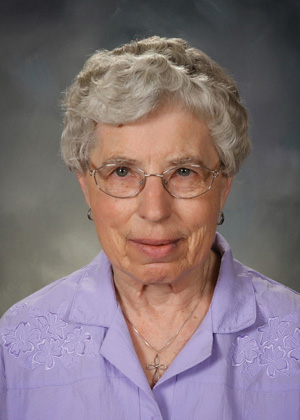 Sister Deanna (Mariel) Randall, BVM died Friday, Feb. 1, 2019, at Caritas Center.
Visitation, the Sharing of Memories and Mass of Christian Burial were on Thursday, Feb. 7, 2019, in the Marian Hall Chapel. Burial is in the Mount Carmel Cemetery.
Sister Deanna was born on July 6, 1937, in Denver, to Lesley and Margery Pavela Randall. She entered the BVM congregation Sept. 8, 1956, from St. Charles Borromeo Parish, Oklahoma City, Okla.
Sister was an elementary teacher at St. Gilbert, Grayslake, Ill.; St. Charles, Holy Trinity and St. Callistus, Chicago; and St. Gregory the Great, Bellerose, N.Y.  She served as administrator, director and/or teacher at Oak Park Montessori, Oak Park, Ill.; Cure d' Ars and Montessori Child Development Center in Denver; Christ the King Montessori, Jackson, Miss.; and Jonestown Learning Center, Clarksdale, Miss.
"'Teaching children, especially poor children, has been one of my most meaningful experiences,' shared Deanna. 'Children are like sponges. We give initial lessons, give them time, and then back out. Children gain a positive feeling about themselves, develop skills at a young level and they love to learn. They never lose their love for learning. The "I can do it" attitude remains with them always . . . I believe my students taught me far more than I ever learned in school.'" (Eulogy)
She was preceded in death by her parents. She is survived by a sister Juanita (Ray) Johnson, Pine, Colo.; a niece Linda Johnson Hendrickson; a nephew Daniel Johnson; and the Sisters of Charity, BVM, with whom she shared life for 62 years.
Memorials may be given to Sisters of Charity, BVM Support Fund, 1100 Carmel Drive, Dubuque, IA 52003 or make an online gift.
Download Eulogy
Download Sharing of Memories
   Watch Memorial Mass and Sharing of Memories