Mary (Agnes) Crimmin, BVM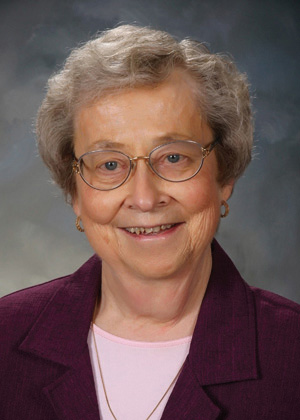 Sister Mary (Agnes) Crimmin, BVM died Sunday, Jan. 20, 2019, at Marian Hall in Dubuque, Iowa.
Natural burial Rite of Commitment was Tuesday, Jan. 22, 2019, with burial in the Mount Carmel Cemetery. Memorial Mass and Sharing of Memories was Monday, Jan. 28, 2019 in the Marian Hall Chapel.
She was born on May 12, 1935, in Chicago to Bernard and Frances O'Connor Crimmin. She entered the BVM congregation Sept. 8, 1953, from Our Lady Help of Christians Parish, Chicago. She professed first vows on March 19, 1956, and final vows on July 16, 1961.
Sister Mary served the congregation as regional representative, assistant administrator of the Motherhouse, and BVM life facilitator for the Mount Carmel Retirement Community, all in Dubuque, Iowa. She served as parish minister at Our Lady Help of Christians in Chicago; St. Athanasius, in Evanston, Ill.; and St. Joseph in Crystal, Minn.  She was an ESL teacher at Kankakee Community College in Kankakee, Ill., and an elementary teacher at St. Anthony in Casper, Wyo.; St. Gilbert in Grayslake, Ill.; and St. Pius Chicago where she also worked as an adult education teacher.
"Mary had many good qualities—hardworking, conscientious, organized, and detail-oriented. However, what made her a "good community woman" was her happy spirit, endearing warmth, good humor, unassuming nature and willingness to serve. A friend commented, 'If you met her, you loved her.'" (Eulogy)
She was preceded in death by her parents, a brother Patrick, brother-in-laws Steve Morgan and Bob Wermes. She is survived by sisters Marcella Morgan, Elgin, Ill.; Loretta Wermes, Shorewood, Ill.; and Frances (Frank) Lyne, Wheaton, Ill.; nieces and nephews; and the Sisters of Charity, BVM, with whom she shared life for 65 years.
Memorials may be given to Sisters of Charity, BVM Support Fund, 1100 Carmel Drive, Dubuque, IA 52003 or make an online gift.
Download Eulogy
Download Sharing of Memories