Mary Pat Haley, BVM (St. Thomas)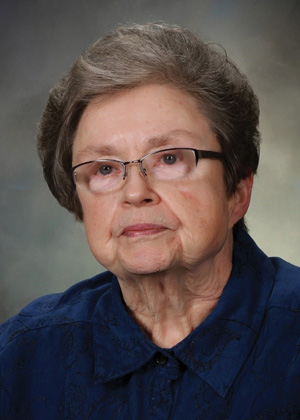 Mary Pat Haley, BVM (St. Thomas) died May 30, 2015, at Caritas Center in Dubuque, Iowa. Visitation of the cremated remains will be from 10–11 a.m. on Wednesday, June 3, 2015, in the Marian Hall Chapel followed by a prayer service at 11 a.m. Funeral liturgy will be at 1:30 p.m. in the Marian Hall Chapel. Burial is in the Mount Carmel cemetery.
She was born in Des Moines, Iowa, on Dec. 10, 1933, to Edward and Lucille Muelhaupt Haley. She entered the BVM congregation Sept. 8, 1952, from St. Augustine Parish, Des Moines, Iowa. She professed first vows on March 19, 1955, and final vows on July 16, 1960.
Mary Pat was an elementary and secondary school teacher and college professor and administrator in Cicero and Chicago; Iowa City, Iowa; and Los Gatos, Calif.
She was preceded in death by her parents and brother Thomas Edward Haley. She is survived by sisters: Judy (Jim) Giesen, Dubuque, Iowa; Eileen (Jim) Schellhammer, Bloomington, Ind.; and Janet Nissly, Johnston, Iowa; a brother Michael (Nancy) Haley, St. Paul, Minn.; nieces; nephews and the Sisters of Charity of the Blessed Virgin Mary, with whom she shared life for 62 years.
Sister Mary Pat Haley, BVM (St. Thomas)
Funeral Welcome
Marian Hall, June 3, 2015
Good afternoon and welcome to the celebration of life of our Sister Mary Pat Haley.
Mary Patricia Haley was born on Dec. 10, 1933, the first of six children born to Edward Haley and Lucille Muelhaupt of Des Moines, Iowa. She was later joined by siblings Judy, Eileen, Janet, Thomas Edward (who died in 1947), and Michael. We extend our sympathy to Mary Pat's family here today, their spouses and children. Mary Pat's father was the president of General Mortgage Corporation of Iowa. Mary Pat attended St. Augustin Grade School and St. Joseph Academy in Des Moines. After graduation, she worked two summers in the office of a supply store and in between attended St. Mary of the Woods College in Indiana.
Mary Pat entered the congregation on Sept. 8, 1952, and received the name St. Thomas upon her reception on March 19, 1953. She professed first vows on March 19, 1955, and live 62 years as a BVM.
Mary Pat taught junior high at Mary Queen of Heaven in Cicero, Ill. and St. Tarcissus in Chicago. She also taught English and journalism at Regina Coeli in Iowa City, Iowa. In 1964, Mary Pat transitioned into education at the college level teaching at Guadalupe College in Los Gatos, Calif. In 1966, Mary Pat was assigned to Mundelein College, Chicago, where she spent the next 24 years as student, teacher, department chair, academic dean, and vice president of academic affairs. She also served as the assistant dean of humanities, professor of communications, and professor emerita at Loyola University Chicago. Mary Pat earned her Ph.D. at Northwestern University in 1973 in radio, film and television and her dissertation was titled, "Some of the News Some of the Time: A Case Study in Minority Access to Television."
While teaching at Mundelein, Mary Pat received the 1990 Teaching Excellence and Campus Leadership Award from the Sears-Roebuck Foundation in recognition of her "resourcefulness and leadership as a private college educator." She also received the 2005 Dux Mirabilis Award for "her years of dedication, commitment and leadership" at Loyola University. Dux Mirabilis is Latin for "Extraordinary Leader." Mary Pat's acceptance speech of this prestigious award celebrated BVM ministry. "[I]n 'just doing our job well,' with integrity, enthusiasm and dedication, we exemplify the promise of this university—to prepare others to lead extraordinary lives. When we work for social justice, whether it's in the classroom or in the boardroom, the hospital room or in the courtroom, we are persons for others. Here service and leadership become one and the same. Let us hope that the legacy of the founders is realized in each of us here . . ."
Be assured that Mary Pat was much more than her awards. She was a warm, loving sister with a hearty, infectious laugh. She loved to try new things, especially when it was her turn to cook. She was also a very good seamstress. Mary Pat was a problem solver, an excellent writer, and a popular teacher. She had an even, creative personality and she was very organized . . . all of which made her the excellent administrator she was. She loved good movies and good books. She served the BVMs well in her generous work on the Community Board and in so many different committee assignments. Mary Pat moved to Mount Carmel in 2010.
One last important fact: MP was a diehard Cubs fan. She never gave up on them and this year there are murmurs that they may go all the way. MP may even intervene now. So Mary Pat, as Paul says, "We have gifts that differ according to the grace given to each of us." Mary Pat, you had many, many gifts that you shared generously with family, friends, students and your BVM community. God's speed, MP. We love you!