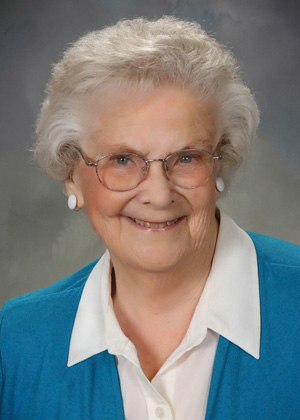 Jean Monica Lanahan, BVM died June 3, 2015, at Marian Hall in Dubuque, Iowa. Visitation will be from 9–11 a.m. on Friday, June 5, 2015, in the Marian Hall Chapel followed by a prayer service at 11 a.m. Funeral liturgy will be at 1:30 p.m. Burial is in the Mount Carmel cemetery.
She was born in Chicago on Nov. 28, 1919, to Matthew M. and Sara McCaughey Lanahan. She entered the BVM congregation Sept. 8, 1946, from St. Ignatius Parish, Chicago. She professed first vows on March 19, 1949, and final vows on Aug. 15, 1954.
Jean Monica taught secondary school and was a college teacher and administrator in Dubuque and Davenport, Iowa; Chicago; and St. Paul, Minn. She also served as volunteer curator at Mount Carmel in Dubuque.
She was preceded in death by her parents and brothers John and Francis. She is survived by cousins and the Sisters of Charity of the Blessed Virgin Mary, with whom she shared life for 68 years.
Sister Jean Monica Lanahan, BVM
Funeral Welcome
Marian Hall, June 5, 2015
Good afternoon and welcome to the celebration of life of our Sister Jean Monica Lanahan.
Rosemary Margaret Lanahan was born on Nov. 28, 1919, in Chicago. She joined elder brother John, called Jack, as the second child and only daughter of Matthew M. Lanahan and Sara McCaughey. A younger brother Francis died in 1925. Her father was born in Waterford, Ireland, and emigrated as a young adult from a post-famine Ireland. He worked as a paving contractor. Her mother was born in Quincy, Ill., and was one of eight children. Rosemary was very family-oriented and developed close relationships with her aunts, uncles and cousins, especially those on her mother's side because they lived in the area. She remained close with her extended family throughout her life, especially with her cousin Patricia Fitzgerald who was like a sister to Rosemary. She was also devoted to and took great delight in her "nieces and nephews."
In her autobiography Rosemary wrote, "While in grade school I often made visits to the church and I believe my thought of a religious vocation began there." Switching from a Catholic grade school to a public high school was very hard for Rosemary because she loved the nuns, but a Catholic high school was too expensive during the Depression. On the positive side, she believed that it made her more broadminded and tolerant of people with different backgrounds than her own. After graduation, Rosemary attended Mundelein College and worked for Admissions as an ambassador welcoming prospective students. "I loved Mundelein," she wrote, "and it was easy for me 'to sell it' to those who visited . . . I loved the BVMs. Sister Harrita Fox, my freshman history teacher, was a particular friend . . . In March of 1942, my dad died . . . The Sisters at Mundelein could not have been kinder to me."
With her father's death and her brother John serving in World War II, Rosemary did not want to leave her mother alone. She completed a degree in sociology and social work and worked several years at the Social Security Board in Evanston, Ill., delaying her call to religious life. After her brother returned home and despite lacking the initial approval of her mother and some of her aunts, Rosemary entered the congregation on Sept. 8, 1946, and was received on March 19, 1947. She requested the name Monica Jean, Monica in honor of her aunt Monica and Jean in honor of her brother John and a dear friend. However, she was given the name Jean Monica and later agreed that Jean Monica sounded better. She professed first vows on March 19, 1949, and lived 68 years as a BVM.
Jean Monica spent 27 years teaching secondary social studies and English. She was missioned at St. Mary and The Immaculata in Chicago; Assumption in Davenport, Iowa; and Our Lady of Peace in St. Paul, Minn. In addition, she taught sociology and journalism at Clarke University for five years. She served eight years as the assistant administrator of the Mount Carmel Motherhouse and commented, "It was a joy to work with Mary McElmeel and Mary Crimmin, and later with [Mary] Adele [Henneberry] and Mary [Alicia] Maas . . . I really never met a more appreciative group as those Sisters; I really liked working with them." She also volunteered as curator of the Heritage Rooms at the Motherhouse for 16 years before moving to Mount Carmel in 2007.
Jean Monica enjoyed traveling. In 1960, she visited the Blessed Virgin Mary shrines in 16 different countries. She traveled twice to Ireland with one trip occurring during the BVM Sesquicentennial Jubilee. One major highlight in her life was attending an interracial dinner where Martin Luther King, Jr. was the guest speaker. She found it exhilarating to hear him give his "I Have a Dream" speech and to be able to shake his hand.
No matter where Jean Monica was sent, she fell in love with the place and the people. And how the people fell in love with her is exemplified by the deep friendship formed between Jean Monica and Sister Joan Newhart during their time at The Immaculata. It was a beautiful friendship that lasted almost 60 years.
Reflecting upon her life, Jean Monica said, "God has been good to me. I have had many happy years as a BVM . . . I find life exciting; I have never been bored." Jean Monica remained warm, loving and welcoming during her final weeks. Then early Wednesday morning, much like Mary Magdalene on that first Easter morn, Jean Monica heard Jesus speak her name. Once again she responded to his call and entered into eternal life as gracefully as she lived. Now Jean Monica, like Mary Magdalene, can announce "I have seen the Lord!" May she rest in peace.