Rose Ann Weber, BVM (Rose Gabriel)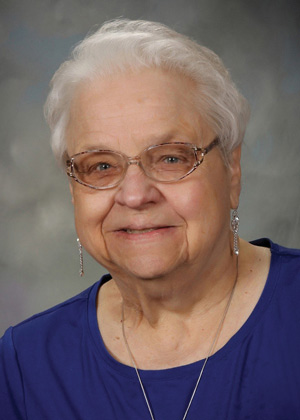 Rose Ann Weber, BVM (Rose Gabriel) died June 8, 2015, at Marian Hall in Dubuque, Iowa. Visitation of the cremated remains will be from 10–11 a.m. on Thursday, June 11, 2015, in the Marian Hall Chapel followed by a prayer service at 11 a.m. Funeral liturgy will be at 1:30 p.m. Burial is in the Mount Carmel cemetery.
She was born in Portland, Ore., on Dec. 15, 1933, to Andrew Carl and Mary Rose Stassel Weber. She entered the BVM congregation Feb. 6, 1950, from St. Clare Parish, Portland. She professed first vows on Aug. 15, 1952, and final vows on Aug. 15, 1957.
Rose Ann was an elementary school teacher in Chicago; Seattle; Memphis, Tenn.; and Tigard and Portland, Ore. She served in parish ministry in Tigard.
She was preceded in death by her parents and brothers: Joe, Chuck, Robert and James; and sister Marie Wagner. She is survived by brothers Rev. Gabriel Weber, Denver; and Ed (Judy) Weber, Portland; sisters-in-law; nieces; nephews; and the Sisters of Charity of the Blessed Virgin Mary, with whom she shared life for 65 years.
Sister Rose Ann Weber, BVM (Rose Gabriel)
Funeral Welcome
Marian Hall, June 11, 2015
Good afternoon and welcome to the celebration of life of our Sister Rose Ann Weber.
Rose Ann Weber was born on Dec. 15, 1933, in Portland, Ore., the youngest of the eight children of Andrew Carl Weber and Mary Rose Stassel. She joined her brothers Joe, Andy, Chuck, Robert, Ed and James, and a sister Marie. Despite the Depression and a large family, they always had food on the table and clothes on their backs. Their house sat on enough land to have room for a cow and chickens and a large garden so they always had fresh milk, eggs, fruits and vegetables. Rose Ann's father worked for his father at a cannery and later sold insurance. Her mother worked as a nurse on the night shift so that she could be home with the children during the day. "We had everything," Rose Ann said during an interview. "We had lots of love and lots of happiness . . . When my six brothers were in [the] service during World War II, we said the rosary every night for their safe return. They all returned safely."
When one of her brothers was quarantined due to a serious illness, the children were sent to stay elsewhere with Rose Ann being sent to St. Clare Convent which by that time housed BVMs. "I credit my vocation to the BVMs from those days," said Rose Ann. "I never thought of any sisters I wanted to join except the BVMs." Her parents were proud that Rose Ann chose a religious vocation as did her brother Andy, who was ordained a Servite priest and took the name Father Gabriel. Before Rose Ann entered, her mother took her from Portland to New York City to visit relatives. Delayed from that trip, Rose Ann entered the congregation on Feb. 6, 1950.
After a few weeks, Rose Ann expressed a desire to transfer to the Benedictines. "In the postulate I realized that all the others were either Irish or from Chicago," Rose Ann commented. However, through the counsel of Sister Mary Consolatrice (Mary Helen) Wright, she decided to stay. Since Rose Ann entered before graduating from high school, she, along with Theresa McNerney, completed their secondary education while they were still in the novitiate. Rose Ann received the name Rose Gabriel upon her reception on Aug. 15, 1950, and professed her first vows on Aug, 15, 1952. She lived 65 years as a BVM.
Rose Ann was an excellent primary teacher who loved her students and her students loved her. She taught primary grades at Holy Cross and St. Agatha in Chicago; St. John and Christ the King in Seattle; and St. Augustine in Memphis, Tenn., which along with St. Agatha, were her favorite missions because of "the most wonderful sisters working there." Her first mission at Holy Cross was a different story. "Sister Mary Orestes Boland [was] the Superior and I was petrified. Every night at recreation, everyone else was sewing. I put a hole in my new veil so I could have something to sew. One time an older sister went to the basement with me so I could get some stockings. She accidentally locked me in the basement . . . Sister Mary Orestes was so sure that we had violated solemn silence . . . that [we] were never allowed to go on walks together [again]. One night while drying [quilted borders] I allowed all eight to burn. I was not the Superior's favorite!"
Rose Ann taught junior high students at Queen of Peace in Portland, Ore.; and St. Anthony in Tigard, Ore., where she also served as the director of religious education and assisted with the boys' choir. "The priest in charge and I took the choir on a singing tour to London, Amsterdam, Paris and Rome. It was work but we had a wonderful time. We took the choir to Disneyland twice. That was great fun!"
Rose Ann welcomed the many changes that occurred within the church and the BVM community after the Second Vatican Council. "I was glad when we stopped wearing the habit but I have to confess that I felt undressed for a while." She was also appreciative for the adoption of TOPA. "I felt free to consider leaving my teaching for . . . one semester to finish my degree in education and art at Mt. Angel College in Portland. Although I lived at the college, the convent in Tigard was my home base and I became friends with the sisters there. Tigard later became home to me for many years."
Along with exciting changes to the congregation, the 1960s brought tumult to the nation. Rose Ann and Therese Frelo lived together in Memphis in 1968. They were involved in civil rights marches and were tear-gassed along with Dr. Martin Luther King, Jr., while supporting the garbage and hospital workers in Memphis. They were also privileged to be present for his "I've Been to the Mountaintop" speech the night before he was fatally shot.
Rose Ann dearly loved her family. She corresponded frequently and she greatly enjoyed their visits, especially going on rides with her brother Chuck. She was faithful to her friends and cheerful to all she encountered. She was an avid reader and an artist with a talent for painting, jewelry-making and driftwood creations. She found gardening to be "an enjoyable and productive hobby" for a while. "I'm tired of fighting the deer," Rose Ann complained. "I am not interested in sharing my produce and flowers with them." This was probably the only complaint she ever uttered!
Jesus said, "If anyone wishes to come after me, he must deny himself and take up his cross daily and follow me." Without a doubt, Rose Ann lived those words. She came to Mount Carmel thirty years ago after suffering her stroke. Her great sense of humor sustained a good perspective though this tremendous challenge. Her response to all of life's negatives was always positive and refreshing; she was determined not to let her limitations limit her. Reflecting upon her life, Rose Ann said, "I enjoy all the sisters and can't think of anything at all that I . . . [would] want to change. I think I have had the most boring life and enjoyed every bit of it!"
After renovations in Philomena Hall, Rose Ann was able to use an electric wheelchair which gained for her a greater independence. It was as if she had grown wings! Today, we celebrate Rose Ann, how she lived her life and how deeply she touched ours. We rejoice with her that now she is truly free.