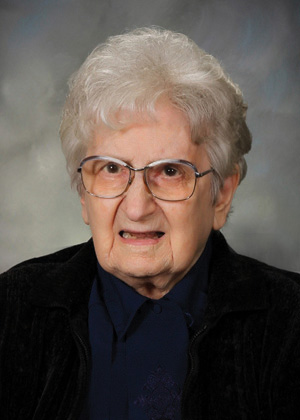 Gertruda Struble, BVM died May 9, 2015, at Marian Hall in Dubuque, Iowa. Visitation will  be from 4:30–6:30 p.m. on Wednesday, May 13, 2015, in the Marian Hall Chapel followed by a prayer service at 6:30 p.m. Funeral liturgy will be at 11 a.m. on Thursday, May 14, in the   Marian Hall Chapel. Burial is in the Mount Carmel cemetery.
She was born in Murdock, Kan., on March 5, 1914, to Leo Joseph and Ruth Gertrude (Hyde) Struble. She entered the BVM congregation Sept. 8, 1943, from St. Louis Parish, Waterloo,  Kan. She professed first vows on March 19, 1946, and final vows on Aug. 15, 1951.
Gertruda was an elementary school teacher in Omaha and Lincoln, Neb.; Butte, Mont.; Chicago; and Wichita, Kan.
She was preceded in death by her parents; brothers: Patrick, George, and Rev. Louis Struble; and sisters Leonetta Struble, BVM, and Ethel Struble. She is survived by nieces, nephews and the Sisters of Charity of the Blessed Virgin Mary, with whom she shared life for 71 years.
Sister Gertruda Struble, BVM
Funeral Welcome
Marian Hall Chapel, May 14, 2015
Good morning and welcome to the celebration of the life of our Sister Gertruda Struble.
Ruth Gertrude was born in Murdock, Kans., on March 5, 1914, to Leo Joseph Struble and Ruth Gertrude Hyde, joining older sisters Dorothy and Ethel. Three brothers were to follow: Patrick; George, who was killed in the Pacific theater during World War II; and Louis, who was ordained a priest for the Diocese of Wichita. Ruth's parents were farmers and she helped with the all the work that went into rural living in the 1920s and 1930s. Ruth attended her parish grade school and then graduated from Mt. Carmel Academy in Wichita.
A call to religious life was strong among the women in the Hyde-Struble family. When Ruth entered the congregation on Sept. 8, 1943, she was following in the footsteps of her sister Dorothy, who professed as Sister Leonetta, and her aunts, Sister Mary Genesia Hyde and the former Sister Mary Johanna Hyde. Four of her cousins also entered the community: Sisters Agnes, Lucy and Mable Parker and the former BVM Joan Parker. Ruth received the name Gertruda upon her reception on March 19, 1944, and professed first vows on March 19, 1946.
Gertruda spent 44 of her 71 years in religious life as a first grade teacher. She was missioned at St. Bridget in Omaha, Neb.; St. Ann and St. John in Butte, Mont.; St. Gertrude and Holy Family in Chicago; St. Mary and St. John in Lincoln, Neb.; and 25 years at St. Joseph in Wichita, Kans. Gertruda had a great love of reading and shared that passion with her students. A sister who was missioned with Gertruda at Holy Family in the 1960s commented, "She was a marvelous, no nonsense, yet gentle first grade teacher who gave the inner-city children a firm foundation in learning. In the convent, Gertruda kept the house accounts. She was meticulous in the handling of money, so much so that she spent time looking for a few cents. She was as conscientious about that money as she was to see that the children got a good education."
Gertruda was a quiet, kind, caring person who deeply loved her family and her home state of Kansas. Gertruda would spend summers with her sister Ethel in Hutchinson, Kan., tending to the vegetable garden they had planted. It would befit Gertruda's character to assume she and Ethel shared the bounty from their garden. Gertruda cared for her mother for two years before her mother's death at age 97. She also cared for Sister Dorene Good, BVM until Dorene moved to the Adorers of the Blood of Christ Home in Wichita. Gertruda moved to Mount Carmel in 2006. Before the death of Sister Francile Luking, Gertruda and Francile were often seen holding hands. Just two days after the first anniversary of Francile's death, the two friends were reunited.
St. Paul wrote, "Let us not grow tired of doing good, for in due time we shall reap our harvest." Gertruda spent 101 years in faithful service to her family, friends, students, congregation and God. How bountiful her harvest!