Isabelle Hennessy, BVM (Vaune)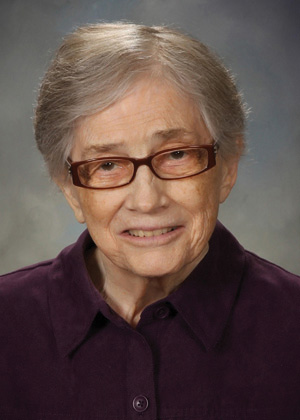 Isabelle Hennessy, BVM died May 9, 2015, at Marian Hall in Dubuque, Iowa. Visitation will be from 4:30–6:30 p.m. on Wednesday, May 13, 2015, in the Marian Hall Chapel followed by a prayer service at 6:30 p.m. Funeral liturgy will be at 11 a.m. on Thursday, May 14, in the Marian Hall Chapel. Burial is in the Mount Carmel cemetery.
She was born in Chicago on Feb. 6, 1923, to Robert and Mary Ellen (Mencil) Hennessy. She entered the BVM congregation Sept. 8, 1949, from Holy Rosary Parish, Chicago. She professed first vows on March 19, 1952, and final vows on July 16, 1957.
Isabelle taught secondary school in Mason City, Burlington and Sioux City, Iowa; St. Louis; and Glendale, Santa Barbara and Burbank, Calif. She ministered as counselor in the Chicago public school system and at Lakeview HS, Chicago, where she also served as volunteer counselor.
She was preceded in death by her parents; a brother Robert; and sisters: Mary Virginia Swanson, Catherine Goulding, and Anna Hennessy. She is survived by a brother, John, Elmwood Park, Ill.; nieces; nephews; and the Sisters of Charity of the Blessed Virgin Mary, with whom she shared life for 65 years.
Sister Isabelle Hennessy, BVM (Vaune)
Funeral Welcome
Marian Hall, May 14, 2015
Good morning and welcome to the celebration of life of our Sister Isabelle Hennessy. We greet members of Isabelle's family, her brother John, and her nephews and niece.
Isabelle Hennessey was born on Feb. 6, 1923, in Chicago to Robert Hennessy and Mary Ellen Mencil. She was the youngest of six children and joined siblings Mary Virginia (Marie), Catherine, Robert, Anna and John. She graduated from Mundelein College, Chicago, in June 1945 with a bachelor's degree in sociology with minors in psychology and English education and immediately applied for admission to the congregation.
Isabelle first entered on Sept. 8, 1945, but withdrew as a postulant the following January due to her father's declining health. After his death, she reentered on Sept. 8, 1949, received the name Vaune upon her reception on March 19, 1950, and professed first vows on March 19, 1952.
Isabelle ministered in secondary education for 34 years. As a dedicated, enterprising and creative English teacher, she was missioned in California at Glendale Holy Family; Santa Barbara Catholic; and Burbank Bellarmine-Jefferson; in Missouri at St. Louis Xavier; and in Iowa at Mason City Holy Family; Burlington Notre Dame Central; and Sioux City Heelan. Isabelle completed a master's degree in counseling and had hoped to be a counselor at Heelan. However, Heelan was in need of a teacher with a master's degree in English. So Isabelle attended college fulltime to earn her second master's degree. Unfortunately, when she returned to Heelan, a new administrator—unaware of the verbal agreement between Isabelle and the former principal—had hired a lay English teacher. Out of a job, Isabelle moved to Chicago where she worked as a counselor in the Chicago public schools. She was a volunteer counselor at the Howard Area Community Center.
Isabelle lived at Wright Hall from 1992 until moving to Mount Carmel in 2010. Her relatively good health might be credited to walking the stairwells and floors of Wright Hall. After a fall last year, she worked very hard to regain her mobility and was deeply grateful to all who visited while she was confined to her room. Eventually, she resumed walking the corridors and was seen doing so just hours before her death.
Isabelle was a very private person, but was known to be conscientious, compassionate, generous and loyal. She was very sensitive and charitable towards those suffering misfortune. She felt a true love for her BVM sisters while shouldering heavy family needs which included years of caring for her sick brother Robert until his death in 1989. She also liked animals and enjoyed reading about them.
Jesus said, "It was not you who chose me, but I who chose you and appointed you to go and bear fruit that will remain." While her father's illness delayed her entrance, Isabelle remained firmly committed to God's call. On March 19, she celebrated the 65th anniversary of her reception with the members of her set. In gratitude we remember the fruits of Isabelle's labor, and with joy we celebrate her entrance into eternal life.