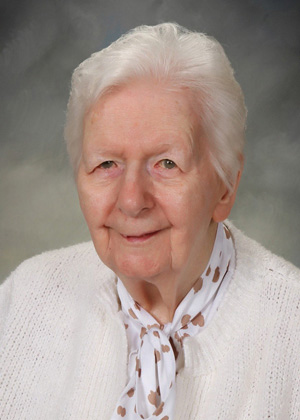 Carolita McMahon, BVM died March 10, 2015, at Marian Hall in Dubuque, Iowa. Visitation will be from 9–11 a.m. on Friday, March 13, 2015, in the Marian Hall Chapel followed by a prayer service at 11 a.m. Funeral liturgy will be at 1:30 p.m. Burial is in the Mount Carmel cemetery.
She was born in Chicago on July 20, 1916, to Thomas and Caroline Nebel McMahon. She entered the BVM congregation Sept. 8, 1935, from St. Andrew Parish, Chicago. She professed first vows on March 19, 1938, and final vows on Aug. 15, 1943.
Carolita taught music and was an elementary and secondary school educator in Washington and Burlington, Iowa; Kansas City, Mo.; Chicago and Cicero, Ill.; and Burbank and Santa Barbara, Calif.
She was preceded in death by her parents; sisters Helen and Genevieve; and brothers: James, Daniel, Thomas (who died in childhood), Joseph, and Thomas (Carolita's twin). She is survived by nieces and nephews and the Sisters of Charity of the Blessed Virgin Mary, with whom she shared life for 79 years.
Sister Carolita McMahon, BVM
Funeral Welcome
Marian Hall, March 13, 2015
Good afternoon and welcome to the celebration of life of our Sister Carolita McMahon.
Mary McMahon and twin brother Thomas were born on July 20, 1916, in Chicago. They were the youngest of the eight children born to Thomas McMahon and Caroline Nebel. Her call to the teaching profession came early when even as a child she played the role of a teacher when interacting with other children.  Mary was an avid reader who convinced the librarian to allow her to check out 15 books at a time, often reading two or three books in one day.
Mary first attended public school and then a Catholic school run by the Sisters of Providence, but the Providence high school was too far from her home.  She was awarded a scholarship to the Immaculata where, in her words, "I fell in love with the BVMs."  Sister Leonette O'Connor, her piano teacher, and Sister Harrita Fox, her history teacher, greatly influenced her decision to join the Sisters of Charity. With the help of her sister Genevieve, who cashed a war bond to purchase the right clothes for her, Mary entered the congregation on Sept. 8, 1935.  Eight years later Mary's niece and Genevieve's daughter, Geneve Moran, also entered the congregation.  Mary received the name Carolita upon her reception on March 19, 1936, professed first vows on March 19, 1938, and lived 79 years as a BVM.
Carolita spent 50 years primarily teaching music at schools in Kansas City, Mo.; Burbank and Santa Barbara, Calif.; Washington and Burlington, Iowa; and Chicago and Cicero, Ill.  Her first mission was at St. Vincent in Kansas City.  "At first I thought it was St. Vincent in Chicago and I was thrilled," Carolita recalled in an interview. "I pictured Kansas City as a desert with one cactus, but found out what a beautiful place it was."
Her favorite mission was Our Lady of Angels in Chicago, but she counted herself fortunate to have left the year before the terrible fire.  At Bellarmine-Jefferson High School in Burbank, Carolita directed an 85-piece band along with a mixed choir, a girls' choir and a prize-winning boys' choir. At Mary Queen of Heaven in Cicero, Carolita accompanied the children on a portable keyboard as her students responded beautifully under her direction. Reflecting upon her years as a teacher, Carolita commented, "I consider myself an experienced person. Because I was a music teacher, I had experiences in many classrooms and with many different ages of students.
Carolita lived at Wright Hall from 1988 until 2003.  It was during this time that her niece Geneve lived with and cared for her mother, Genevieve, who was Carolita's sister.  Every day while Geneve was teaching, Carolita would provide companionship for her sister Genevieve.  During the renovation of Wright Hall, the sisters were asked to make several moves, but none more than Carolita, who was always most gracious when asked to move "one more time."
Carolita was a kind, caring and prayerful woman.  She had a beautiful singing voice, absolutely loved to sing and always remembered the lyrics.  A person passing by her room might be treated to a lovely song lilting into the hallway.  She was a faithful member of Schola for many years, even in her later years when she had to be wheeled to the chapel.  She was also a talented artist; a number of her works are on display in the hallways here at Mount Carmel.
In the gospel, we will hear Jesus say, "Amen, amen, I say to you, whoever believes in me has eternal life."  When applying for admission, Carolita wrote that she wished to become a religious sister because "I think it is the life for which I am best fitted.  None other has ever appealed to me."  Recently, however, Carolita began longing for her new life with God and her siblings, especially her twin Thomas.  When asked if she thought God was calling her home, with her eyes wide open and a smile on her face, she replied, "Soon. Soon."  Today, we celebrate Carolita's long life of dedicated and loving service and rejoice as she enters into eternal life.