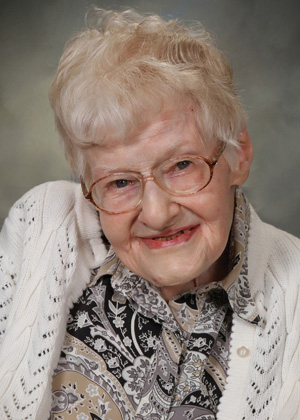 Julissa Duggan, BVM died Nov. 28, 2014, at Marian Hall in Dubuque, Iowa. Visitation will be from 9–11 a.m. on Thursday, Dec. 4, 2014, in the Marian Hall Chapel followed by a prayer service at 11 a.m. Funeral liturgy will be at 1:30 p.m. Burial is in the Mount Carmel cemetery.
She was born in South Garryowen, Iowa, on June 9, 1919, to William Patrick and Julia Winifred (Lynch) Duggan. She entered the BVM congregation Sept. 8, 1937, from St. Raphael Cathedral Parish, Dubuque, Iowa. She professed first vows on March 19, 1940, and final vows on Aug. 15, 1945.
Julissa was an elementary school educator and administrator in Cascade, Cedar Falls, Davenport and Muscatine, Iowa. She also taught in Chattanooga, Tenn.; Tucson, Ariz.; Clarksdale, Miss.; and Chicago.
She was preceded in death by her parents; brothers Joseph and Daniel; and sisters: Mildred Hilby, Cora Sullivan, Irene Lay, Anita Brandt, Evelyn Babcock, and Viola Baumhover. She is survived by nieces and nephews and the Sisters of Charity of the Blessed Virgin Mary, with whom she shared life for 77 years.
Sister Julissa Duggan, BVM
Funeral Welcome
Marian Hall, Dec. 4, 2014
Good afternoon and welcome to the celebration of life of our Sister Julissa Duggan.
Julia Vivian was born on June 9, 1919, in South Garryowen, Iowa. She was the eighth child of William Patrick Duggan and Julia Winifred Lynch. She had two older brothers, five older sisters, and one younger sister. In an interview, Julia recalled growing up in a large farm family: "It was hard to wear hand-me-downs until I was sixteen. I gave my clothes to Viola, #9 . . . Even the girls had to do farm work like milking the cows."
The Duggans had a unique approach to homeschooling. The Duggan children attended the public school until William and Julia discovered that the Ku Klux Klan objected to the religion classes taught by the Catholic teacher. Together with other concerned parents, they bought an unused, one-room school house in Jackson County, moved it to their farm, and hired a local teacher to teach the Duggan children as well as some of their cousins. Now that is a "home" school.
The Duggan family eventually moved to Dubuque and Julia attended Cathedral Grade School and St. Joseph Academy where she was introduced to the BVMs. Julia said, "I always wanted to be a BVM sister. The call came as I observed the sisters who did so much. I desired to spread God's love as they did . . ." Julia entered the congregation on Sept. 8, 1937. She received the name Julissa upon her reception on March 19, 1938, professed first vows on March 19, 1940, and lived 77 years as a BVM.
Julissa was an elementary school teacher for 23 years teaching all grades from first through eighth over the expanse of her career. She was missioned in Davenport, Muscatine, Cedar Falls and Cascade, Iowa; Chattanooga, Tenn.; Clarksdale, Miss.; and Chicago. "The places where you had to endure more and had less were the happiest missions," Julissa commented. "There was a 'togetherness.' We all saw the ends for which we were working." She also served 23 years as principal in Cascade and Muscatine. In an interview with the Muscatine Journal, Julissa said, "I've always told my teachers that a smile and a kind word when greeting the children is so important! We don't know what rough experiences some little kiddos may have had before they came to school and we may help to make their lives brighter."
Julissa retired from teaching in 1987 and resided at St. Mathias Convent in Muscatine where, over the course of three missions, she had lived for 39 years. She recalled the time when Hayes Catholic HS closed and parish elementary schools consolidated and occupied the Hayes building. "My picture hung on the wall as the founder. In 2008, one of the students asked, 'Who is that lady? What does she look like now?' So the principal called and asked if they could take a field trip to see me. About fifty came to answer that question. I had taught their grandparents. One boy said, 'You're old just like my grandma. Can I kiss you?' So they all lined up for a kiss . . ."
Children were not all that Julissa kissed! She was very proud of her Irish heritage, so a trip to Ireland in 1976 would not have been complete without a stop in County Cork to kiss the Blarney Stone.
Julissa moved to Mount Carmel in 1991 and called her years at the Motherhouse "exciting and satisfying." Each morning while workers were installing geothermal heat on the ground floor of the Motherhouse, she would make two dozen pots of coffee and prepare orange juice and cookies for them. A few years earlier, a brief conversation between Julissa and a workman ended with a request to pray for his daughter. Julissa asked his daughter's name so she could mention her by name to the Lord. With that simple question, the man left, assured that she would keep her promise.
Julissa dealt with a number of health issues in her lifetime. In 2002, she contracted a disease that attacked her spine. She survived, about which her doctor said, "You are not supposed to be here!" She returned to Marian Hall to recuperate and begin what she referred to as her "senior years," commenting that her illness was a "gift" and that it gave her "a chance to get to know God even better." Her words echoed the message of St. Peter: "For a little while you may have to suffer through various trials, so that the genuineness of your faith . . . may prove to be for praise, glory and honor at the revelation of Jesus Christ."
God indeed had more work for her to do and intended her to keep brightening the lives of others with her presence. Just gazing upon Julissa's radiant face, her sparkling eyes and gorgeous smile, one could not help but hear:
"When Irish eyes are smiling,
Sure, 'tis like the morn in Spring.
In the lilt of Irish laughter
You can hear the angels sing."
Today the angels are singing the most wonderful song for the beautiful soul of our dear Julissa has joined the heavenly chorus.