Immokalee Farmworker Immersion Trip Day 3
We set off for Arcadia under slate gray skies and a torrential downpour.  Luckily,  by early afternoon the clouds parted and we could enjoy the Florida sunshine, and the heartwarming hospitality and smiles of those who minister to Arcadia's poor and homeless.
Our first stop was the brand new Desoto Cares Drop-in Center for the Homeless.   Developed and staffed entirely by volunteers and operating with a budget of just $9,000, the Center provides hot showers, laundry, mailboxes along with a listening ear and a caring heart.   Computers, job training and other assistance are in plans for the future.   Like the mustard seed, we know the very smallest seed planted in rich soil will grow and blossom.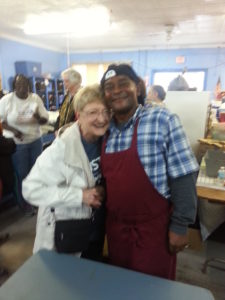 Right next door at the Arcadia Center for the Needy, we find proof of love in action as James, formerly living in the woods and eating out of dumpsters,  now rises daily at 3 a.m. to begin providing a hot meal to the homeless starting at 4:15 am.  He is a man of large heart and even larger smiles.
At the Casa San Juan Bosco, our group sees the state of the art housing community for farmworkers built by Catholic Charities. The groundbreaking for phase two has already begun. Families formerly paying exorbitant rent for dilapidated trailers are now able to raise their children in a spotlessly clean 3-4 bedroom home with a yard, gardens, a play park, community center, after school programs and mothers' groups. Catholic Charities secured funding from the state and federal governments to construct this farm worker community that has been hailed as the finest in the country.
After lunch and a quick visit to a citrus grove where we were able to observe workers picking oranges, we arrive at the offices of Catholic Charities-the home of Sister Ann's ministry to the indigent of Desoto County.  Here we meet Edith, the daughter of migrant workers, who is now attending college and serving as an ambassador for Links 2 Success, the program that provided her with the resources,  services and guidance necessary to attend college.   How inspiring to meet a formerly shy and marginalized young woman who has found her voice and is now offering a helping hand to those coming up behind her.
All this in addition to the gifts of food, clothes, financial and other resources that Sr. Ann provides to the poor and needy every day.
Today we are a happy group off to Sanibel Island and the nature preserve. This evening we will have the opportunity to share a meal and conversation about association with parishioners from Sr. Ann's church. Home tomorrow.
(pictured: BVM Associate Virginia Piecuch with James)