Human Trafficking Thrives on Hopelessness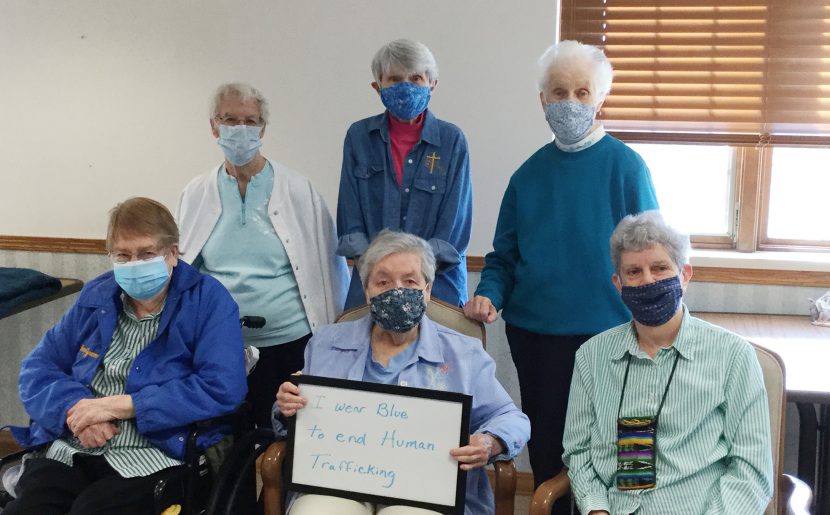 BVMs, associates, and friends across the country #WearBlue on National Human Trafficking Awareness Day to speak out for those affected by human trafficking.
The month of January is set aside to increase the awareness of human trafficking in the world, in the United States, and in our local communities.
To make this happen, local advocates are encouraged to host events throughout January. Due to the pandemic, activities are limited. The coalition in the tri-state area of Iowa, Illinois, and Wisconsin has received proclamations to raise awareness of this growing scourge from both the Dubuque City Council and the County Board of Supervisors.
Jan. 11 is Human Trafficking Awareness Day. People are encouraged to pray for the cause, to speak to others about the issue, and to wear blue clothing. Once noticed, there is an opportunity to share information about this evil of human slavery.
Trafficking thrives in conditions of seeming hopelessness due to lack of money, food, and shelter. Therefore, migration, the pandemic, and climate change are occasions of increased human trafficking.
A 27-year-old victim, soon to see herself as a survivor, is currently in a treatment center in Iowa. She told the staff that she has been both sex and labor trafficked since she was 5 years old!
There are several homes of rescue, restoration, and recovery in Iowa that depend on donations.  Consider making one of these homes the recipient of time or funds collected during Lent 2021!