Good Friday: Whom Are We Crucifying?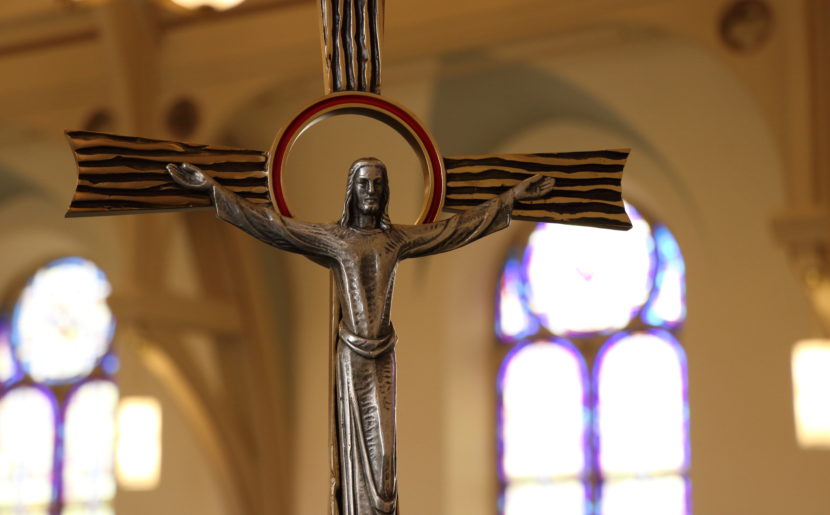 I grapple with this question each Good Friday morning at the Pentagon. At 7:00 a.m. thirty to fifty people meet on Army-Navy Drive just outside the Pentagon property, we walk in solemn procession to the "protest area" allotted near a Pentagon entrance. We reflect through scripture, song and testimony on who we as the United States are crucifying, making to suffer, and YES, killing. Who? Iraqis, Afghans, Native Peoples, Syrians, those in prisons and detention for being undocumented, and those without enough to eat or a place to lay their head. One hour of vigil outside this place in our nation responsible for some of the hardship and pain experienced across our globe. At the end of the hour we leave as we entered – perhaps having touched the heart of some police or Pentagon worker who passed us by on their way to work. Certainly, having touched our own hearts.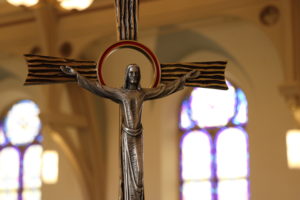 This is the beginning of my Good Friday ritual, since 1987. It continues with the Economic and Ecological Way of the Cross. I join Pax Christi and others to mindfully walk the steps of Jesus in this time of financial and ecological crisis. Locations around the city are selected that symbolize institutional roots of injustice and suffering. At each we share a reflection and a prayer. You may find the themes helpful to your own prayer.
FIRST STATION: JESUS IS CONDEMNED TO DEATH 
Political privilege and corruption: National Archives
SECOND STATION: JESUS BEARS THE CROSS
Structural racism and police violence: Department of Justice
THIRD STATION: JESUS FALLS FOR THE FIRST TIME
Labor injustices: Trump International Hotel
FOURTH STATION: JESUS MEETS HIS MOTHER
The corporate-led (transactional) model of development: U.S. Agency for International Development
FIFTH STATION: JESUS IS HELPED BY SIMON
Indigenous peoples and the environment/involuntary resettlement: Inter-American Development 
SIXTH STATION: VERONICA WIPES THE FACE OF JESUS
Solidarity and community service: New York Avenue Presbyterian Church
SEVENTH STATION: JESUS FALLS A SECOND TIME
Ravaging the Earth and its people in the name of economic development: U.S. Treasury
EIGHTH STATION: JESUS SPEAKS TO THE WOMEN OF JERUSALEM
Deportation of vulnerable migrants and refugees: The White House
NINTH STATION: JESUS FALLS FOR THE THIRD TIME
Moving forward on climate change: Lafayette Park
TENTH STATION: JESUS IS STRIPPED OF HIS CLOTHES
Extractive industries: White House Council on Environmental Quality
ELEVENTH STATION: JESUS IS NAILED TO THE CROSS
Fair Trade NOT Free Trade: U.S. Trade Representative Office
TWELFTH STATION: JESUS DIES ON THE CROSS
Destruction of God's Creation: The World Bank
THIRTEENTH STATION: JESUS IS TAKEN DOWN FROM THE CROSS
Economic policies for the Common Good: International Monetary Fund
FOURTEENTH STATION: JESUS IS PLACED IN THE TOMB
Justice for migrants: Mexican Embassy
FIFTEENTH STATION: THE RESURRECTION OF JESUS
Signs and seeds of hope / Another world is possible