Ecuador Immersion Trip April 2017
Meet the travelers on the Ecuador Immersion Trip happening April 19-28, 2017.
Please pray for them as they embark on this adventure!
Judy Callahan, BVM, Trip Assistant Leader: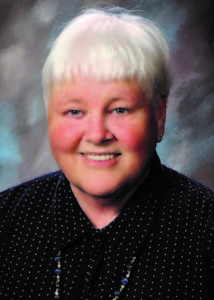 I'm Judy Callahan, BVM, 76 years old! I'm from an Iowa farm near Cascade originally, and have been a BVM since 1958. I was a teacher/principal for 25 years, and then lived and worked at the Working Boys Center in Ecuador for 5 years. After that I worked in Hispanic Ministry for 16 years out of Joliet, IL and then 5 years in the Archdiocese of Dubuque. I serve on the U.S. Board of the C4WF (Center for Working Families). I volunteer at Mt. Carmel in Dubuque, and live on the Mt. Carmel campus. I have 11 brothers and sisters (8 living), 42 nieces and nephews, and two cats. I have taken several groups to Quito, and look forward to this trip!
Kimberly Emery, BVM Associate and Associate Co-Coordinator, Trip Leader: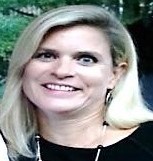 I am Kimberly Emery and 52 years old. I was born in Iowa City, but grew up in New Hampshire. I have lived in central Virginia since 1988 when I came to the University of Virginia to go to law school. Since 1992, I have worked in various roles at the UV Law School, including Assistant Dean for Pro Bono and Public Service and Co-Director of the Family Mediation Clinic. I have 5 children, 2 grandchildren (another coming in August 2017) and 3 cats. I went on the immersion trip to Quito and Guayaquil with my teenage daughter in 2014. I am excited to be going back as a trip leader with Judy!
Mary and Mike Desmond: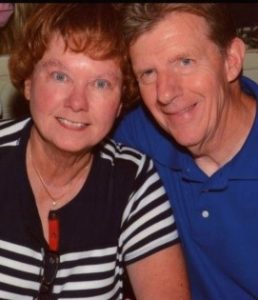 We're Mary and Mike Desmond and we live in Tinley Park, IL, a suburb south of Chicago. We have been married 41 years, have two grown children, one grandson and one on the way. I taught for Chicago Public Schools on the south side for 37 years and am 7 years into retirement. Mike was a director for LifeSource Blood Services. Now retired, we travel lots, babysit often, and I volunteer at a small Catholic Hispanic school in the city. As a former member of the BVM community, we have been aware of their work in Ecuador for many years. We are looking forward to embarking together on this amazing experience.
Jody Doyle: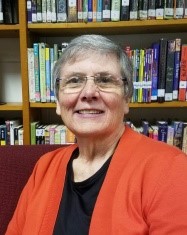 I'm Jody Doyle, I am pleased and excited to be going to Ecuador. I have been married to Jerry Doyle for 46 years and we are the parents of 5 children and 11 grandchildren. We live on a farm and raise cattle, corn, beans and hay. I belong to St. Mary's parish in Manchester, Iowa and Blessed Trinity Cluster. I work at our middle school with primarily 8th graders. I can count to ten in Spanish and that is about it, so needless to say, someone else will need to do the talking!
Carol Gronewold, BVM Associate: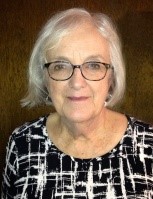 Carol Gronewold was born in Chicago and now resides in Carthage, Ill., near her adult children, Jeanne, Mike, Joseph and Andy. She met the BVM community when she attended Clarke College (now University) in Dubuque, Iowa. After almost two decades teach­ing in elementary and middle school, Carol spent 12 years in community college administration.
With eight grandchildren and three great grandchildren playing college bas­ketball, coaching, or playing volleyball, Carol enthusiastically follows their sports. Other pastimes she enjoys are reading, bridge and golf.
Active in Immaculate Conception Parish, she has served as lector, rosary coordina­tor, and on the pastoral council. She has volunteered generously at the Carthage Memorial Hospital, Foods for Thought, and Kibbe Hancock Heritage Museum. Often she has driven the 108 miles to Iowa City, to be of service at the VA Hospital.
Kathy (Lukefahr) Jewell: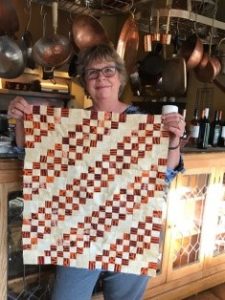 Greetings from Sonoma, CA! I'm Kathy (Lukefahr) Jewell, Irene's twin sister, and am so happy to be joining on this adventure. Like Irene, I have heard about the BVMs in Ecuador for decades. I have visited Ecuador once before on a OAT trip and loved it. Service trips and travel have broadened my way of viewing life, showing the interconnectedness with our fellow planetary family. Now that I'm retired after 30 years as a primary teacher, I find my life full with travel, friends, family, a bit of quilting and involvement with my church community.
David Liesse: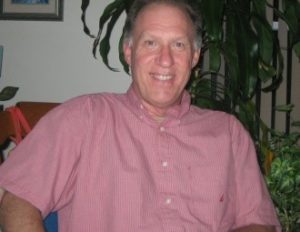 I'm David Liesse (pronounced "lease") from Berwyn, Illinois, fifteen minutes west of Chicago's loop. I'm single, the father of a son and the proud grandfather of two. I am a retired educator having spent 44 years in education as a school teacher (high school English), school administrator (both elementary and high school) and a college professor (DePaul University). I now spend my time as a volunteer working with undocumented immigrants who are in detention waiting for their deportation hearings and with those who are seeking asylum in the United States. I am also involved in Chicago theatre as the chair of the Jeff Committee, the group that honors excellence in theatre with awards similar to the Tony awards in New York. Last year, I saw 234 plays.
I have been fortunate to have traveled to 81 countries, but this will be my first visit to Ecuador and I am excited.
Irene Lukefahr, BVM: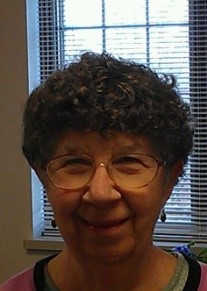 I'm Irene Lukefahr, BVM and I look forward to getting to know all of you much better when we journey to Ecuador. I'm so happy that my twin sister, Kathy Lukefahr-Jewell will also be going with us.
I have been a BVM for nearly 56 years and have heard about our BVM missions in Quito and Ecuador for nearly that long. This past December, Annie Credidio, BVM was at Mt. Carmel and gave an inspiring presentation on her work with the beautiful people at Damien House. Annie's talk convinced me that it was time to see first-hand what I have been hearing about all these years. Annie happened to be in Dubuque this weekend and we talked about how excited I am to be going. Annie, who also has a twin sister, is eager to finally meet my twin!
As far as foreign travel is concerned, I was blessed to spend seven years in Kumasi, Ghana. The group will probably hear some of my stories when we are waiting in airports, etc. This will be my first visit to Ecuador and will need to depend on our Spanish speaking companions. I look forward to sharing in our immersion experience. We will no doubt all be touched by what we see and hear.
Nancy McCarville, BVM Associate Co-Coordinator: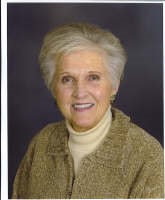 Hello to this exciting group that has emerged for the BVM April 2017 Ecuador Immersion trip! I am Nancy McCarville, another BVM associate co-coordinator. It has been 75 years since I was born in Fort Dodge, IA. Educated mostly by BVMs, I followed in my mother's footsteps and became a teacher. Of course, the influence of the BVMs also had something to do with that! I live in Waterloo, IA. I am single. I enjoy genealogy and spend a lot of time on ancestry.com. After 28 years as a 6th grade teacher, I retired in 1994 and have since then volunteered at the Westside Education and Employment Center in Chicago, the American Martyrs Retreat House in Cedar Falls, IA, and served as a companion and driver for local immigrants from Myanmar. I have participated in BVM service trips only within the continental United States. I have traveled only once outside the U.S to Ireland and that was in search of family roots. Am bringing along only a few words of Spanish! With the other travelers I hope to work, pray, and share in the daily life of the people of Ecuador, leaving a little of myself there and bringing a little of the Ecuadorians back with me.
Laurie Noel, Presentation Associate: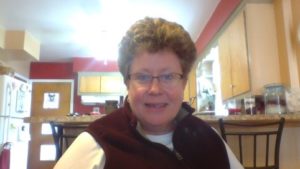 I am Laurie Noel, 53 years old and a native of Dubuque, Iowa. I am the Dining Room Coordinator at the Sisters of Charity, BVM. I have been an Associate of the Sisters of Presentation, Dubuque, for seven years. I am single and have two older twin sisters, one younger brother and 6 beautiful nieces and nephews. I currently am attending Clarke University in the Time Saver Program and am slotted to graduate this summer. I am so excited to be part of a mission team and all that I will experience in meeting the many faces of Jesus.
Diane O'Donnell, BVM: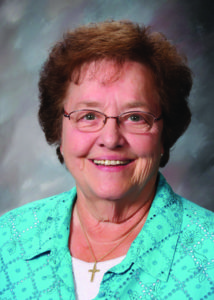 I was born in Chicago and am the youngest of 6 children (not spoiled). I am a BVM (not the youngest, not spoiled, very blessed). Ministry assignments sent me to CA, TN, IA, MN and IL, (happy traveler) where I served as teacher, counselor, administrator, maintenance person, etc. I taught History, English, Theology and P.E. (in full habit). Currently, I am retired from school ministry. I tutor at the Literacy Center for Hispanic Women and I assist elderly and infirm family members.
Christine Olsem, BVM Associate: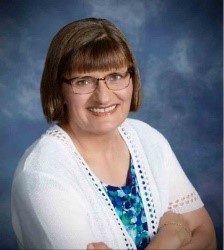 I'm Christine Olsem (Yes, that's an "m" and not a typo!). I'm 56 years old and a dedicated single. I grew up on a small family farm north of Luxemburg, Iowa. I have two younger sisters, both married. The middle child lives on the farm and has three children – 1 daughter, 2 sons. The youngest lives in Dubuque. I taught mathematics, computers and even some theology in Catholic high schools for 28 years. Currently, I'm the administrative assistant to the Secretary of the BVM Congregation. The BVM community accepted me as an Associate in 2014. My loves: 1) cats – I have one house cat now (two died last year) and 22 farm cats in my care; 2) liturgical music – I play guitar and sing for liturgies in my parish and pastorate and sometimes at special celebrations at Mount Carmel. I am also a member of the Dubuque Archdiocesan Chorale; 3) hiking the National Parks – I will be vacationing in Glacier NP this year. I've wanted to go to Ecuador ever since I met Ann Credidio, BVM, five years ago. Responsibilities and commitments have changed in the past year so now is the time. I'm looking forward to new experiences and challenges that take me out of my small day-to-day world.
Ashley Skoczynski: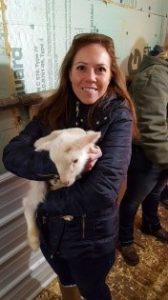 I'm Ashley Skoczynski and I work with the Franciscan Sisters of Perpetual Adoration (FSPA) in La Crosse, WI as the Affiliation Minister. I met Kimberly Emery and Nancy McCarville at the national NACAR conference in September 2016 and learned about this wonderful opportunity.
I have worked with the FSPAs since September 2015. Prior to that I worked in the corporate world and was attending Viterbo University for a degree in Servant Leadership. I also attended Ripon College where I studied Education and Sociology/Anthropology so I'm very interested in cultures and learning more about how other people experience life.
The photos above are of a farm tour I did a couple weeks ago. We got to hold the baby animals and it was great learning first-hand how connected we are to nature and animals. The photo to the far right is from a few weeks ago when I volunteered at a greenhouse. I got to pick the lettuce and spinach for the salads we would eat at lunch. Another important experience that illustrated how tied we are to the environment and each other.
I am so grateful to be going on this trip and immersing myself in a new culture!
Ann Wertz: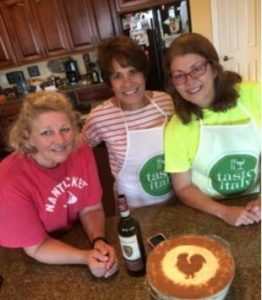 I am Ann Wertz. I grew up in Iowa and have lived here most of my life. I have also lived in Omaha and St. Louis for a few years while my husband was in grad school. I have a springer spaniel that is quite spoiled. I am blessed with family here in Dubuque, Iowa City and Keokuk. About 10 years ago I met Cindy Sullivan, BVM, on a golf course in the Dubuque area. She shared her story and I have wanted to visit the Center for Working Families ever since. Finally, I have the time to do this! My experience out of the country has been on Medical Dental Service Trips to Belize (2000-2006) for a week each year. I found this to be a most rewarding experience (and exhausting!).
I retired May 2016 from Loras College where I was a Leadership Coordinator for Religious Studies and Theology. Most of my job was with a group of 60 students (15 from each of the 4 years) developing their leadership skills and connecting them in service. I have participated in a number of service trips in the U.S.
Prior to my Loras position, I was a pastoral associate for St. Mary and St. Patrick parishes here in Dubuque. We were blessed with BVMs on staff, so I feel quite connected through those relationships.
I have been a widow for 6 years and am loving retirement. I volunteer in the community and at my home parish of St. Joseph the Worker. I am discerning how to use my gifts in retirement.
This is a fairly recent photo of me with two of my sisters-in-law. We were in Italy in October and cooked for the family when we returned. I am the one on the right with bright green shirt. Yes, we saw Pope Francis = a highlight.
Jere and Theresa Wood: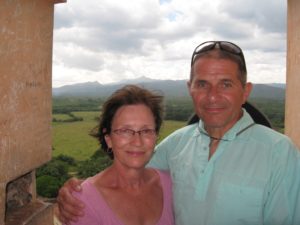 We are Theresa (age 61) and Jere (age 66) Wood and we live in Dubuque. We have been married just over four years and love to travel. Theresa has taught special education at Hoover Elementary in Dubuque for the past 18 years after an eleven-year career in publishing and a few years teaching in the private school system in Wisconsin before that. She hopes to retire in a year-and-a-half, at which time we plan to become gypsies, living in our recently purchased used RV. Fortunately, Theresa was able to take unpaid leave to accompany Jere on this trip to Ecuador. Prior to moving to Dubuque four years ago, Jere was an accountant for 37 years in Clinton, Iowa. He is semi-retired, but keeps very busy with several part-time and seasonal jobs. This is our first ever mission/immersion trip and we are looking forward to learning about the Ecuadorian culture and meeting and getting to know everyone. We have six children and seven grandchildren between us.