Dolores (Sarah James) Doohan, BVM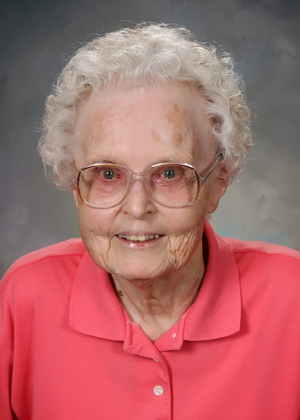 Sister Dolores Doohan, BVM, (Sarah James), 93, died Sunday, Nov. 28, 2021 at Mount Carmel Bluffs in Dubuque, Iowa.
Visitation and Rite of Committal for Natural Burial were on Tuesday, Nov. 30, 2021. Burial was in the Mount Carmel cemetery. Sharing of Memories and a Memorial Mass were on Thursday, Dec. 2, 2021.
Sister Dolores was born on June 15, 1928, in San Francisco to James and Sarah Cannon Doohan. She entered the BVM congregation Sept. 8, 1946, from St. Paul Parish, San Francisco. She professed first vows on March 19, 1949, and final vows on Aug. 15, 1954.
Sister Dolores was an elementary teacher at Holy Family in Chicago; St. Anthony in Missoula, Mont.; St. Clare in Portland, Ore.; All Hallows in Sacramento, Calif.; and St. Catherine in Kauai, Hawaii.
"Dolly had a generous spirit. She was always willing to share whether it be See's candy from her beloved San Francisco or an abundance of blueberries shipped to her from Oregon. She lived simply, preferring to donate her stipend to charities that supported the poor, especially children. Her cherished 'collections' consisted of a full address book and friends to surround her. In her quiet way, she connected with people, remembering birthdays, sending little notes or calling just to say hello – all ways that quietly said 'I care.'" (Eulogy, Dec. 2, 2021)
She was preceded in death by her parents and a brother John (Marilyn) Doohan. She is survived by a nephew Kevin (Leslie) Doohan, San Carlos, Calif.; a niece Colleen (Bill) Bockholt, Foster City, Calif.; and the Sisters of Charity, BVM, with whom she shared life for 75 years.
Memorials may be given to Sisters of Charity, BVM Support Fund, 1100 Carmel Drive, Dubuque, IA 52003 or online.
Watch Memorial Mass and Sharing of Memories
Download Eulogy
Download Sharing of Memories