Sister Martha (Briant) Ryder, BVM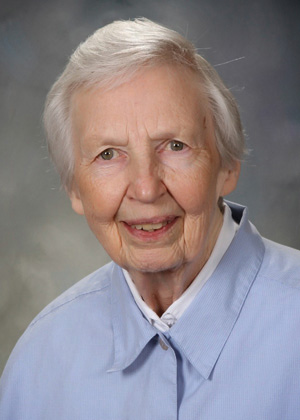 Sister Martha (Briant) Ryder, BVM
Sister Martha (Briant) Ryder, BVM, 94, died Sunday, Nov. 21, 2021 at Mount Carmel Bluffs.
Private funeral services, Sharing of Memories and Mass of Christian Burial were held Monday, Nov. 29, 2021. Burial was in the Mount Carmel cemetery.
Sister Martha ministered as chair and instructor in the physical science/physics department at Clarke University, Dubuque, Iowa.  She also taught at Mater Dei HS/Prince of Peace College Preparatory in Clinton, Iowa, and The Immaculata HS in Chicago.
She was born on May 25, 1927, in St. Louis, to Frederick and Myrtle (Stockton) Ryder. She entered the BVM congregation Sept. 8, 1948, from St. Margaret of Scotland Parish, St. Louis. She professed first vows on March 19, 1951, and final vows on Aug. 15, 1956.
Martha took St. Paul words to heart: "Rejoice in hope; endure in affliction, persevere in prayer." (Romans 12: 12) The pastor at Prince of Peace shared, "I think Sister Martha's presence has been an enormous value, not only her ability as a teacher, but beyond that, her witness to the religious life. Her beautiful way of proclaiming the Gospel, not always in words, but always in actions, her lifestyle, dedication, joy and commitment to the Lord, have served as an inspiration." (Eulogy, Nov. 29, 2021).
She was preceded in death by her parents and her brother Bill. She is survived by the Sisters of Charity, BVM, with whom she shared life for 73 years.
Memorials may be given to Sisters of Charity, BVM Support Fund, 1100 Carmel Drive, Dubuque, IA 52003 or make an online gift.
Watch Memorial Mass and Sharing of Memories
Download Eulogy
Download Sharing of Memories