BVM Ministry Partnership: Arise Chicago Empowers Workers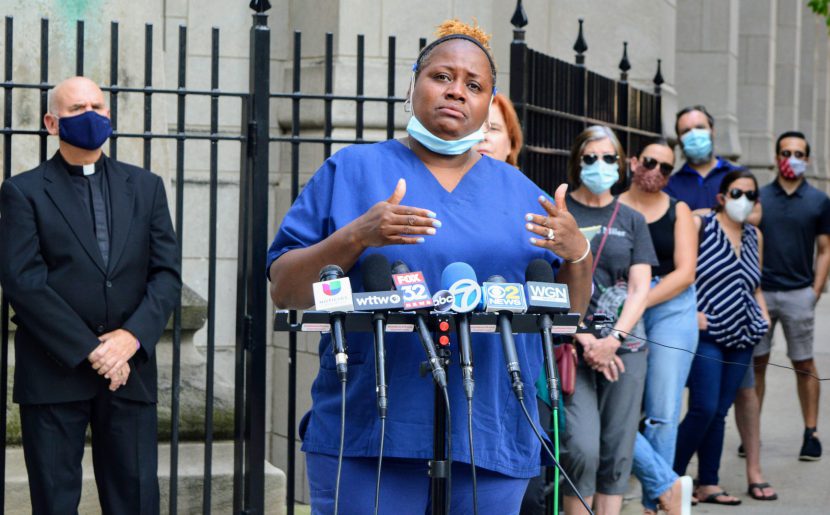 Angela Wright-Lewis, a nurse and grandmother of children at a Chicago Archdiocese school, pleaded to keep children home for safe, remote learning at a press conference organized by Arise Chicago. Photo: Shelly Ruzicka, Arise Chicago. 
From the Salt Winter 2021 issue
Arise Chicago is dedicated to the belief that all people deserve dignity and respect and that their rights don't end when they go to work.
Sisters of Charity of the Blessed Virgin Mary share that belief. They are Ministry Partners with Arise Chicago, which "educates workers about their rights and educates the religious community on the sacred connection between faith and work."
Arise Chicago continues the mission of Catholic sisters, says Luke Sullivan, Arise's religious organizer.
Sisters served where they were needed: hospitals, schools, and orphanages, Luke says. "We hope to be building on the foundation that the sisters created and to carry the mission forward. That, to me, is our mission," he says.
Arise's goal is to improve working conditions through education, organizing, and advocating for policy changes.
Sisters show how to joyfully minister based on faith, Luke says.
"It's that moral presence. How do you lead with a moral voice?" he says.
Navigating the pandemic
COVID-19 brought moral leadership into sharp focus.
Because of economic disparity, many workers felt a push-pull during the pandemic, Luke says.
"The push is, 'I have to feed my family.' The pull is, 'If I go to work, I risk infecting my family.' We tried to say, 'You are more than your job.' We tried to change that narrative. We all have inherent worth," he says.
The most recent BVM Ministry Partnership application says, "As a result of the health pandemic, the work of Arise Chicago has shifted to focus on protecting immigrant workers' lives, as many unscrupulous employers continue to put them at risk. During this devastating time, we remain focused on our mission and programs, which have supported workers to win physical and financial stability to support their families and improve their communities."
Arise helped determine what laws or mandates required of employers during COVID-19, and what to do if employers didn't follow those rules.
"We don't use the word help, but we say, 'What are the tools that people need?'" Luke says.
Knowing their rights goes with people when they change jobs.
Empowerment is Key
Arise serves domestic workers, day laborers, and others, says Gwen (Leonita) Farry, BVM.
"It has helped people who were cheated out of wages, especially immigrants," who are afraid to speak up for fear of being deported, she says.
Many of the disputes are over back wages and unpaid overtime.
"The part I like is that they really want to educate people on their rights," says Carol (Conrad Ann) Cook, BVM. "That's their big purpose, and then they stand with people as they seek their rights at their workplace. They do not do it for them."
In testimonials, workers spoke proudly of what they had accomplished for themselves after Arise Chicago empowered them, Carol says.
The goal is to develop leadership skills so workers can push for social and economic justice in the workplace.
"The collaboration of our two organizations was a natural fit in that we both worked for justice from a faith perspective," says BVM Joellen McCarthy, who referred Arise for the grant. "We felt like sister organizations to one another."
At Arise's annual breakfast and fundraiser in October (virtual in 2020), several workers talked about assistance when COVID-19 was at their workplace.
"The staff of Arise did not solve the situations for the workers. Arise staff explained to the workers their rights. Then workers themselves went on to fight against the injustice experienced in their workplace," Joellen says. "Without this approach, power is not really shared and mutual but remains on one side."
BVMs and Arise Work Together
The collaboration between Arise and BVMs is "very mutual," Luke says. "The sisters help Arise live out our values by joining us in actions to support our worker members and the labor movement as a whole. We love working with the sisters because of their spirit and love of God and love of neighbor as we work to make sure all workplaces are fair and just."
BVMs have joined Arise at picket lines and marches supporting teachers and fast food workers. Some of the combined efforts are on public policy campaigns.
"BVMs have joined Arise in meeting with elected officials both at the level of the city of Chicago and in the state. BVMs met with elected officials in our paid sick days campaign in Chicago. And we worked closely with BVMs Rose Mary (Sebastian) Meyer and Carol Cook at the state level in lobbying when we worked to pass the Illinois Domestic Worker Bill of Rights," Luke says.
Many BVMs connected with Arise through the now-closed 8th Day Center for Justice in Chicago, a center that BVMs helped to found.
Parish Connection
Work as a live-in nanny or housekeeper can be very isolating. A faith community can be a place to learn about worker rights.
Chicago has a large Polish community, and "a lot of Polish people are domestic workers. The Polish community is largely Roman Catholic, so we work within the congregation to educate" workers about their rights, Luke says.
Arise educational materials are printed in English, Spanish, and Polish. In addition to other workplace rules, eliminating discrimination, sexual harassment, and workplace hazards are covered.
In her referral for a grant, Joellen writes, "The work of Arise Chicago is all about transforming structures in our society so that all people, but especially the poor and vulnerable, have a seat at the table of God's abundance."
Through a BVM Ministry Grant, Arise Chicago continues the BVM Legacy of Love by seeking out and attending to those most in need.
---
This story was featured in: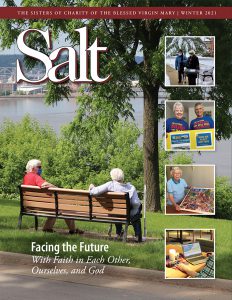 WINTER 2021: FACING THE FUTURE In this issue of Salt, we share how the Sisters of Charity of the Blessed Virgin Mary cope with COVID-19, persist in working for justice, and find partners to continue their missions, all while they look for creative ways to communicate, express gratitude, and pray for all the world's citizens and creatures.
If you would like to receive Salt, contact the Office of Development for a complimentary subscription at development@bvmsisters.org or 563-585-2864.