'Girl of Summer' Becomes a BVM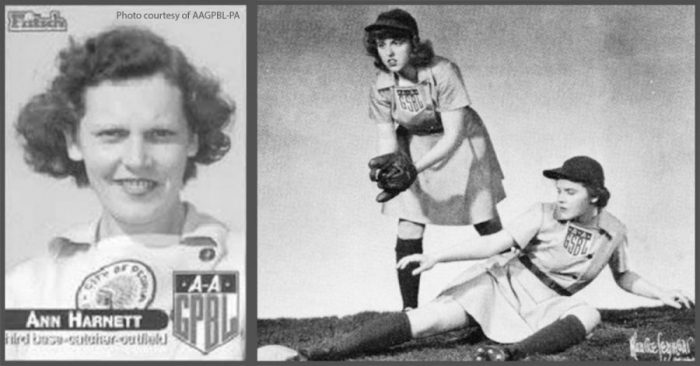 Photos: All-American Girls Professional Baseball League-PA. 
Edited by Jean Byrne, BVM
BVM Center News, June 2004
BVM grade school teachers often organized games on playgrounds during recess or lunch hours, and sometimes participated in them.
The schools where Ann (Daniel Joseph) Harnett, BVM taught had a real pro for their baseball games: she had been a member of the All-American Girls Professional Baseball League and keep her love for the game alive and well.
Also known at the Girls of Summer, the League was begun as a way of replacing the entertainment provided by the customary men's professional teams decimated by the needs of the military during the Second World War.
Charm school was a requisite, as were consultations with cosmetic companies. Lipstick was mandatory and their uniform was intended to be attractive rather than practical.
Four teams were selected after the first training camp and from one of them emerged one of the best batters, Ann Harnett, the first player signed by chewing gum magnate Philip K. Wrigley, owner of the Chicago Cubs.
Ann was an outstanding and versatile player in her career that lasted from 1943 to 1947.
Ann entered the BVMs in 1950 and taught in grade schools in California, Montana, and Illinois. She died in Chicago in 1974 at age 55.