BVMs, Donors Contribute to Food Banks and Pantries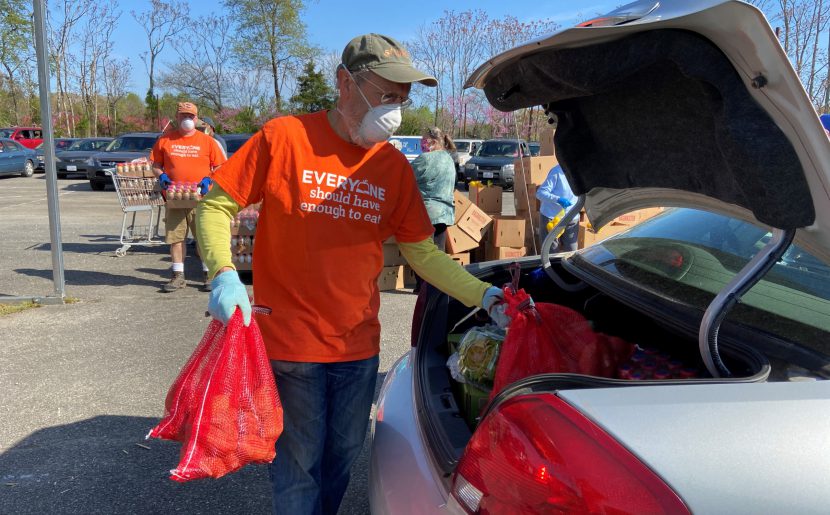 A volunteer at a Blue Ridge Area Food Bank Mobile Food Pantry in Virginia loads a car during COVID-19 response. BVMs donated to 120 food banks and pantries using their stimulus checks and benefactor donations. Photo courtesy of Blue Ridge Area Food Bank. 
By pooling their government stimulus checks and adding generous benefactor donations, Sisters of Charity of the Blessed Virgin Mary were able to send checks to 120 organizations that provide food to people in need.
"The stimulus checks gave rise to an unexpected blessing for us," says BVM President Teri Hadro. "In this time of COVID-19 isolation, we were able to focus our attention on a pressing need for so many of our sisters and brothers. Helping to provide food put legs on our daily prayers for those bearing the brunt of the pandemic.
"We sincerely hope that by sharing our resources and the gifts of our donors we lessened the suffering of our sisters and brothers most affected by COVID-19, at least for a little while," Teri says.
Sisters of Charity, BVM sent checks to regional food banks in areas where BVMs have served or are serving. Sisters and Associates suggested food pantries in their home areas for funding. Donations went to 21 states, Ecuador, and Ghana.
"I know it has helped people," says Carol Atchity, BVM, who recommended St. Joseph Food Pantry in Springfield, Mo.
The pantry serves 300 people a week, says Father Karl Barmann, but "every day we get calls. I had a guy call whose family was living in their car. They had nothing to eat. The need has always been there but not to this extent. It has increased tremendously. [The donation] will be a great help to us to meet the needs of the people."
Seeing lines of cars pulling up to food pantries and food banks on the national news convinced BVMs that food insecurity is a critical issue and compelled them to help, Teri says.
"I am so proud of my community," says Diana Malone, BVM, who recommended Our Lady of the Sioux Church in Oglala, S.D. "We have it. We should do what we are doing."
"Because of the generosity of our benefactors over the years, and because of good stewardship and planning by BVM leadership for decades, we BVMs have all our basic needs met," Teri says. "Keeping with our mission to make God's love known to others, the current BVM Council decided that we would invite our sisters to pool their stimulus checks to help alleviate hunger. In addition, we decided to use our annual appeal to invite our donors to partner with us in this endeavor. The response was generosity beyond our imagining.
"As BVMs, we are 'compelled by the example and word of Mary Frances Clarke in her sensitive response to critical human situations.' Our Constitutions express our commitment to 'seek out and attend to those in need whatever this may require of us,' " Teri says.
BVM Sisters also joined with other religious congregations in a Challenge to End Hunger during Catholic Sisters Week.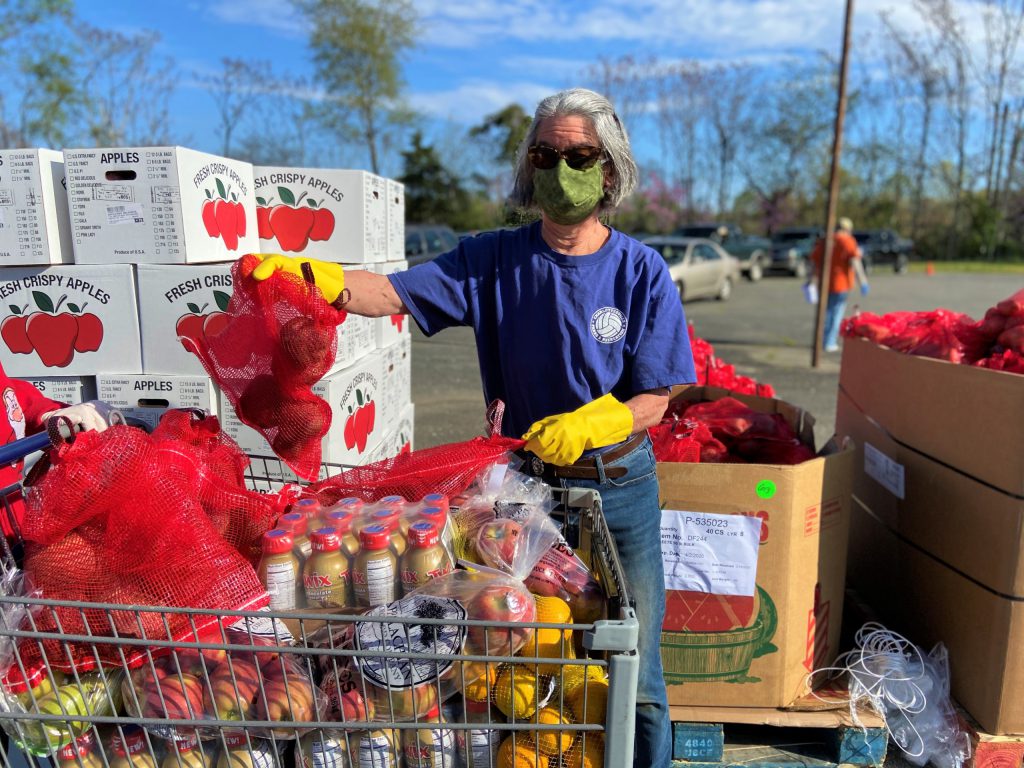 "The need is great. The support has been great," says Millie Winstead, director of development for the Blue Ridge Area Food Bank in Virginia, which was recommended for a donation by Associate Kimberly Emery.
Although there appears to be a light at the end of the tunnel for the pandemic and possibly the economy, new unemployment claims are still high, especially for people in minimum-wage jobs.
"We are in this for the long haul," says Millie, who adds that food banks run on donations like the one from the BVMs.
"This is just a wonderful thing for us to do," says Kathleen Antol, BVM, who recommended the Food Bank of Northern Indiana. "Right now, my pantry is stocked and my refrigerator is stocked. You feel guilty because there are people who don't have enough."
If you would like to join in support of the BVM mission of making God's love known to others, visit our website: www.bvmsisters.org.