Young Catholic Adults Invited to Share Sunday Mass, Learn About Religious Life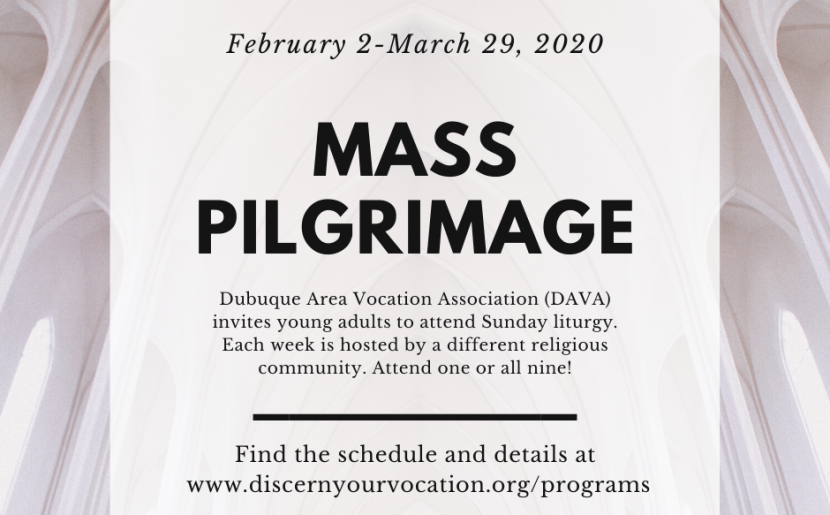 A pilgrimage to share Sunday Mass with religious communities starts Feb. 2 to increase awareness about religious life.
DAVA is a collaborative vocation ministry effort among religious communities in the Dubuque, Iowa, area and the Archdiocese of Dubuque. DAVA members reach out to nurture, promote, encourage and help those who feel called to religious life.
"In my travels for vocation ministry, I'm finding that many young adults have not met Catholic Sisters or Brothers," said DAVA member Sister Jessi Beck, PBVM, who helped co-create the event. "The Mass Pilgrimage is an opportunity to meet and pray together as well as to start building relationships.
"We hope people will feel welcome and know that their presence in the Church is important," adds Sister Jessi.  "For those who visit several different religious communities, we hope they will see the beautiful diversity that religious life offers the church and world. The Archdiocese of Dubuque and surrounding area is blessed to have a variety of religious communities such as apostolic, missionary, monastic, and contemplative."
This is the first time for the Mass Pilgrimage.
"It's just another way to welcome our young adults, share with them our lives, and let them learn more about who we are," said Lori Ritz, director of the Office of Life and Mission for the Sisters of Charity, BVM.
Schedule for the Mass Pilgrimage:
Feb. 2        9 a.m.        Sisters of the Presentation of the Blessed Virgin Mary, 2360 Carter Road, Dubuque
Feb. 9        10 a.m.      Congregation of the Humility of Mary, 820 W. Central Park Ave., Davenport, Iowa
Feb. 16      11 a.m.      Dominican Sisters of Sinsinawa, 585 County Road Z, Sinsinawa, Wis.
Feb. 23      11 a.m.      Sisters of Charity of the Blessed Virgin Mary, 1100 Carmel Drive, Dubuque
March 1    10 a.m.      Divine Word Missionaries and Holy Spirit Missionary Sisters, Divine Word College, 102 Jacoby Drive SW, Epworth, Iowa
March 8    9 a.m.        Franciscan Sisters of Perpetual Adoration, 912 Market St., La Crosse, Wis.
March 15  9 a.m.        Sisters of St. Francis of Dubuque, 3390 Windsor Ave., Dubuque
March 22  8:30 a.m. Trappistine Sisters Our Lady of the Mississippi Abbey, 8400 Abbey Hill Lane, Dubuque
March 29  9 a.m.        Trappist Monks New Melleray Abbey, 6632 Melleray Circle, Peosta, Iowa
For more information, visit: Discern Your Vocation
"It's just another way to welcome our young adults, share with them our lives, and let them learn more about who we are."