Unique Gift Furthers BVM Mission: Inspired by the 'Sisters of Sister Jean' to Give Back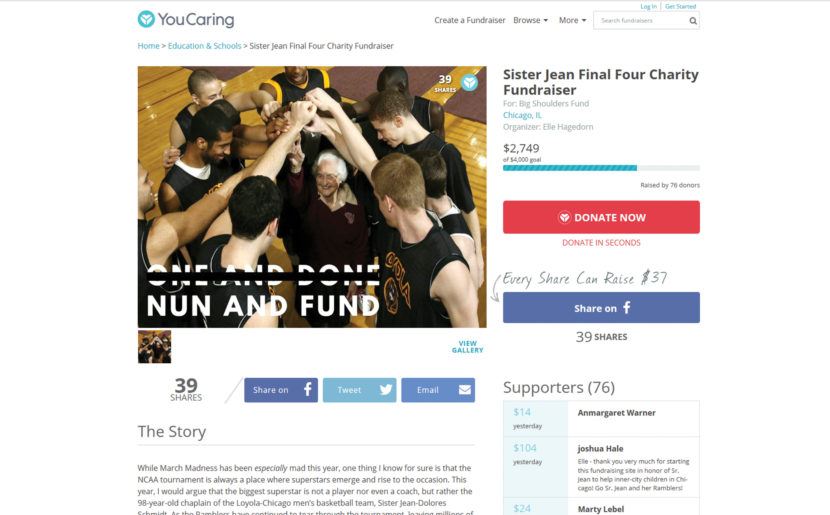 Over the years, donors have given various gifts to support the life and mission of the Sisters of Charity of the Blessed Virgin Mary as well as to provide for the care and comfort of BVMs living at Mount Carmel.
But sometimes support comes in unique forms or from someone who may not even know the BVMs.
Enter Elle Hagedorn, senior manager of media relations and communications for the National Basketball Players Association.
During the Men's NCAA Basketball Tournament, often referred to as "March Madness," Elle was inspired by Loyola University Chicago's team chaplain, "Sister Jean," who, along with her Ramblers, rose into the international spotlight as the Cinderella team fought their way into the Final Four.
Known to her BVM Sisters as Jean Dolores Schmidt, BVM, the 98-year-old (now 99) emerged as the tournament's real "Cinderella," charming the world with her wit and wisdom and becoming a beloved icon with her "infectious smiles and spirit."
After reading a New York Times article, "Sisters of Sister Jean Embrace Her Loyola Team and Marvel at Her Fame," Elle learned that Sister Jean is one member of the Sisters of Charity, BVM.
Taught by Catholic sisters for 12 years, Elle was inspired: "I cannot tell you how much of a positive influence these women have had on my life and after following Sister Jean and reading the New York Times article, I told myself I would do something to give back."
Elle reached out to Development Director Andy Schroeder to discuss how she might help the BVMs. "It was quite a surprise to get a call from a young person asking if there was a way they could help raise money for the congregation," shares Andy. "I was impressed with how Elle presented her idea and the research she put into organizing an online fundraiser." Elle, with the blessing of the BVMs, created a special online donation page to honor the work of the BVMs and raise money on their behalf for a worthy charity.
Humbled by Elle's intentions, Sister Jean requested that money raised go toward an organization near and dear to her heart, Big Shoulders, a Chicago-based nonprofit that supports Catholic schools in the city's neediest communities through scholarships to low-income students.
As a former Division 1 basketball player for Harvard University, Elle planned to tap into her "large network of Catholic, basketball-loving people"
to help raise funds.
Because it was the Final Four, she asked for donations with a "4" and set a goal of $4,000. With the support of her colleagues, family, friends, and social media networks, Elle raised more than $3,000 within one week.
"She gave so much joy to the people who were following March Madness," says Elle. "I thought this was a small thing that we could all do to give back to her and recognize her for the life
of service she and her fellow sisters have lived."
Elle never had a direct interaction with a BVM Sister and yet was compelled by the actions of one to do something to help.
While BVMs may never have had the privilege to meet Elle, they're grateful that she chose to honor them in such a special way.
It's a reminder that the BVM Legacy of Love continues to inspire people to do good every day when you least expect it.