BVMs and Tri-State Coalition Endorse Bill Requiring Human Trafficking Training at Iowa Hotels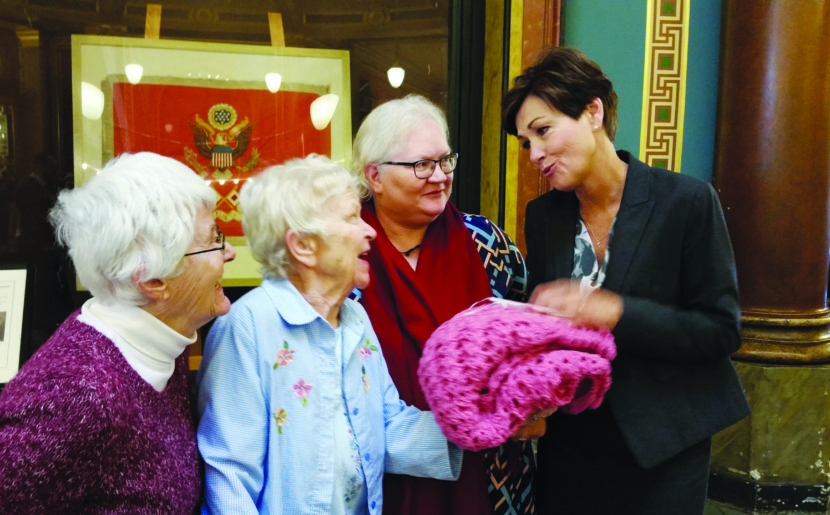 The Tri-State Coalition Against Human Trafficking is a collaborative, faith-based network that engages in education and advocacy to eradicate human trafficking in Dubuque and the surrounding area. The Coalition is comprised of members from local religious communities (including the BVM Sisters) and community leaders who collaborate with other area groups to spread awareness of this modern day slavery.
Following recent efforts of the Tristate Coalition Against Human Trafficking, Iowa State Representatives Chuck Isenhart and Lindsay James are bringing a bill (HF 455) to the state floor that would require human trafficking training at hotels that want government business.
Raising Awareness and Advocating for Change
This progress at the Iowa Legislator comes after the coalition garnered attention on Jan. 11 when BVMs and associates, along with other members of the coalition, held a media conference at the Grand Harbor Resort and Waterpark in Dubuque to announce an initiative aimed at educating local hotel/motel staff on human trafficking awareness and celebrating the completion of the training of the resort's staff. After learning of the importance of these efforts to reduce trafficking, Isenhart first announced the idea for a bill at the conference.
The following week, four members of the coalition (Carol Cook, Nancy McCarthy, associate Suzie Wright, and volunteer Sybil Schroeder) traveled to Des Moines, Iowa, to participate in a legislative awareness day focused on efforts to end human trafficking and victim benefits and services.
At the Iowa State Capital, they met with Representatives Isenhart and James; Senator Pam Jochum; and Governor Kim Reynolds. The coalition members presented the governor with a BVM-crocheted prayer shawl in recognition of her work to help end human trafficking in Iowa.
A Step in the Right Direction
A few days after meeting with the coalition members, Isenhart and James drafted the proposed legislation that would require all hotels in the state of Iowa to undergo training in order to do business with state government employees.
"Addressing this human slavery in Iowa is a priority, so we can show we are serious by using our power to spend public money in a way that supports our values," says Isenhart. "We have seen progress by concerned parties in the trucking services industries. I think we can fairly ask leaders in hospitality services to join the effort in a concerted way."
Training will focus on identifying, reporting and responding to suspected human trafficking. Required content would include an overview of human trafficking, state law on human trafficking, how to recognize potential human trafficking victims and human traffickers, and how to identify activities commonly associated with human trafficking.
Most important, the training will teach employees about safe and effective responses to potential human trafficking situations, including how to report suspected human trafficking to law enforcement officials.
In order to continue qualifying to serve state and local governments and public employees, hotels and motels would have to complete the requirement by January 2022. The certification would have to be updated every two years for new employees.
. . . training hotel staff is key to stemming the tide of this growing crime."
The State of Iowa would maintain a public database of qualified facilities, and lodgers would be able to display signs and otherwise advertise a seal of certification.
"Data show that more than 70 percent of sex trafficking occurs in hotels and motels," says BVM and coalition member Mira Mosle. "So training hotel staff is key to stemming the tide of this growing crime. Tying state-related events to facilities which have undergone this training sends a strong message that lawmakers are serious about using all the tools possible to minimize situations of trafficking throughout the state."
BVM Associate Suzie Wright and coalition member adds, "Educating hotel employees empowers those who stand on the front line of human trafficking assisting the vulnerable. It is key to stopping this injustice."
How You Can Help
The bill was referred to the House Public Safety Committee, where it faces a March 8 deadline.
If you are inclined, please reach out to these representatives and show your support for this bill.
HF 455 is Drafted By:
Charles Isenhart (D, District 100) and Lindsay James (D, District 99)
Iowa House Speaker
Linda Upmeyer (R, District 54)
Iowa House Majority Leader
Chris Hagenow (R, District 19)
Iowa House Public Safety Committee:
Jarad Klein(R, District 78), Chair
Jon Thorup(R, District 28), Vice Chair
Timothy Kacena(D, District 14), Ranking Member
Ako Abdul-Samad(D, District 35)
Wes Breckenridge(D, District 29)
Dean Fisher(R, District 72)
Tom Jeneary(R, District 5)
David Kerr(R, District 88)
Bob Kressig(D, District 59)
Monica Kurth(D, District 89)
Jeff Kurtz(D, District 83)
Gary M. Mohr(R, District 94)
Rick L. Olson(D, District 31)
Ross C. Paustian(R, District 92)
Sandy Salmon(R, District 63)
Kristin Sunde(D, District 42)
Phyllis Thede(D, District 93)
Beth Wessel-Kroeschell(D, District 45)
Matt W. Windschitl(R, District 17)
Gary Worthan(R, District 11)
---
Call 1-888-373-7888 or 911 to report any human trafficking concerns you may have.
To learn more about Human Trafficking, visit:
Coalition on Human Trafficking
2017 National Human Trafficking Hotline Statistics
State Department's Trafficking In Persons Report for 2018
U.S. Catholic Sisters Against Human Trafficking
Featured image: BVMs Carol (Conrad Ann) Cook (l.), Nancy (Josephine Mary) McCarthy, and Associate Suzie Wright share a BVM blessed prayer shawl with Iowa Governor Kim Reynolds and advocate for efforts to end human trafficking.
Please note this story is ongoing. Updates will be made to this post as new information emerges. 
---
Related: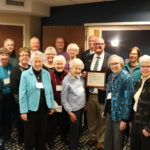 Video: National Human Trafficking Awareness Day Press Conference
Dubuque area Catholic sisters announce a campaign to train hotel employees how to identify and respond to human trafficking in their workplace.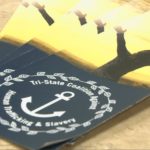 KCRG: State Bill Requires Human Trafficking Training at Hotels That Want Government Business
A proposed bill would mandate human trafficking training for hotels if they want to do business with government officials.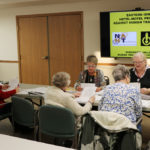 Human Trafficking is Among Us: Realize, Recognize, Respond
Associate Suzie Wright shares ways you can identify and respond to human trafficking.