Mother & Daughter Honor Sisters Who Shaped Their Lives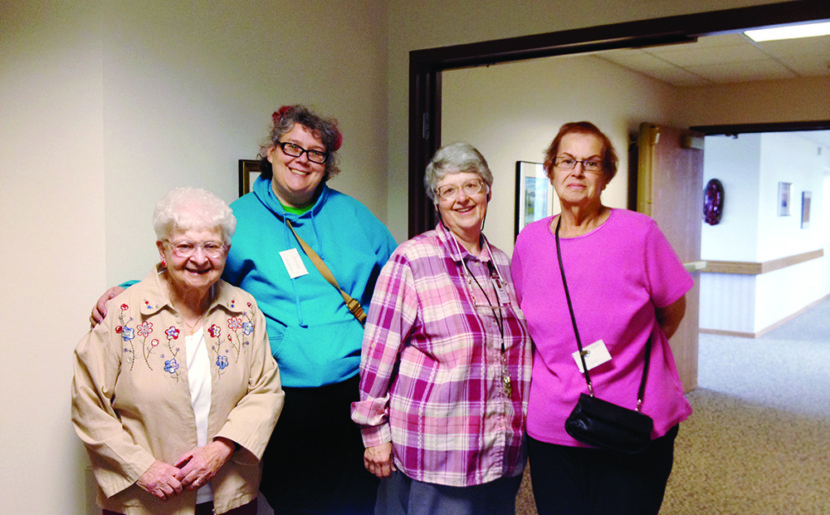 Jann Phillips (class of '60) first encountered the Sisters of Charity of the Blessed Virgin Mary when she was a young girl at St. Paul Elementary in San Francisco.
"They treated us with respect," she reflects. "They taught us manners, and they just made us good women."
She continued at St. Paul High School across the street. To her, a BVM education was about so much more than learning assignments.
"It was a safe place for me," she says. "My father was an alcoholic, so when I went to school, I always felt like I was surrounded by people who really cared. Whether you could afford the tuition or you couldn't afford the tuition—they made it happen."
Thinking of the teachers who impacted her life the most, she remembers Carlita Egner, BVM.
"Sister Carlita was kind and compassionate," says Jann. "She was an excellent teacher and always willing to help you if you were struggling with your studies."
Because of Carlita's dedication, the school established a scholarship in honor of her more than 50 years at St. Paul schools. Jann's daughter, Jaymi Philips (class of '91), received the award when she was in the eighth grade for her service to the school, the community, and the church.
A high school librarian, Jaymi has spent 17 years in the classroom. She credits BVMs for her decision to be a teacher and to continue even when things were tough.
"I don't think I would've stayed with being a teacher had Sister Immaculee Walsh, BVM not guided me in my first few years," says Jaymi.
Throughout her teaching career, Jaymi has found inspiration and encouragement through letters from Immaculee and BVMs Maureen (Matteo) O'Brien, Karen Conover, and others.
That caring is something Jaymi truly appreciated when her grandmother died during her sophomore year.
"The day after she died, I insisted I was going to school, and Sister Ann Marie McNamara stopped me that morning and pulled me into her office and talked to me about grief," says Jaymi. "I always felt like the nuns took an interest in you."
Jann volunteered for the school as an active member on committees and in parent clubs where she befriended many BVMs. She recognizes Karen and BVMs Ann (Mary Ann) Cronin, Eileen (Patrick Ellen) Healy, and Anne Marie McKenna as some of her best friends.
In retirement, Jann remains active with the St. Paul Alumnae Association. Every April, she and Jaymi help with the alumnae fundraiser which gives 20 percent of the proceeds to the BVMs.
Because her mom supported the BVMs, Jaymi was inspired to do so as well. In addition to hand delivering the check from the fundraiser to Mount Carmel in Dubuque, Iowa, they give every year to help the sisters who shaped and continue to impact their lives as a small way to say "thank you" and to connect with many of their BVM friends.
"They taught me to be a good teacher," says Jaymi. "They made me who I am, and I figured that I could help them in their time
of need."
"There's no way I could imagine ever not having the BVMs," says Jann. "They've been such an integral part of my life."
Jann and Jaymi say they "always feel loved" everywhere they encounter a BVM. It's an experience many other alumnae can relate. They are a loved and welcomed part of the BVM Legacy of Love.
Featured image: During a recent visit to Mount Carmel, Jaymi (second from l.) and Jann Phillips, (r.) never miss a chance to visit with their close BVM friends Ernestina Molinari and Karen Conover. 
---
Related Stories:
---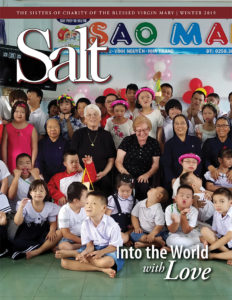 This story was featured in:
Winter SALT 2019: Into the World with Love
When BVMs Teri Hadro and Kate Hendel visited the Sisters of the Immaculate Heart of Mary in Vietnam, they brought with them 185 years of rich BVM heritage and a message of friendship that echoed the words of BVM Foundress Mary Frances Clarke, "Where one BVM is, all BVMs are." In this issue, discover ways the BVM Legacy of Love continues to grow throughout the world.
If you would like to receive Salt, contact the Office of Development for a complimentary subscription at development@bvmcong.org or 563-585-2864.