Ireland: A Pilgrimage to Where it All Began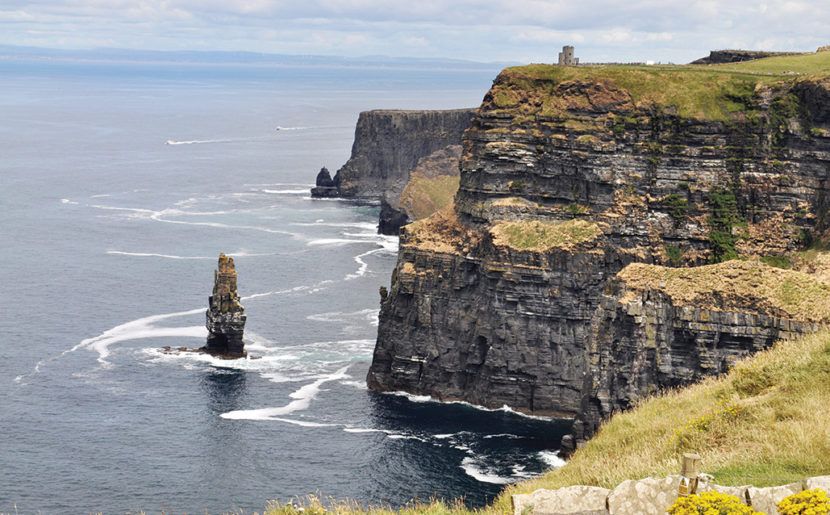 In honor of Clarke University's 175th Anniversary, 27 visit the place where five young women answered God's call.
In 1832, Mary Frances Clarke, Margaret Mann, Eliza Kelly, Rose O'Toole, and Catherine Byrne opened their first school, Miss Clarke's Seminary, on North Anne Street in Dublin, Ireland. The school provided the area poor an opportunity to achieve an education. As relayed in The Price of Our Heritage by Jane (St. Joan of Arc) Coogan, BVM, it was a time marred with immense poverty and epidemics of disease. The recent repeal of Penal Laws allowed many Irish Catholics to leave their hiding places in attics and underground to worship freely once more and to serve the growing needs of the poor.
The following year, these women answered another call to serve the needs of Irish immigrants in Philadelphia where they formed the congregation of the Sisters of Charity of the Blessed Virgin Mary. Eventually, they came to settle in Dubuque, Iowa, and established a school that would grow into Clarke University.
One hundred seventy- five years later, Clarke University embarked on a pilgrimage back to Ireland to explore where it all began.
Led by Clarke President Joanne Burrows, SC; Clarke President Emerita Catherine (Michelle) Dunn, BVM; Clarke Provost Emerita and Professor Emerita Joan (Ramone Mary) Lingen, BVM; and Clarke Professor Emerita and Board of Trustees Member Mary Ann (Clement Mary) Zollmann, BVM; the group of 27 journeyed throughout Ireland to explore the origins of Celtic spirituality and the history of the Ireland that the original foundresses called home.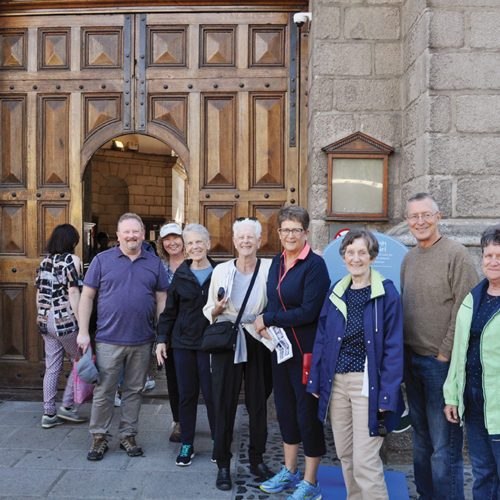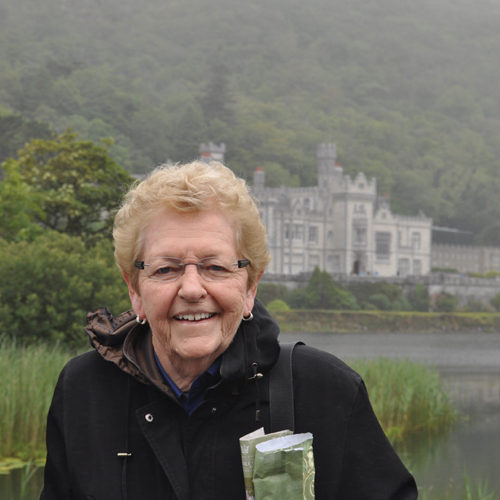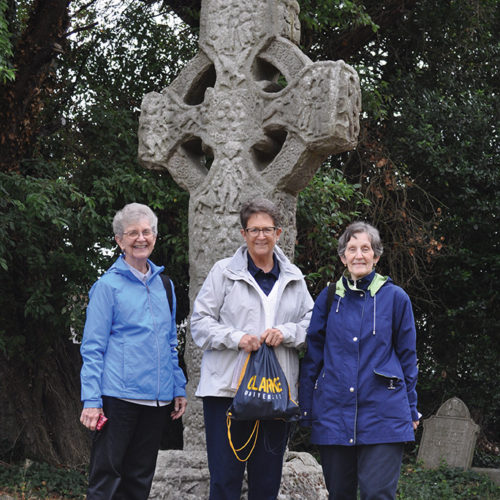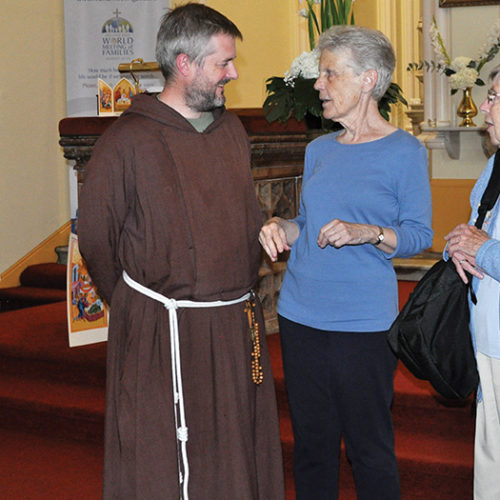 Connected to the Spirit
Looking back on the trip, Catherine shares that she felt connected to the spirit of Mother Clarke every step of the way.
"She was very much alive on this trip," reflects Catherine. While serving as Clarke president in 1984, she felt that same connection when a fire burned a large portion of the university campus to the ground. "I paced in front of the buildings when they were burning, and I could feel her spirit within me." The next day, students with great strength and determination hung banners proclaiming, "Clarke lives." From the ashes the school was rebuilt in two years, forming the campus that can be recognized today.
For Catherine, journeying to Ireland was a way to walk in the footsteps of Mother Clarke who also accepted challenges as opportunities.
"I'm so filled with her and how she responded to deal with adversity," says Catherine. "She tackled great things and so we did at Clarke, too."
It was a pilgrimage to give thanks, to give honor and to be grateful. It made us more deeply aware of the Irish, their traditions and how Mary Frances Clarke brought that with her. —Catherine Dunn, BVM
Exploring Ireland
The group traveled to the Ring of Kerry, the Cliffs of Moher, and the Aran Islands among other places. On their path they were greeted with kindness, food, storytelling, dancing, castles, and ancient ruins. Joan researched the historical significance of every location.
"We went from prehistoric to historic," says Joan. "We went from pagan to Christian. We went from pubs to churches, from castles to tombs, buses to boats, God-made to man-made, shopping to sightseeing, and rugged to romantic.'"
The part that touched many in the group the most was their stop at St. Michan Church, the parish of the five BVM foundresses and the surrounding area on North Anne Street where they opened Mary Clarke's Seminary.
"To see those spaces and to know that they had been there—it's hard to describe how I felt," says Professor and Registrar Emerita Regina M. Qualls, BVM. "I could feel the presence of Mary Frances Clarke. To do that with people who had that Clarke connection or BVMs who had that congregational connection just enhanced it."
While at St. Michan, the pastoral associate shared the courage that it took for the BVM foundresses to begin a school that was open to Catholics and Protestants–rich and poor alike.
"Those original women had no clue how far all of this was going to extend," reflects Mary Ann. "All the lives that Clarke University has touched over 175 years would never have happened without this little place on North Anne Street and the courage of these women."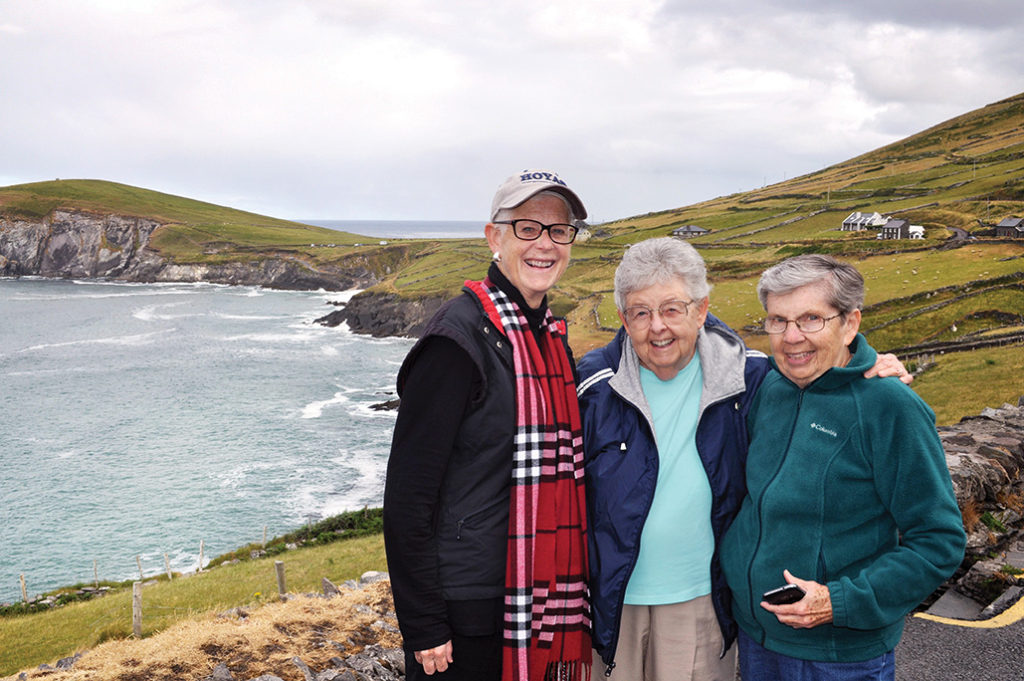 Exploring Celtic Spirituality
Starting at St. Michan Church, Mary Ann tied the journey to the roots of Celtic spirituality. It was an eye-opening experience that brought her and others closer to the heart of the spirituality and values of the BVMs.
"I always knew that we kind of do church differently, but I didn't realize until I went to Ireland, how deeply that's grounded in who we are," says Mary Ann.
According to Mary Ann, Celtic spirituality dates back before the origins of Christianity in Ireland. It was based firmly on the idea of "original goodness," meaning that "everyone bears something of the divine." It was goodness strengthened by bonds of kinship, companionship, and community.
"When Christianity was brought to Ireland through those like St. Patrick, the Celtic people didn't abandon that spirit," explains Mary Ann. "People kept trying to suppress [the Celtic spirit], and it kept coming back."
"I sometimes look upon our BVM congregation in that way," she adds. "We keep bringing back that different spirit, and it's a spirit of . . . wanting to love other people enough to do justice and to bring them the education that will enable them to do that."
It's a spirit that still lives in those touched by the 175-year legacy of Clarke University and the 185-year legacy of the BVMs.
"I think that the spirit of Mary Frances Clarke is alive," says Joan. "Nearly two centuries later the spirit is still there. Walking in the footsteps of Mary Frances Clarke awakened that spirit in all of us."
---
---
Related Stories:
---
This story was featured in: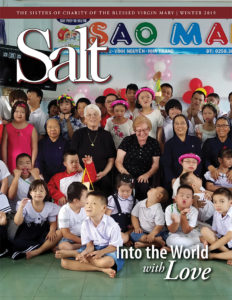 Winter SALT 2019: Into the World with Love
When BVMs Teri Hadro and Kate Hendel visited the Sisters of the Immaculate Heart of Mary in Vietnam, they brought with them 185 years of rich BVM heritage and a message of friendship that echoed the words of BVM Foundress Mary Frances Clarke, "Where one BVM is, all BVMs are." In this issue, discover ways the BVM Legacy of Love continues to grow throughout the world.
If you would like to receive Salt, contact the Office of Development for a complimentary subscription at development@bvmcong.org or 563-585-2864.