TAPROOTS: Leaving a Legacy of Love
Each May at the annual Memorial Mass at Mount Carmel in Dubuque, Iowa, a special family comes to honor the memory of Monica Cahill, BVM (Monita).
"Sister Monica showed me values in life, like loving God, loving yourself, loving others (even your enemies)," says Luis A. Cortez, who was known to Monica as "Tony."
Monica first met Tony's mother, Carmen Villegas, at a hospital when he was just a baby and Carmen was 15 years old. "She took my mom under her wings and took care of her . . . from that moment our lives changed forever, for the better."
It was not only Tony and his mother whose lives were blessed by Monica with her wisdom, presence and love, but also his sisters Alicia Villegas and Maria Cortez, his brother Julio Castro—and now, their own families.
BVM Mary Ellen Meckley (Davidette) has been part of this family's history, too. She says, "I have known the Villegas since that early time in Chicago. There were many occasions when I brought them food from the food pantry."
Monica became a beloved "Grandma" to Carmen's children as they grew up. She was there through the years sharing her love, guidance, faith, and compassion. Tony says, "She saved my sisters' lives and my own life by loving my mother the way she did and raising us the way she did."
Tony is proud of his five children, his "blessings" in life. "I guide them and instill the values that Sister Monica gave us . . . her legacy will live forever in TAPROOTS and the people she touched will teach their own children these values."
A Dream Realized
Monica's story began over 30 years ago, when she dreamed of a program that would help young parents by instilling healthy self-esteem, the importance of their children's early years, and the need to become responsible parents and citizens. Essential elements included helping them to finish school, find a job, and provide low cost day care for their children.
Monica named the program TAPROOTS (Teen and Adolescent Parents Realizing Ongoing Orientation Towards Success). The root of the plant that goes deepest into the soil and draws the richest nourishment from the earth is the taproot. Similarly, through nurturing and support, the quality of the lives of parents and children can flourish.
TAPROOTS began in the basement of a church on the West Side of Chicago. The first BVMs to work there were Francilla Kirby and later, Mary Kelly (Hortense). Associate Rosemary Juliano helped for several years, and Kelly Lytle, former BVM, often came to take the boys to a nearby park.
Founded in 1978, TAPROOTS was incorporated as a nonprofit organization, helping adolescent parents and their children. During the '90s, TAPROOTS shifted from its initial services to a more preventative approach, offering social and educational outreach, life skills, and parenting and cultural arts programs with a healthy living theme. Monica served as its executive director for two decades.
Maria Cortez, who has three children of her own, says: "Every day I try to better myself. Sister Monica always taught me to believe in who I am. In this world, I hear horrible news daily. I think back to when Sister Monica taught me the prayer of St. Francis, 'Lord, make me an instrument of your peace,' when I would ask her, 'Where was God?' I learned in time what she wanted me to learn: God is inside our hearts; we are God's instrument."
Alicia Villegas adds, "She is always going to be in our hearts . . . for me she is still alive in the memories and good things she did in life . . . we will always love her. She was a good 'Grandma' and there is not enough lifetime to say thank you Sister Monica for everything that you did for us."
Remembrance, Respect, Love
When the extended Villegas family attends the Memorial Mass at Mount Carmel, they visit the grave of their beloved "Grandma." Maria says, "Being able to celebrate Sister Monica's life and listening to the rest of the community share stories and remember her is so special."
"Going to Mount Carmel is like visiting her home and the sisters treat us like we are family. When we visit her grave," says Alicia, "I always tell my kids how she did so much for us."
Love and gratitude abound for BVM Mary Ellen, too. Tony says, "We are so grateful for Sister Mary Ellen, who loves and cares for us as well." Alicia adds, "I want to say thank you to her for her support and we love her like an angel, too."
Mary Ellen shares, "There have been years when Tony or Maria had to work, or there was only one van able to make the three-hour trip." But those in the Villegas family who are able to make the journey, always come, and Mary Ellen is waiting at Mount Carmel to welcome them.
Tony reflects, "When we take that trip to Iowa every year we are doing it for Sister Monica, but also in respect to all the sisters that touched and changed peoples' lives. I want to thank the BVM family for inviting us year after year to their home and treating us with so much love. To us it is the least we can do for Sister Monica and all the BVM sisters who gave their lives to do the work of God."
To learn more about TAPROOTS, visit: taprootsinc.org.
Feature photo caption: Mary Ellen Meckley, BVM (center) gathers with the family who comes every year to Mount Carmel to honor Monica Cahill, BVM. Ruby Taylor (left of center) worked with S. Monica and took over as program director when she retired.
---
This story was featured in: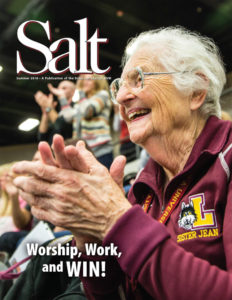 Summer Salt 2018: Worship, Work, and WIN!
Win or lose, the Loyola University Chicago Ramblers know they can count on the love and support of their 98-years-young chaplain, Sister Jean Dolores Schmidt, BVM. This year's NCAA Men's Basketball Tournament (a.k.a March Madness) propelled Sister Jean and her team to the Final Four—and gave the world a chance to see BVM values in action. Read more about Sister Jean and the BVM Legacy of Love.
If you would like to receive Salt, contact the Office of Development for a complimentary subscription at development@bvmcong.org or 563-585-2864.