Sister Vivian C. (Lauren) Wilson, BVM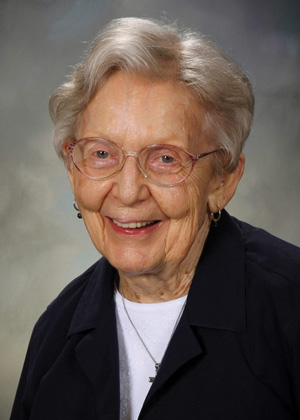 Sister Vivian C. (Lauren) Wilson, BVM, 94, of Mount Carmel Bluffs, 1160 Carmel Drive, Dubuque, Iowa, died Tuesday, June 21, 2022.
A Memorial Gathering will be Tuesday, June 28, 2022, in the Mary Frances Clarke Chapel at Mount Carmel Bluffs. (Mask are required.) The Sharing of Memories is at 9:30 a.m. followed by a Memorial Mass at 10:30 a.m. Sister Vivian donated her body to science. Burial will be at a later date. The services may be viewed through live videostream beginning at 9:15 a.m. at https://portal.stretchinternet.com/bvmsisters/.
Sister Vivian was an elementary teacher in Fort Dodge, Iowa; Rapid City and Lead, S.D.; and Chicago, where she also served as an admissions counselor and assistant director of the Business Administration Institute at Mundelein College.  She ministered as director of religious education in Chicago Heights, Ill.
She was born on April 20, 1928, in Lusk, Wyo., to Marvin and Laura (Sheridan) Wilson. She entered the BVM congregation Feb. 2, 1948, from St. Anthony Parish, Casper, Wyo. She professed first vows on Aug. 15, 1950, and final vows on Aug. 15, 1955.
She was preceded in death by her parents; brothers Marvin(Mary) Wilson, Howard Wilson, and William Wilson; and sisters: Mryl Wilson, Lois (Gene)Adams, Rosemary (Chuck) Anderson, and Nancy (Ken) Miller.  She is survived by nieces, nephews, and the Sisters of Charity, BVM, with whom she shared life for 74 years.
Memorials may be given to Sisters of Charity, BVM, 1100 Carmel Drive, Dubuque, IA 52003 or make an online gift.
Watch Memorial Mass and Sharing of Memories
Download Eulogy (coming soon) Download Sharing of Memories (coming soon)