Sister Stories: Three BVMs Share How They Discerned Their Call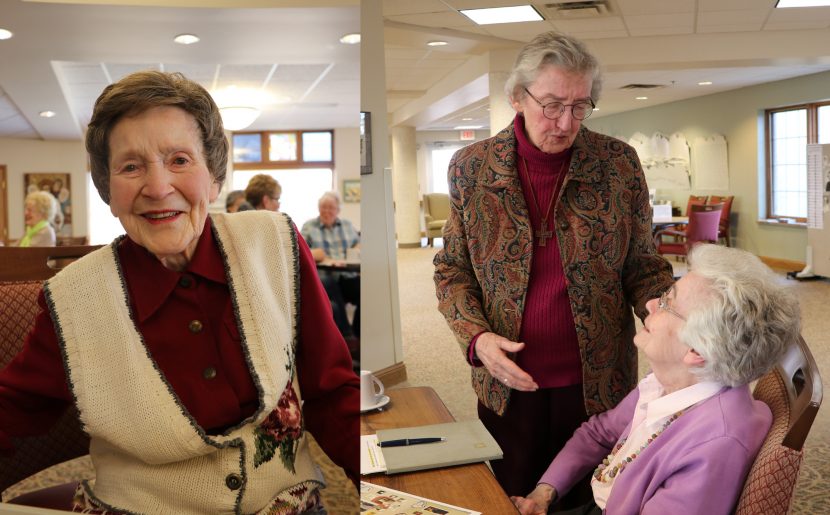 To celebrate Catholic Sisters Week, three Sisters of Charity of the Blessed Virgin Mary shared the stories of how they discerned their calling at Mount Carmel in Dubuque, Iowa, recently. Before a crowd of other BVMs and staff members, they spoke about their vocations and experiences.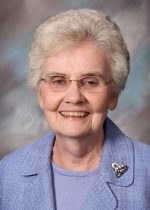 "I see vocation as something very active, ever-changing, very dynamic," says Mary (Mercedie) McCauley, BVM.
The call to become a BVM took her to places she could not have foreseen. It evolved and became a call within a call, from being an elementary school teacher and principal to administrator of a retirement facility for sisters to an advocate for immigrants.
"For me personally, the call came first in high school," Mary says. "In the '50s when they said 'Do you think you have a vocation?' they meant a call to religious life. I knew I wanted to be of some service to the church. In those days, that was how you did it."
For 10 years, she taught at Our Lady of Loretto in Hempstead, N.Y. "I loved it and I think I thrived. Then came another call to be principal at a neighboring school. I loved those years."
Then came a call to be administrator at Marian Hall, a care center for sisters at Mount Carmel in Dubuque, Iowa.
"Those were the most wonderful years of my life," Mary says. "I always say I probably lived the BVM charism with the greatest integrity during those years. I was free, because I loved the sisters and I think they loved me."
She served the congregation in various posts, including vice president.
Mary cared for her sister, which she calls "my most grace-filled call. They were hard, difficult years" but very fulfilling.
Then she became pastoral administrator for three parishes in northeast Iowa: Monona, McGregor, and Postville.
"That was risky for a city girl from Milwaukee, but I found it to be a very rewarding ministry. Some people said 'What are we doing getting a nun up here? We want a priest.'"
During her last year at St. Bridget's in Postville, the infamous immigration raid at Agriprocessors took place. The pastoral staff at St. Bridget's opened the church as a haven for those afraid or alone. At the time this was the largest immigration raid in the United States. About 400 people responded to Mary's welcome.
After she retired as pastoral administrator, "it was important for me to share the Postville story because I thought maybe I could transform a heart or two in the process," Mary says.
But there came a time when she thought she would stop sharing the story. "The day before I said, 'I can't go on speaking. It is too draining!' And then the day's Scripture focused on a verse in the Acts of the Apostles: 'Do not be afraid, and go on speaking. I am with you.'" (Acts 18:9) And so she has.
Mary describes her vocation as "a blessed experience. When I look back at my life, my heart is just filled with gratitude and awe and I say, 'God, you have been so good to me. Thank you for the grace to respond to whatever I have been asked to do.'"
---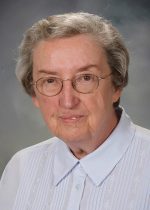 On a farm outside of New Liberty, Iowa, Kathryn "Kitty" (John Laurian) Lawlor, BVM grew up during the Great Depression in a home where they prayed the rosary on their knees in the living room every day during Lent and all climbed into the car to go to Sunday Mass.
"My mother would pick which Saturday we were going to go to Confession. While we were in the car on our way, our mother would ask if we knew what we were going to say in Confession. If we paused, we were told what we were going to say in Confession," she says. "She was really our spiritual director as well as teacher of religion."
After finishing grade school with the same teacher and seven girls and one boy, Kitty thought she would go to Muscatine High School with her classmates. Instead, she became a five-day boarder at Immaculate Conception Academy in Davenport, Iowa.
"On Friday afternoon, I would ride the Greyhound bus for 52 cents. My brothers would pick me up in an old truck we called Blood and Guts," she said.
"On Thursdays, the sisters had to go to Holy Hour, and they took all the boarders with them. I was very close to the statue of Blessed Mother. We had wonderful talks. It was during that time—things she said to me and I said to her" that Kitty felt called to join the BVMs.
When she entered, "my mother and dad and my aunt and uncle drove me from Davenport to Dubuque. My mother cried the whole way. She did not oppose my entering, but I knew she was going to miss me."
Kitty became a teacher, and was called to teach in Memphis during the days of Jim Crow laws. "I thought I went to another planet," she recalls. "I lived with a marvelous group of sisters. Thank God we all had great senses of humor. We were able to see things that lifted our spirits during those tragic times."
She taught in other parts of the country including Seattle and Chicago, and then set up a neighborhood telephone ministry at Wright Hall in Chicago, a residence for sisters. She was program developer at the Haitian Catholic Center in Miami when she was called to be the secretary of the congregation.
"That's where I learned the history of the congregation," she says.
She was asked to speak in southern California—and really wanted to go—but had no topic. How about BVM Foundress Mary Frances Clarke, she was asked.
"I didn't know anything about Mary Frances Clarke. The [Mount Carmel] archives is like going to a candy store. I ended up writing two books on the community because what I found out, I wanted other people to know," she says.
"I've had such a rich and wonderful experience. I'm going to be 90 years old, and I can only say thank you, thank you, thank you."
---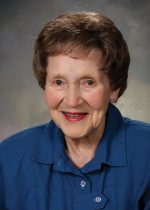 Rosalie (Victor Ann) Glanz, BVM says, "In second grade, we moved to a suburb of Milwaukee. I attended a four-room public school and was exposed to excellent teachers. When I was in fourth grade, I decided to become a teacher and never wavered from that idea.
"I went to a public high school. The summer between sophomore and junior year, I didn't want to return to that school. No reasons; I liked the teachers, the set-up of the school, and I had wonderful friends.
"I asked my parents if I could go to a Catholic school. They said yes. My mother suggested Holy Angels [Academy in Milwaukee]. We went to register. When I met the sister, I thought 'what a God-awful ugly habit!' After a period of being grilled by Sister Michael Flynn [BVM], I was admitted.
"A few weeks after school started, my mother asked how I liked it. I said I liked it a lot. She said, 'Your grandmother always wanted you girls in a Catholic school.' That phrase was extremely important to me later in life.
"As a senior at Holy Angels, Sister Roberdetta (Dorothy Coons) asked me if I had thought of college. I said St. Mary's of Notre Dame. She said, 'Have you given Clarke [University in Dubuque, Iowa] a thought?' No, because I didn't know it existed. My parents and I investigated, and I enrolled.
"During all of this, I have not had any thoughts of being a religious. In sophomore year, I had a fleeting thought but I knew that I would finish college so I dismissed it.
"In senior year near the end, I made up my mind to enter, ugly habit and all!
"After I professed and was teaching (I taught Spanish, English, and history), I was reviewing my life one day and I remembered my grandmother's words that 'she always wanted us in a Catholic school. Now, my grandmother had died in March of 1944, and this is July when I felt I didn't want to go back to my school.
"I'm convinced that my grandmother was responsible for my going to a Catholic school. If I hadn't gone to a Catholic school, I doubt that I would be a religious today.
"If I ever have a horrible day, I am going to blame Grandma!"