Sister Mary Francile Luking, BVM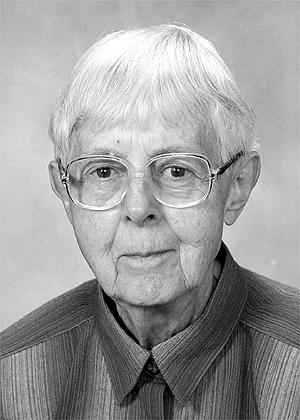 Sister Mary Francile Luking, BVM, 92, died May 7, 2014, at Caritas Center in Dubuque, Iowa. Visitation will be from 9–11 a.m. on Friday, May 9, 2014, in the Marian Hall Chapel followed by a prayer service at 11 a.m. Funeral liturgy will be at 1:30 p.m. Burial is in the Mount Carmel cemetery.
She was born June 9, 1921, to Francis Joseph and Elizabeth Schulz Luking. She entered the BVM congregation from St. Bridget Parish, Louisville, Ky., on Sept. 8, 1939. She professed first vows on March 19, 1942, and final vows on Aug. 15, 1947.
Sister Mary Francile was an elementary and secondary school teacher and principal in Memphis, Tenn.; Rock Island and Mundelein, Ill.; Davenport, Iowa City and Cedar Rapids, Iowa; Kansas City, Mo.; and Jackson, Miss. She also volunteered in Jonestown, Miss.
She was preceded in death by her parents and brothers Francis Joseph and Henry J. She is survived by a sister Ann Luking, Louisville, Ky., nieces, nephews and the Sisters of Charity, BVM, with whom she shared life for 74 years.
Sister Mary Francile Luking, BVM
Funeral Welcome
Marian Hall Chapel, May 9, 2014
Good afternoon and welcome to the celebration of the life of our Sister Mary Francile Luking.
St. Paul wrote, "Rejoice in the Lord always, I shall say it again: rejoice! Your kindness should be known to all. The Lord is near. Have no anxiety at all." How perfectly these words reflect the way Francile lived her life as a daughter, a sibling, an aunt, a religious, a teacher and a friend.
Mary Francile was born Mary Louise on June 9, 1921, in Casper, Wyo., to Francis Joseph Luking and Elizabeth Schultz and was later joined by siblings Francis, Anne and Henry. She wrote about her youth in an essay for a retreat she attended in 1982. "We had very little money, but our parents were people of faith . . . We were happy, we were loved, our needs were simple."
Francile attended St. Anthony School in sixth grade where she was taught by Sister Mary Prudentius Fuller, who was a powerful influence in her life. She wrote, "By the end of that year I was convinced that the greatest thing in the world would be to serve God and help to save souls. I would be a Sister."
After seventh grade, Francile and her family moved to Louisville, Ky., to live with her maternal grandmother. Her father went to work at the nursery started by her grandparents. Reportedly, their nursery supplied the roses for the winning horses at the Kentucky Derby. While growing up surrounded by flowers, Francile developed a great love of nature. "Isn't that beautiful!" was one of her frequent exclamations. She enjoyed hiking and camping and was always trying to teach the names of flowers to others. With concern for the environment, she picked up trash while she walked saying, "We want to leave the world a better place than we found it."
Francile entered the congregation on Sept. 8, 1939, and commented that it "was a continuation of the simple, obedient, prayerful life I had always lived at home."  She was received on March 19, 1940, and professed first vows on March 19, 1942.  She lived 74 years in religious life and was known for being very supportive of the younger BVMs.
Francile was an elementary teacher for eight years and a secondary teacher, primarily home economics, for 21 years, and was missioned in Memphis, Tenn.; Mundelein and Rock Island, Ill., and Iowa City, Iowa. Later she served 23 years in school administration at Regis-O'Hara in Kansas City, Mo.; Jordan Junior High and Middle School in Rock Island, Ill.; St. Jude ES in Cedar Rapids, Iowa; and Christ the King in Jackson, Miss.
Francile's gift to her students was her great compassion, especially for students with difficulties. She wrote, "Teaching was a great opportunity to share with young people the spiritual values which are important to me. In each place there was a need which I had the ability to meet . . . They have been a refining influence, a deepening of my need to rely on God, a realization that it is he who must take the lead."
After retiring to Clarksdale, Miss., in 1996, Francile volunteered to read to the children at the Montessori Children's House, at the Jonestown Learning Center in Jonestown, Miss. While she once commented, "I didn't think they made children that tiny," she knew the importance of her work because of the great likelihood that many of their parents were illiterate.
Francile was a cheerful, gifted and dedicated person, a hard worker who just wanted to do God's will. She was also a little adventurous. She often visited her sister Ann during the summer and together they traveled on Ann's motorcycle. Francile enjoyed, in her words, "the nice men who rode Harley-Davidsons."
Francile moved to Mount Carmel in 2007. While her health deteriorated, her gentleness was still evident as she moved from sister to sister on her floor softly patting a hand or face. Francile died on her father's birthday. What a beautiful birthday gift! She wrote, "I do not have plans—aspirations for the future. Only to place myself in his hands." May she who trusted and placed herself in God's hands in this life now peacefully rest in Jesus' loving arms.