Sister Leslie Hays, BVM (Agnita)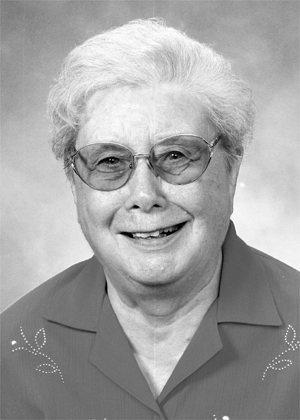 Sister Leslie Hays, BVM, 92, died May 9, 2014, at Marian Hall in Dubuque, Iowa. Visitation will be from 9–11 a.m. on Thursday, May 15, 2014, in the Marian Hall Chapel followed by a prayer service at 11 a.m. Funeral liturgy will be at 1:30 p.m. Burial is in the Mount Carmel cemetery.
She was born May 2, 1922, to Robert Leslie and Agnes Marie Verssue Hays. She entered the BVM congregation from Our Lady of Lourdes Parish, Chicago, on Sept. 8, 1940. She professed first vows on March 19, 1943, and final vows on March 19, 1949.
Sister Leslie was an elementary school teacher in Chicago; San Francisco and San Jose, Calif.; Omaha, Neb.; Butte, Mont.; and Des Moines, Iowa, where she was also superior principal. She served as associate superintendent, diocesan schools, in Nashville, Tenn., where she was also administrator of Villa Maria Manor.
She was preceded in death by her parents; a brother David; sisters: Eloise Lowary and Mary and Donna Hays. She is survived by a sister-in-law Patty Hays, Arlington Heights, Ill.; nieces, nephews and the Sisters of Charity, BVM, with whom she shared life for 73 years.
Sister Leslie Hays, BVM (Agnita)
Funeral Welcome
Marian Hall, May 15, 2014
Good afternoon and welcome to the celebration of life of our Sister Leslie Hays.
Helen Leslie Hays entered this world on May 2, 1922, as the fourth of the five children born to Robert Leslie Hays and Agnes Marie Verssue of Chicago, Ill. She joined siblings Eloise, David and Mary and was followed by a sister, Donna. Helen attended public schools until her eldest sister and her husband agreed to help pay Helen's tuition to Our Lady of Lourdes.
In her autobiography, Helen recalled a day in eighth grade when Sister Mary Orestes Boland took Helen's class to confession. "We followed the boys' group and it was my turn and as I got up to leave the confessional, the priest very calmly said, 'Well, son, have you ever thought about being a priest?' 'No, Father.' 'Do you have any reasons? Would you mind telling me?' 'No, Father, first of all because I'm a girl.' At that he left out a loud guffaw and I wondered how in the world I was going to go out there and face all those people." She continued, "I think that was the beginning of my thinking about religious life."
Helen attended The Immaculata HS where Sister Mary Trinette Purcell was her freshman teacher. They became lifelong friends, and through Mary Trinette's influence, Helen's vocation was nourished. Helen entered the congregation on Sept. 8, 1940, and received the name Leslie upon her reception on March 19, 1941. While Leslie was in the novitiate, her father, who had been adamantly against her vocation, decided to join the Catholic Church and began instructions. Leslie professed her first vows on March 19, 1943, and was sent to St. Cornelius in Chicago. It was there Leslie was able to kneel next to her father as he received his first communion.
Leslie taught in elementary schools for 18 of her 73 years as a BVM. She was missioned in Chicago; San Francisco and San Jose, Calif.; Omaha, Neb.; Butte, Mont.; and at Visitation in Des Moines, Iowa, where she also served as principal. Leslie was sent to St. Cornelius to relieve Sister Mary Francita Baer who had become ill. She taught sixth grade in the afternoon, but spent the morning preparing the noon meal for the 20-plus sisters. Leslie wrote, "I knew nothing about cooking so every morning after everyone was gone, I phoned my mother, told her what was on the menu and asked her how I should fix it. That made her part of the community and we never would have survived if she hadn't."
Leslie continued with a description of an incident that occurred during a visit from Mother Mary Josita Baschnagel. "At the noon meal, Mother wanted tea—the loose kind used with a sieve. So I poured the water over the tea, but as I poured, it was becoming the worst color I had ever seen. Later I found out that one of the sisters had used the sieve to screen foreign matter out of the ink in the inkwells. She had washed it but didn't realize that boiling water would take out more of the ink. I almost killed the Mother General without knowing it."
Leslie served on the BVM Education Commission for Elementary Schools. During her tenure as chairperson, she, along with two other BVMs, developed REACH, the Research-based, Eclectic, Adaptive, Coordinated and High-spirited program designed to provide a Christian value oriented climate where each child progressed individually according to his or her learning style. Later, Leslie worked as the associate superintendent of schools for the diocese of Nashville from 1974 to 1980. When the diocese decided to develop a housing program for the elderly, Leslie came on board as the administrator for the Villa Maria Manor in Nashville.
In 1990, Leslie moved to Ellenton, Fla., with her sisters Mary and Donna to be near their brother and to recuperate from major surgery. Soon she began volunteering with the Association for Retarded Citizens and the Housing Project for Persons with Mental Illness. Leslie hosted several meetings of Florida BVMs and associates and was always quick to welcome a newcomer or a visitor. Earlier in life, Leslie served as her mother's caretaker. Later in life, she cared for Mary, who had become chronically ill, and Donna, who had special needs due to a childhood brain injury. After Mary died in 2003, Leslie feared that she would die first, leaving Donna alone in a nursing home. She received permission from the congregation and together they made the move to Mount Carmel. Donna died the following year.
An abundance of adjectives have been used to describe Leslie including wonderful, generous, patient, peaceful, devoted, determined, friendly, loving and phenomenal. She enjoyed people and life and was dearly loved and admired by those who knew her. She was rarely seen without a smile and continued to live life to the fullest despite her vision loss. She was an avid audio book reader who read almost every book in the audio library. She not only continued to enjoy playing games, especially dominos, but she won them.
Leslie wrote, "I have always felt that if I was willing to share whatever I was doing and my hopes and dreams, the BVMs would be behind me. I am very grateful to them for that." St. Paul's words to the Romans describe the way Leslie lived her life: "Let love be sincere; hate what is evil, hold on to what is good; love one another with mutual affection; anticipate one another in showing honor. Do not grow slack in zeal, be fervent in spirit, serve the Lord." We rejoice with Leslie as she enters eternal life.