Sister Jean Marie Brady, BVM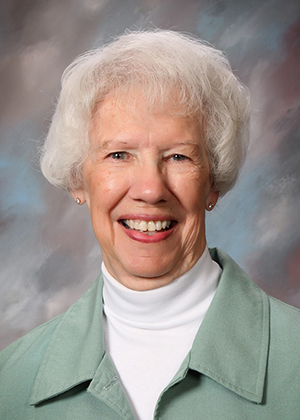 Sister Jean Marie Brady, BVM
Sister Jean Marie Brady, BVM, 88, of Mount Carmel Bluffs, 1170 Carmel Drive, Dubuque, Iowa, died Tuesday, Feb. 1, 2022.
Private funeral services were held Tuesday, Feb. 8, 2022. Burial was in the Mount Carmel Cemetery.
Sister Jean Marie ministered in the Office of Educational Services for the Archdiocese of Dubuque as the metropolitan coordinator of Catholic schools in Cedar Rapids, Iowa. She was an elementary teacher, principal, receptionist, and librarian in Iowa City, Iowa, and pastoral associate in Cosgrove and Holbrook, Iowa. She also taught in Tama, Iowa; Chicago; and Berwyn, Ill.
She was born on March 5, 1933, in Monticello, Iowa, to Joseph and Marie (Crimmins) Brady. She entered the BVM congregation on Sept. 8, 1951, from St. Martin Parish in Cascade, Iowa. She professed first vows on March 19, 1954, and final vows on July 16, 1959.
"[Jean Marie] loved to be surrounded by people, planning many social gatherings, and always enjoying a good time. [She] opened the convent doors to BVMs, other religious sisters, and many women who spent time – no matter a summer, a semester, or a year – studying at the University of Iowa. She endeavored to make everyone feel a part of the Iowa City community. Her sense of humor, kindness, generosity, and welcoming nature were well-known to all and through her hospitality, many treasured friendships were formed."  (Eulogy)
She was preceded in death by her parents; sisters Mary Brady, Marcella (Donald) Morey, Catherine "Kate" (Louie) Stutt, Loretta (Claude) Tomlinson, Ann (Paul) Sauser, Doris (William) Talbert, and Alice (Ed) Bertling; and brothers Michael and Joseph Brady. She is survived by nieces, nephews, and the Sisters of Charity, BVM, with whom she shared life for 70 years.
Memorials may be given to Sisters of Charity, BVM Support Fund, 1100 Carmel Drive, Dubuque, IA 52003 or online at https://www.bvmsisters.org/support_donate.cfm.
Watch Memorial Mass and Sharing of Memories
Download Eulogy
Download Sharing of Memories