Helen (St. George) Thompson, BVM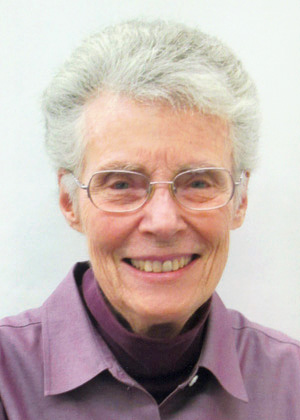 Sister Helen (St. George) Thompson, BVM died Tuesday, Sept. 4, 2018, at Marian Hall in Dubuque, Iowa.
Visitation, Sharing of Memories, and Mass of Christian Burial were Monday, Sept. 10, 2018. Burial was in the Mount Carmel Cemetery.
Sister Helen was an academic dean at Clarke University in Dubuque, Iowa.  She taught in elementary schools in Chicago and San José, Calif., and colleges in Chicago and Santa Clara, Calif., where she also worked as an organizational consultant.
She was born on Jan. 19, 1933, in San Francisco to Howard and Gertrude Riordan Thompson. She entered the BVM congregation Feb. 2, 1951, from St. Brendan Parish, San Francisco. She professed first vows on Aug. 15, 1953, and final vows on Aug. 15, 1958.
"Helen lived her adult life as a wisdom seeker. 'I spent a lot of time wandering in deserts – beautiful ones like Sedona and Death Valley, desolate places like Spirit Lake after Mount St. Helens erupted, and mostly in the desert places of my own soul . . . I am grateful for all that has been; the first half for learning all the things I needed to transform, and for the happiness, I've known during the second half.'" (Eulogy, Marian Hall Chapel, Sept. 10, 2018).
She was preceded in death by her parents. She is survived by a brother George and a nephew Robert (Susan); and the Sisters of Charity, BVM, with whom she shared life for 67 years.
Memorials may be given to Sisters of Charity, BVM Support Fund, 1100 Carmel Drive, Dubuque, IA 52003 or make an online gift.
Download Eulogy
Download Sharing of Memories