Kathleen M. (Donall) O'Sullivan, BVM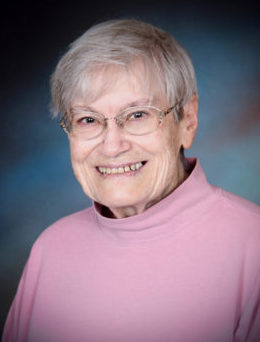 Sister Kathleen M. (Donall) O'Sullivan, BVM died Wednesday, September 12, 2018, at Caritas Center in Dubuque, Iowa.
Natural Burial Rite of Committal was Thursday, Sept. 13, 2018, in the Marian Hall Chapel.  Burial was in the Mount Carmel cemetery.  Sharing of Memories and a Memorial Mass was Tuesday, Sept. 25, 2018, in the Marian Hall Chapel.
Sister Kathleen was an elementary teacher in Chicago; Butte and Missoula, Mont.; San Francisco and Kauai, Hawaii, where she also served as principal.  She ministered as a religious education teacher, receptionist, and volunteer hospice coordinator in Butte, Mont., and as coordinator of religious education, parish minister, and volunteer in social justice programs in Missoula, Mont.
She was born on May 13, 1928, in San Francisco, to Daniel and Katherine Murphy O'Sullivan. She entered the BVM congregation Sept. 8, 1946, from St. Philip Parish, San Francisco. She professed first vows on March 19, 1949, and final vows on Aug 15, 1954.
"Kathleen called her work as an activist the 'most difficult and most fulfilling.' . . . 'Unless you come in contact with someone who is suffering or oppressed, it doesn't become real for you,' she commented.  'I've begun to understand that this is what the Gospel is about.  This what Jesus talked about when he spoke about all those marginalized people, "What you do to them you do to me."'  One pastor remarked, 'Her whole journey of faith has been moving in [the] direction of living the Scriptures . . . She has done it wonderful ways.'"
She was preceded in death by her parents and a sister Sheila O'Sullivan. She is survived by cousins and the Sisters of Charity, BVM, with whom she shared life for 72 years.
Memorials may be given to Sisters of Charity, BVM Support Fund, 1100 Carmel Drive, Dubuque, IA 52003 or make an online gift.
Download Eulogy
Download Wake Stories